The Dramatic Mr. Feeny Prequel That Boy Meets World's Stars Want To See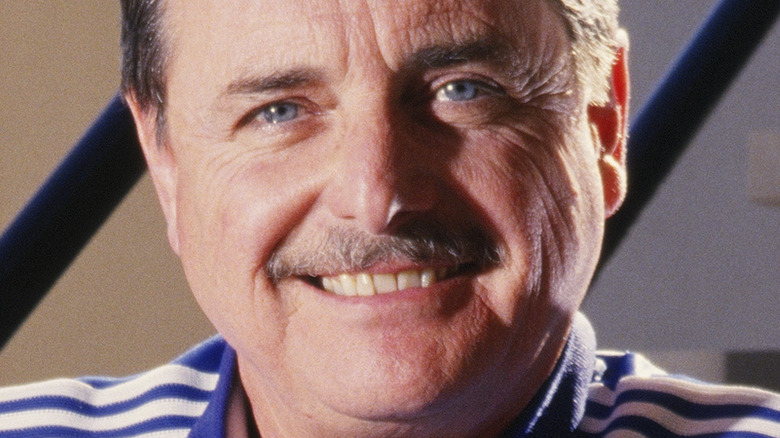 George Rose/Getty Images
When "Boy Meets World" debuted on ABC in 1993, it was a flagship series for the network's TGIF programming block. Conceived as a collection of series that would appeal to kids, tweens, and their parents alike, "Boy Meets World" stood alongside "Family Matters" and "Sabrina the Teenage Witch" as can't-miss Friday night television. At the center of "Boy Meets World" was the core trio of youngsters, Cory Matthews (Ben Savage), his best friend Shawn (Rider Strong), and his long-standing love interest Topanga (Danielle Fishel), as well as their classmates and siblings.
For a show that's invested in the lives of its younger characters, "Boy Meets World" didn't put the adults on the back burner. Few adult characters were as endearing as George Feeny (William Daniels), the teacher-turned-college professor who served as a stern yet kind mentor throughout the series' seven-season run. With their characters revisited in the 2014 sequel show "Girl Meets World," the stars of "Boy Meets World" can't help but agree that Mr. Feeny is due for his own project.
Rider Strong wants a Stand and Deliver-type origin story for Mr. Feeny
On the podcast "Pod Meets World," original series stars Rider Strong, Danielle Fishel, and Will Friedle rewatch old episodes, share memories, and chat about everything "Boy Meets World." In Episode 106 ("Boys II Mensa"), Strong pitches his idea for a Mr. Feeny origin story that captures his journey from a student to his early days as a teacher. "How great would it be to see him in high school, or in college?" Strong asks.
After some quick math, the actors figured that he would have started his teaching career in 1958, 35 years before "Boy Meets World." Then, Strong delves into his inspiration. "It's basically like 'Dangerous Minds,'" he says, also shouting out the film "Stand and Deliver." "So you're not talking sitcom?" Fishel asks. Strong emphatically replies, "No! It's a movie, it's a drama." "Dangerous Minds" and "Stand and Deliver" each follow teachers (Michelle Pfeiffer and Edward James Olmos, respectively) who contend with and inspire tough, troubled teens — certainly a departure from a bubbly, multi-camera sitcom like "Boy Meets World."
Fishel jokingly told Strong they would develop the idea, but if the dramatic prequel came to fruition, William Daniels would surely give them his blessing. The "Boy Meets World" stars have kept in touch with their former teacher, who continues to act as a mentor. "He's still giving [advice]," Friedle told People. "95 years old, and he still shoots out the pearls of wisdom." "He really treated us as his equals, as far as being an actor," Fishel added. "And now I recognize that it was actually a huge form of respect."