The Actor Rick And Morty Fans Desperately Want To See Play Live-Action Rick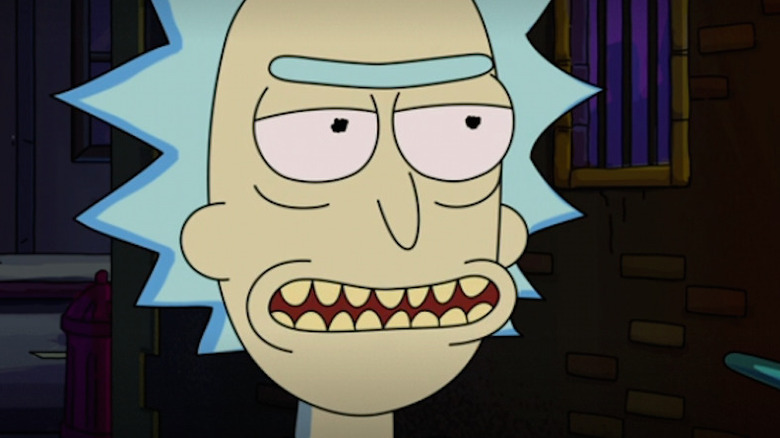 Adult Swim
Throughout the years, "Rick and Morty" fans have suggested many actors they would love to see play live-action versions of Rick Sanchez (Justin Roiland). Although Christopher Lloyd (best-known for his portrayal of Dr. Emmett "Doc" Brown in the "Back to the Future" film trilogy) has already played Rick in Adult Swim's live-action "Rick and Morty" tease from 2021, fans still desire to see a variety of different actors play a live-action Rick, tending to favor actors who have successfully portrayed semi-immoral, humorous genius characters in the past.
Some "Rick and Morty" fans' casting of Hugh Laurie as Rick makes a lot of sense because his portrayal of Dr. House on "House" proves his ability to portray a morally complicated, brilliant scientist who is mean, witty, and endlessly compelling to watch. On Reddit, u/Gadfly_Avatar suggested Bill Murray ("Ghostbusters," "Groundhog Day," "The Life Aquatic with Steve Zissou") because of his ability to appear drunk and manic. Redditor u/WilliamC-137 suggested Peter Capaldi from "Doctor Who," not just because of his acting persona but also because of his prominent eyebrows.
Clearly, there are several factors that are important to fans in selecting a live-action Rick: The actor should be capable of portraying an intelligent, nerdy, important scientist who is somewhat morally compromised yet still fun and not a downer. Essentially, the actor would need to communicate deep thoughts and complex emotions but still have a comedic aura. Additionally, the actor would need to bear at least some physical resemblance to Rick, although this can be accomplished through costume, makeup, and wigs.
Could this actor portray a live-action Rick?
Netflix
On Reddit, u/MaxxFisher suggested Jason Mantzoukas as a casting choice for Rick, receiving over 8,000 upvotes. The actor is known for his TV roles as Rafi on "The League," Marco on "No Activity," Adrian Pimento on "Brooklyn Nine-Nine," and Derek Hofstetler on "The Good Place," so does he meet the criteria for portraying Rick? Redditor u/jvicks22 commented that Mantzoukas certainly has the manic energy needed to pull off Rick's character. Redditor u/D-Rich-88 added that the actor also has a history of successfully playing characters who are wacky, evil, and hilarious. Mantzoukas often portrays characters who are so dynamic that they steal the scene, similar to how Rick tends to dominate situations and spearhead a lot of the show's humor.
Although he has certainly portrayed scientists who are unique, humorous, and important, Mantzoukas' characters are not always the brightest, which might worry some fans considering who should play a live-action Rick. However, on Reddit, u/the_dayman pointed out a reason why this should not be a worry: Mantzoukas also co-hosts a podcast about bad movies where he comes off as highly intelligent and reasonable.
Lastly, Mantzoukas certainly bears enough physical resemblance to Rick. He has wild hair, prominent eyebrows, dramatic facial expressions, and humorous mannerisms. He might need a lab coat, white hair coloring, and some makeup intended to make him look older, but with these elements of movie magic, he could probably look convincing as Rick.