Modern Family Fans Can't Help But Cry At This Iconic Phil And Haley Scene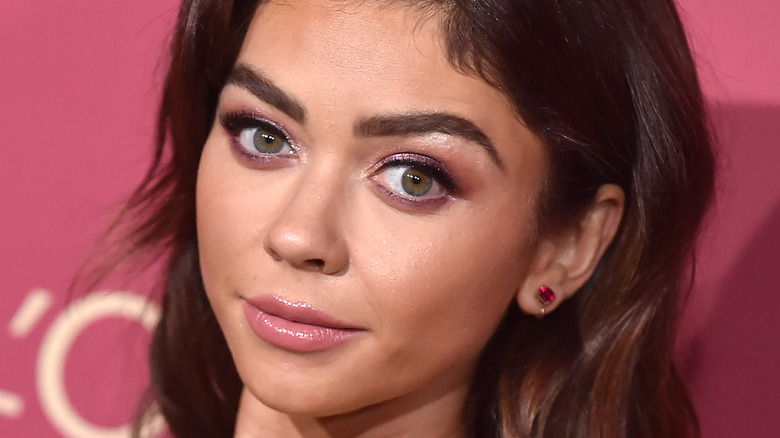 DFree/Shutterstock
Since launching its 11-season, multi-Emmy Award-winning run on ABC in 2009, the hit sitcom "Modern Family" has drawn viewers into the sometimes chaotic, often touching, guaranteed hilarious lives of the suburban Southern California-based Dunphy, Pritchett, and Pritchett-Tucker families. While ostensibly a straight-ahead comedy series about a few normal-on-the-surface families, "Modern Family" manages to put its own unique, brilliantly scripted spin on inter- and intra-family dynamics.
Every character on the show is developed in a way that makes them relatable yet quirky and utterly distinct from one another. For instance, while Realtor and ever-earnest dad Phil Dunphy (Ty Burrell) is depicted as generally clueless about the culture informing his kids' lives, he's also gifted with an innate warmth and guilelessness of spirit that makes his bumbling attempts at relating to them perfectly adorable. As for his eldest daughter, teenager Haley (Sarah Hyland), she is presented at first as an archetypal take on a sitcom-style flighty-daughter-with-too-many-boyfriends character, but she's gradually seen as street-smart and socially adept and eventually reveals a considerate, empathetic, business-savvy side.
Taking this father-daughter dynamic into consideration, what's the one scene on "Modern Family" featuring Phil and Haley that has fans turning on the waterworks?
A certain moment in Season 4 has fans weeping
In the Season 4 episode "Party Crasher," Haley is convinced that her parents think she's a man-chasing loser, so she pretends to run off with a much older guy before quickly returning to accuse them of not caring about her. At the same moment, dad Phil turns up and not seeing Haley, declares to wife Claire (Julie Bowen) that no one, "let alone some slimy, middle-aged jeans salesman," is good enough for his baby, and fans loved it.
In a discussion on the show's subreddit titled "One of the best Phil being a father scenes (S04E12)," u/modulocapo posted a clip of the scene in question, prompting user u/A2610R to admit they literally cry at the scene, adding, "Phil is the dad we all want to have." Redditor u/frostedflake8 confessed, "I cry every time [I] watch this scene," and u/she_rio declared that it's their favorite scene, revealing, "I cry so much every time I watch this."
So how did Sarah Hyland's "Modern Family" parents react when the actor got a real-world marriage proposal from beau Wells Adams? The answer is seen in the ABC TV special "A Modern Farewell," in which Hyland says, "When my fiance proposed, he asked my mom and dad for their blessing. Then he also hunted down Julie Brown and Ty Burrell and asked for their blessing. So they really, really are like my second set of parents."