The Canadian Sitcom Credited As Keanu Reeves' First On-Screen Appearance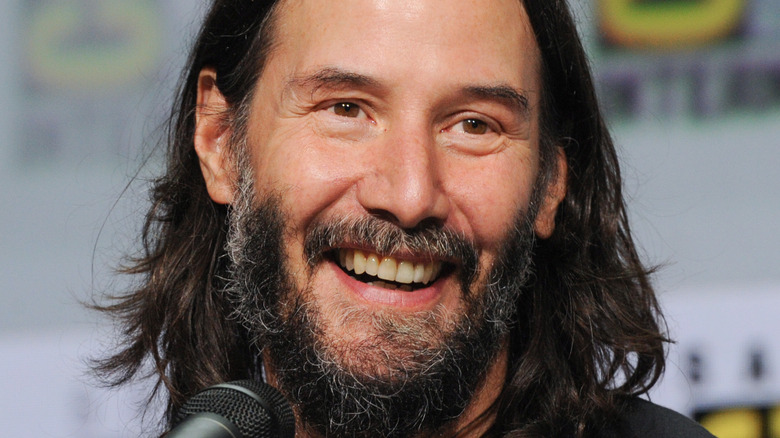 Albert L. Ortega/Getty Images
At this stage in the game, there's no arguing that Keanu Reeves isn't among the biggest acting stars in the world. From playing the computer hacker-turned-revolutionary Neo in the "Matrix" series of films to going after the criminals who killed his dog in the "John Wick" saga, he's made himself a Hollywood staple with a host of memorable roles in iconic titles. Of course, Reeves didn't always hold such a place of reverence in popular culture. After all, we all have to start somewhere, and the "Bill & Ted's Excellent Adventure" star is no exception.
Born on September 2, 1964, in Beirut, Lebanon, Reeves and his family moved to Toronto, Ontario, Canada when he was just a kid. Throughout his youth he expressed a clear interest in the arts, leading him to pursue theatre acting. Reeves later moved to Los Angeles, California in hopes of making it big, which eventually brought him to his first film gig in the form of 1986's "Youngblood" — a flick featuring the likes of Rob Lowe and the late Patrick Swayze. However, Reeves' time on the "Youngblood" set was far from his first exposure to working in front of a camera.
This Canadian sitcom was Keanu Reeves' first time appearing on a screen of any size.
Reeves got his first taste of TV via Hangin' In
CBC
"Hangin' In" ran from 1981 to 1987, accumulating seven seasons and a staggering 110 episodes throughout that time. The show focused on staff at a counseling center as they try to solve problems plaguing various youths. One such troubled kid — credited only as "teen client" — was played by a young Keanu Reeves, who appeared in a single 1984 episode titled "Happiness Is a Warm Grover." It's far from the most high-profile or glamorous part, but at the end of the day, it was a start. Besides, it set him on a path to pop culture greatness, so in that regard, surely it counts for something.
As Reeves' stock in Hollywood has risen, he hasn't appeared on the small screen nearly as often as he did back in the day. Although, he hasn't left it behind in favor of the movies entirely, seeing as he has officially signed on to appear on Hulu's "The Devil in the White City." Based on the novel of the same name by Erik Larson, the series tells the tale of an exceptional architect named Daniel H. Burnham, who seeks to make a splash at the 1893 Chicago World's Fair. Meanwhile, serial killer Dr. H.H. Holmes embarks on one of America's first major murder sprees. In addition to starring, Reeves will executive produce alongside the likes of Martin Scorsese and Leonardo DiCaprio.
Keanu Reeves will go down as a big screen staple, but his television work is worth regarding as well — and to think, it all started with a minor role on "Hangin' In."