Why Ozark Fans Compare Marty To This Boardwalk Empire Character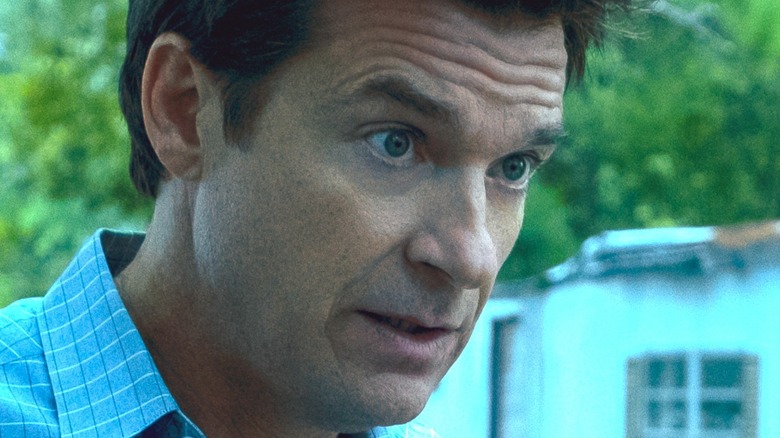 Steve Dietl/Netflix
For actor Jason Bateman, the character of drug cartel accountant Marty Byrde on the Netflix drama "Ozark" was an intentional departure from his early sitcom days on "Silver Spoons" and later making dark comedies like "Office Christmas Party." However, Bateman also saw the similarities between Byrde and his "Arrested Development" character, Michael Bluth. "I think they have similar blind spots," he told The Guardian. "Perhaps they should think a little bit longer about what they do."
When Byrde's partner Bruce (Josh Randall) is killed for skimming money from the cartel, Marty saves himself and his family by spontaneously offering to "wash" $500 million in drug money within the Ozark region. The panicked accountant quickly packs and moves his wife, Wendy (Laura Linney), and their children to Missouri. But the Byrde family's new circumstances soon lead to a spiral of increasing crime, destruction, and murder.
Bateman may have seen the parallels in Byrde to Michael Bluth, but another crime drama was brought up by "Ozark" fans when they were discussing the series.
Redditors compared Marty Byrde to Meyer Lansky on Boardwalk Empire
The r/Ozark subreddit got a post from u/Ok_Distribution6438, asking, "Is Marty Byrde the new Meyer Lansky?" The poster personally saw several similarities, perhaps intentional, between Byrde and the famous Jewish gangster who Anatol Yusef played in the HBO drama "Boardwalk Empire." For one, both are intelligent financiers and outsiders to the crime organizations they work in: Marty with the Mexican cartel and Lansky with the Italian Mafia. And each of them is more bureaucratic and put-together than the typical gangster.
There were only a few comments, but u/PFalcone agreed with the post, writing, "Good points. Lansky also didn't serve any jail time his whole life. I think Marty will also finagle (sp) his way out of jail too." Two jokey replies agreed with Bateman on the Michael Bluth/Marty Byrde comparison, resulting in the joke, "I'm Mr. Cartel Launderer! We just say Cartel launderer."
However, one comment from u/mrcornrat pointed out that "Meyer Lansky wielded much, much more power than Marty" because of his creation of the Syndicate with Charlie "Lucky" Luciano (via Britannica). Marty is also at the front of a casino operation on the show, whereas Lansky was under less scrutiny while behind the scenes.
Hyman Roth is very similar to Meyer Lansky as well
Meyer Lansky's real-life exploits would inspire more than one fictional gangster, such as the character of Hyman Roth (Lee Strasberg), the feared, older Jewish criminal who struggles with Michael Corleone (Al Pacino) throughout "The Godfather Part II."
Like Lansky later in his life, Roth is settled in Miami but is in poor health. And just like the senior citizen gangster, despite his Judaistic origins, Roth is expelled from Israel (via Britannica). Corleone takes fatal advantage of this in the film's climax, sending an assassin after him. But in real life, Lansky's health issues allowed him to avoid prosecution. He eventually died in Miami Beach of a heart attack in 1983.
"The Godfather Part II" was one of Strasberg's only film roles after years of teaching at the Actors Studio (via Biography). The real Lansky, who liked the performance, called him after the movie premiere to offer a bit of criticism. "You could have made me more sympathetic," according to AMC. "After all, I am a grandfather." Sometimes even elderly mobsters want some respect.