In Olivia Newton-John's Career, Only One Role Stands Above Her Performance In Grease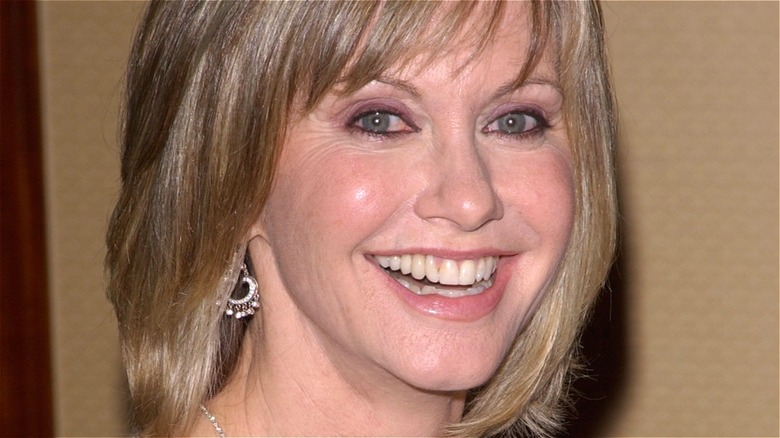 Featureflash Photo Agency/Shutterstock
Olivia Newton-John has died at the age of 73. Reported on by TMZ with further details shared soon after on the performer's official Facebook page, the renowned singer-slash-actress died on the morning of August 8 at her ranch in Southern California. Newton-John is best known in the realm of entertainment media for her starring role as the head-over-heels high school student Sandy Olsson opposite John Travolta's teen greaser Danny Zuko in the iconic 1978 movie musical "Grease." The actress's performance of songs like "Summer Nights" and "You're the One That I Want" catapulted her into pop culture fame, both as a movie star and as a musician.
However, while Newton-John will always be fondly remembered by cinephiles as one-half of the iconic Danny-Sandy "Grease" couple, the entertainer appeared in quite a few other notable properties. In fact, the actress' filmography includes a certain role that arguably stands above "Grease" as her most iconic performance in a movie.
Olivia Newton-John took to the stars in Xanadu
Just two years after "Grease," Olivia Newton-John once again made musical history with a role in the vivacious film "Xanadu." The movie follows the star-crossed romance between Sonny Malone (Michael Beck), a down-on-his-luck artist, and Kira, a mysterious woman who inspires Sonny to open a nightclub called Xanadu. Olivia Newton-John once again occupies half of the central couple as Kira, who eventually reveals herself as the muse Terpsichore from Greek mythology.
While the movie mirrors "Grease" in many ways, "Xanadu" has a much more complicated legacy. The movie was poorly received at the time and even inspired the Golden Raspberry Awards (via The Hollywood Reporter). However, it eventually developed a cult legacy, with praise especially heaped upon its soundtrack: a bombastic culmination of late-70s-to-early-80s pop performed by Newton-John and Electric Light Orchestra.
"I think the music in Xanadu is fabulous," Newton-John once said in an interview with Forbes. "And the dancing was great too because Kenny Ortega was the choreographer. He had street dancers and things in the film 30-40 years before their time, because that's really become popular the last like 10 years and he had dancers doing those things then."
While "Grease" may contain Newton-John's most popular role, "Xanadu" makes a case for itself as the definitive movie for the entertainer, equally featuring both her acting skills and her musical prowess. Regardless, the late star made a mark on the world of movie musicals that can never be erased.