The Last Movie Olivia Newton-John Was In Before She Died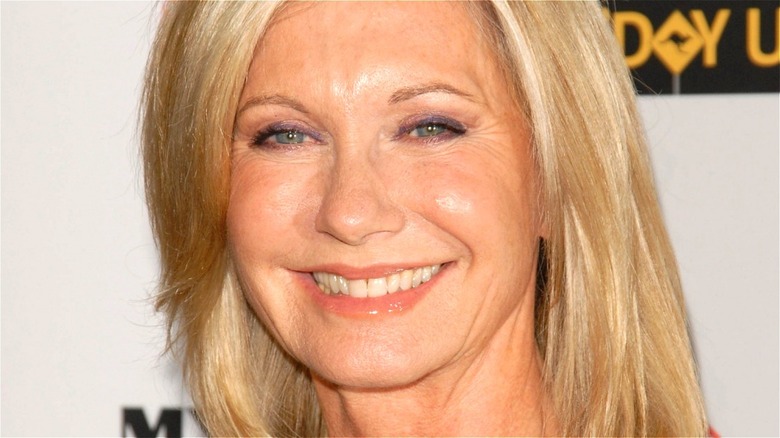 s_bukley/Shutterstock
Olivia Newton-John is a legendary actor and singer. Made famous for her portrayal of Sandy in the musical "Grease," this film combined both of her talents into a coherent and timeless role. Besides "Grease," Newton-John appeared in several television shows as herself, like "Saturday Night Live," "Glee," "Dancing with the Stars," and "Murphy Brown." 
Unfortunately, the devastating death of Olivia Newton-John to cancer was announced on August 8, 2022. She had dealt with breast cancer several times in her life and even started her own foundation to search for a cure. Newton-John's husband, John Easterling, took to Instagram to announce her passing, saying, "Olivia has been a symbol of triumphs and hope for over 30 years, sharing her journey with breast cancer. Her healing inspiration and pioneering experience with plant medicine continue with the Olivia Newton-John Foundation Fund, dedicated to researching plant medicine and cancer. In lieu of flowers, the family asks that any donations be made in her memory to the @onjfoundation." Considering her impressive and varied career, which was the last movie the actress appeared in before her death?
Olivia Newton-John appeared alongside a friend in The Very Excellent Mr. Dundee
It turns out that the last movie to feature Olivia Newton-John was a 2020 film with some heavy meta-commentary. "The Very Excellent Mr. Dundee" is a film about Paul Hogan, who played the character of Crocodile Dundee in the 1980s, as he attempts to make sense of his life. The trailer on YouTube shows Hogan as he tangles with the history of his role and Hollywood's attempts to reboot the series he made famous. Newton-John, much like Hogan, appears as herself in the movie.
The Daily Mail caught wind of Newton-John in 2018 on the set of "The Very Excellent Mr. Dundee," and a source close to the production said, "Olivia and Paul have been good friends for decades. It makes sense he'd want her to play a part in the movie, especially because it's about him. Despite everything Olivia's going through, she didn't stop smiling. It was wonderful to see her looking so happy and see Paul rallying around her." The world is greatly saddened by the passing of Newton-John, but at least her last film appearance was with a close personal friend that offered support and kindness.