Olivia Newton-John Didn't Mince Words When Talking About Grease 2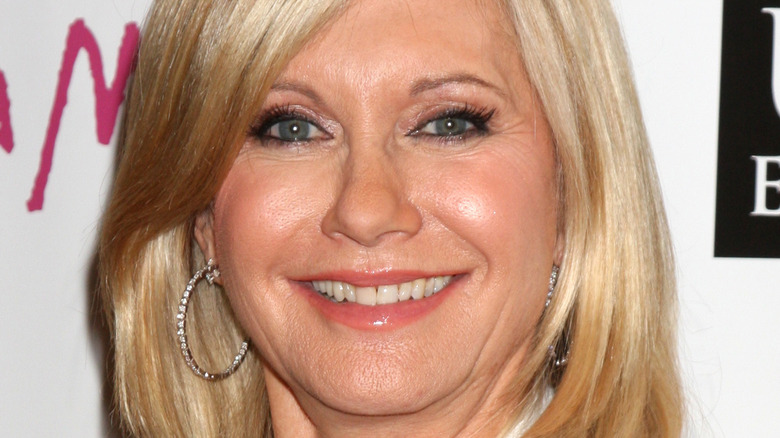 Kathy Hutchins/Shutterstock
"Grease 2" — the sequel no one asked for and no one wanted. In 1982 the world was hit with the unnecessary follow-up to 1978's "Grease" in what can be regarded as one of the biggest flops of all time. The sequel was famously (and thankfully) without Sandy (Olivia Newton-John) and Danny (John Travolta), but it did feature some "Grease" cast members reprising their roles from four years earlier.
Frenchy (Didi Conn), Principal McGee (Eve Arden), Eugene (Eddie Deezen), Craterface (Dennis C. Stewart), Coach Vince Calhoun (Sid Caesar), and Secretary Blanche Hodel (Dody Goodman) all showed up for round two, and may or may not have regretted it. The movie was critically-panned, with a 35% critic score and a 53% audience score on Rotten Tomatoes.
In the sequel, the tables were turned as lead Pink Lady Stephanie Zinone (Michelle Pfeiffer) is tired of the T-Bird boys and finds love in an English exchange student, played by Maxwell Caulfield. "Grease 2" had none of the charm or heart of its predecessor and is just a very blah sequel.
The late Olivia Newton-John wasn't shy about hiding her thoughts on the follow-up film she thankfully avoided.
Olivia Newton-John didn't care for Grease 2
When Olivia Newton-John appeared on Bravo's "Watch What Happens Live" in 2016, a fan asked what she honestly thought of "Grease 2." "Not a lot," Newton-John responded with a smile. She told host Andy Cohen that she and John Travolta were approached for the sequel and said it just didn't happen. "And then they made it with other people, and that was my memory of it," Newton-John said.
On the opposite end of the spectrum, Newton-John was supportive of "Grease: Live," the musical which aired on Fox in 2016. The singer gave some tips to Sandy's portrayer Julianne Hough, who isn't known for being a singer. "She doesn't need any tips from me," Newton-John told Billboard. "She has her own energy and I think that's what I said to her: "Bring yourself to it. There's no reason to try and copy anyone else. You've got your own style so do it in a new way." According to Page Six, Newton-John was pleased with "Grease: Live." "It was fun," she said.