Who Is The Price Is Right's Alexis Gaube?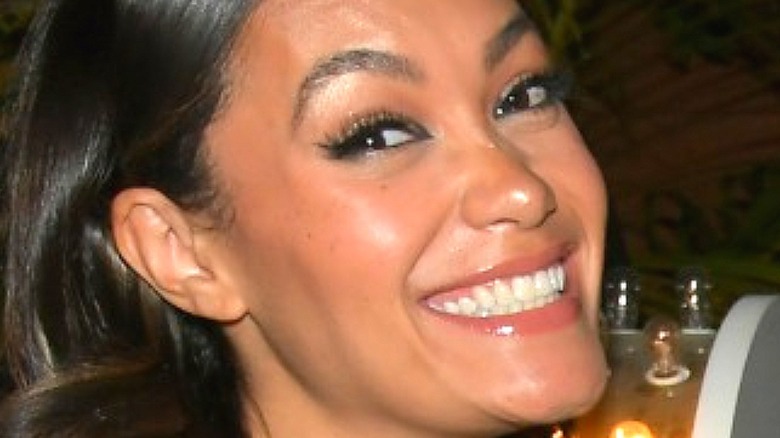 Charley Gallay/Getty Images
In its 50-plus years on the air, "The Price is Right" has changed remarkably little. The game show's guests continue to guess the prices of a litany of luxury items — including appliances, cars, and dream vacations — and also play games like Plinko.
Another long-standing tradition of "The Price is Right" is the group of models who show off the prizes. Known as "Barker's Beauties," until Drew Carey took over hosting duties in 2007, the rotating cast of models experienced a fair number of challenges under original host Bob Barker's tenure, including allegations of discrimination, wrongful termination, and harassment (via The Hollywood Reporter). Per Fox News, "The Price is Right" seems to have righted its past wrongs, creating a more equitable working environment. The series also hired its first-ever male model, Rob Wilson, in 2020 (via People). Wilson isn't the only new talent to recently join "The Price is Right." Here's the skinny on the game show's newest model, Alexis Gaube.
Alexis Gaube is The Price is Right's newest model
Alexis Gaube is the latest addition to "The Price is Right," joining a team of models that includes Rachel Reynolds, Amber Lancaster, Manuela Arbeláez, James William O'Halloran, and Devin Goda (via IMDb). An Ohio native, Gaube's modeling work can be seen in campaigns for Kohls, Warby Parker, and Target. Prior to joining "The Price is Right," Gaube appeared as a presenter on the "Card Sharks" reboot alongside host Joel McHale. She's also credited with appearing on six episodes of CBS soap opera "The Bold and the Beautiful."
Although "The Price is Right" has employed dozens of models over its decades-long run, Gaube has the distinction of being the only model to join the series during its 50th anniversary season in 2021. "I am BEYOND excited to announce that I have officially joined 'The Price is Right' family on their monumental 50th year season," Gaube posted on Instagram in September of 2021. Her old colleague McHale then jokingly commented, "This is awesome, and you don't look 50 at all!"
Since joining the iconic game show, Gaube has experienced other landmark occasions, including the series' recent Daytime Emmy Awards nomination. More important than any award, however, is the comfort that she has a champion in Drew Carey, who adamantly opposed adopting a "Barker's Beauties"-type moniker when he joined the show. "[I'll call them] by their names," he told USA Today. "I'd love for people to [recognize] Gwendolyn [Osborne] or Brandi [Sherwood]. I'd hope they could use this as a springboard to get famous for other things."