DC League Of Super-Pets Post-Credit Scene Explained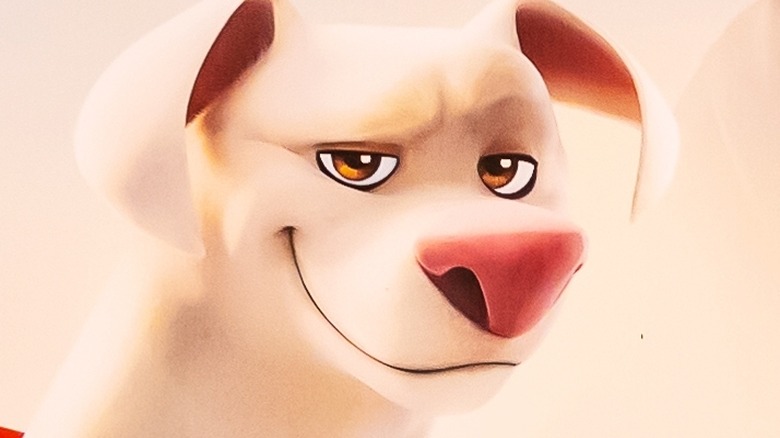 Warner Bros. Pictures
Superheroes meet many interesting villains and colleagues, and even get to participate in the occasional team-up. Still, with their secret identities and various moral dilemmas, it can be a pretty lonely line of work. Turns out, many heroes have opted to deal with this by getting cool super-pets. "DC League of Super-Pets" reveals where these cats, dogs, and other assorted critters come from — and what they're up to in their spare time. 
Because the post-credit scene is the way of so many superhero movies, it's only fitting that even this animated, animal-themed riff on the subject features one. Though it's comparatively removed from the rest of the movie, it features a pretty cool tease about the DC Extended Universe's live-action future, as well as provides a certain actor a chance to really flex their voice-acting muscles. Here's what's really going on in the post-credit scene of "DC League of Super-Pets." 
Dwayne Johnson teases Black Adam and voices three different characters in the post-credit scene
Possibly because post-credit scenes are so commonplace these days — and definitely because this one's so intimately connected to him — Krypto voice actor and "Black Adam" star Dwayne Johnson shared the "DC League of Super-Pets" post-credits scene in advance as an Instagram post. 
The scene starts as Superman and Krypto play fetch with a Batman-themed squeaky toy. Unfortunately for Krypto, Black Adam's dog Anubis grabs the toy, while Adam himself arrives to face off with Superman. This is likely a nod to the fact that Johnson has teased a Black Adam vs. Superman fight at some point down the DCEU line. "The hierarchy of power in the DC Universe is about to change," as the man has been known to put it (via Instagram). 
Because this is still an animated comedy about dogs, cats, and turtles, the potentially Earth-shattering face-off situation is soon defused. Instead of fighting, Anubis and Krypto start a verbal debate about the differences of a Black Adam-style antihero and a full villain — which the first "Black Adam" trailer hinted will be one of the movie's central themes. Amusingly, Anubis himself is quick to admit that the difference can be hard to tell.   
Apart from packing all these "Black Adam" teases in its short duration, the scene is also notable because Johnson voices every character in it save for John Krasinski's Superman. "And YES.... If you listen closely, I voice BOTH DOGS AND BLACK ADAM in this scene," the actor wrote in his Instagram post.