The Least Likable Boy Meets World Character, According To 20% Of Fans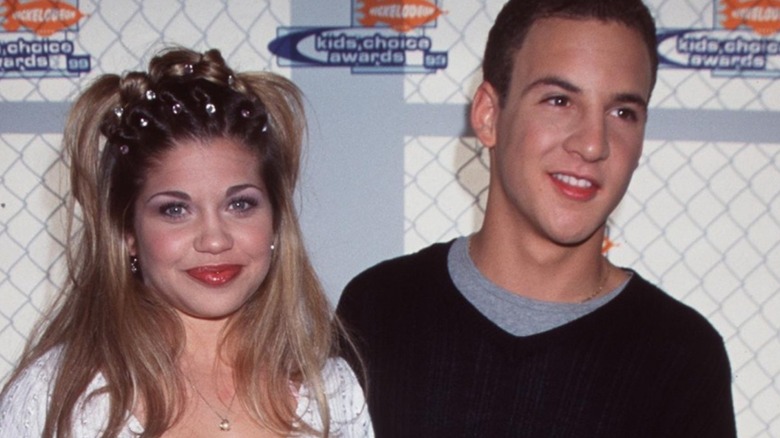 Brenda Chase/Getty
When "Boy Meets World" made its ABC debut back in 1993, the series had the same family-friendly sheen as many of its TGIF counterparts. While that sheen never really disappeared over its ensuing seven-season run, the overall tone of the show often did, with series' creatives regularly steering the narrative into heavy thematic territory. As opposed to many TGIF shows, "Boy Meets World" was uniquely suited to that approach, in that it followed a group of preteens into the often-troubling realm of teendom, and even young adulthood. It largely succeeded in that endeavor, too, thanks in no small part to fronting relatable, well-written characters, and a talented young cast who brought them to vivid life on the screen.  
Over the years, fans have never been particularly shy about showing love to their favorite "Boy Meets World" cast members and characters. Less has been said, though, regarding the matter of which characters they might have an issue (or two) with. 
As such, Looper decided to ask "Boy Meets World" fans to vote on their least favorite character, and to do so, initiated a good, old-fashioned survey. And once the votes were cast, the 621 US respondents who participated came to a rather surprising conclusion. 
Boy Meets World fans are apparently not big fans of Topanga
Did Cory Matthews (Ben Savage) take the title of least likable "Boy Meets World" character — particularly considering the problems that many "Boy Meets World" fans have with him in later seasons? Was George Feeny (William Daniels) in the hunt for such an undesirable honor? Or did a series late-comer like Angela Moore (Trina McGee) or Rachel McGuire (Maitland Ward) earn the ire of "BMW" fans everywhere? Surprisingly, none of the above were voted the series' least likable. And in an even more unexpected turn of events, Topanga Lawrence (Danielle Fishel) took the top spot with more than 20% of the vote.
Yeah, we're as surprised as many of you likely are — considering that Topanga is, one would presume, a fan-favorite chracter on "Boy Meets World." After all, what did Topanga ever do but love our boy Cory, go out of her way to ensure his bromance with bestie Shawn Hunter (Rider Strong) flourished, and generally charm the heck out of everyone else with her wonderfully confounding ways? Anyway, the runne- up in that survey is a little bit of a surprise too, with a just over 17% of voters naming wise old Mr. Feeny as their least-loved series regular.   
Seems the lovable doofus that is Cory's big brother Eric Matthews (Will Friedle) wasn't all that loved by some "BMW" fans, either, with the character placing third in this survey after earning 15.46% of the vote. Cory and Shawn took the next two spots, landing 12.88% and 12.24% of votes respectively. Though they weren't around as long as their "Boy Meets World" counterparts, Rachel and Angela still placed on the list, taking 11.76% and 10.47% of votes themselves.