The Office's Jenna Fischer Was Originally Denied From Taking This Pam Prop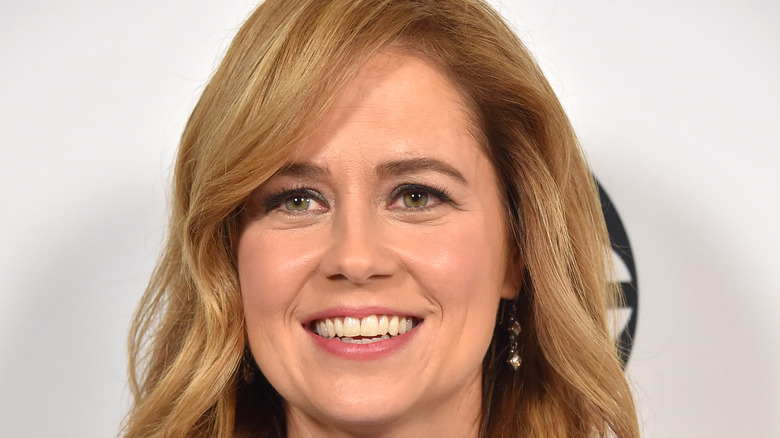 DFree/Shutterstock
We may receive a commission on purchases made from links.
In 2005, the hit comedy series "The Office" debuted on NBC. While the show initially struggled with ratings, it quickly transformed into a beloved sitcom classic that remains a staple of the genre. Following the daily banalities — both large and small — of a paper company in Scranton, Pennsylvania, the series introduced viewers to a wide variety of eccentric characters. Since its release, it has found new life on streaming platforms like Netflix and Peacock, as well as proliferated online in the form of memes and GIFs. As Vox TV critic Emily St. James observed, "Without ever having to do anything, The Office has slid from a show about the drudgery of work to an aspirational fantasy."
During this time, many of the stars from "The Office" have reflected on the making of the show, sharing behind-the-scenes trivia. In 2019, Jenna Fischer and Angela Kinsey launched their popular podcast "Office Ladies," which tracks their reactions to each episode. In 2022, they also released a book, aptly titled "The Office BFFs," that similarly reveals unknown stories about their experiences on-set. One little-known fact includes the revelation that "The Office" almost continued for two more seasons. However, at the time, it was uncertain if some members of the ensemble would stay. As Kinsey explained, "It felt wrong. It felt wrong and like it would just ruin the [Office] world to slowly make up excuses of why people are leaving" (via Insider).
Upon the show's end, Fischer attempted to take home a beloved prop related to her character Pam — and was originally left torn about the interaction.
Fischer tried to take home the watercolor that Pam painted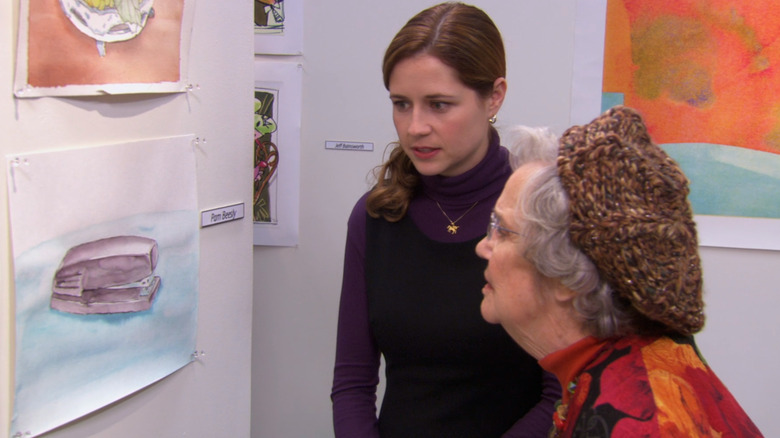 NBC
During an interview with ET Canada Live, Fischer described her original efforts to procure a meaningful piece of memorabilia from the set of "The Office." As she explained, "I asked if I could have Pam's watercolor of Dunder Mifflin and I was told officially from production that I could not have it because it was going to be cataloged as part of the set decoration and it would be stored at NBC."
Notably, the iconic watercolor was first introduced in Season 3, Episode 17, "Business School," during an art show that Pam joins in an attempt to pursue her artistic dreams. Although she invites her co-workers to the event, it is only manager Michael Scott (Steve Carell) who arrives and praises her work. In a touching display of support, he purchases Pam's painting and hangs it up in the office, where it remains for the rest of the series.
In the same interview, Fischer mentioned feeling disappointed at not being able to bring home the watercolor, particularly as she hadn't saved any other significant props. She emphasized, "That was really the one thing I wanted." However, in an unexpected twist, Fischer was later approached by Phil Shea, the show's prop master. "As I was leaving, [he] ran up to me and he said, 'Here, you should have this. I made a color photo of it, they'll never know," she explained.
To the delight of her interviewers, she shared, "I have the original in my house."