Golden Girls Fans Can't Get Over This Horrible Wardrobe Choice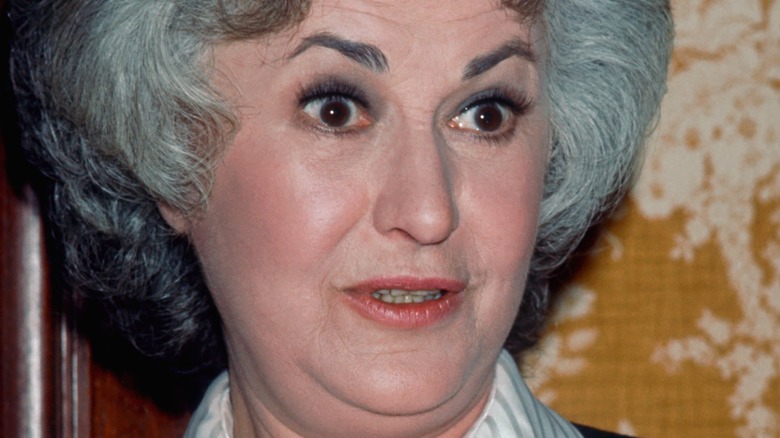 Michael Ochs Archives/Getty Images
"The Golden Girls" was a quintessentially '80s series. While the show followed fictional housemates Blanche Devereaux (Rue McClanahan), Rose Nylund (Betty White), Dorothy Zbornak (Bea Arthur), and Sophia Petrillo (Estelle Getty) as they lived out their golden years in Miami, "The Golden Girls" didn't stray from real-world issues. Unlike some of its competitors, the series directly referenced topical issues and current events — including the AIDS crisis, the Iran-Contra affair, and the Gulf War — that weren't necessarily sitcom-friendly.
The unmistakably '80s energy also leached into the show's singular aesthetic, whether it was the tchotchke-filled interiors of the girls' Miami abode or, more importantly, their iconic wardrobes. Indeed, the costumes on "The Golden Girls" are the stuff of legend, inspiring an InStyle article titled "The Golden Girls Are Still the Best-Dressed TV Characters in History." Part of the series' lore comes from the main characters' predilection towards knitwear, boxy jackets, and bedazzled negligees. Forget about coastal grandma; the South Beach denizens of "The Golden Girls" stand in a league of their own.
That being said, not every outfit on "The Golden Girls" is a winner. Here's the one wardrobe choice that fans unanimously loathe.
Dorothy's wedding dress is a low point on The Golden Girls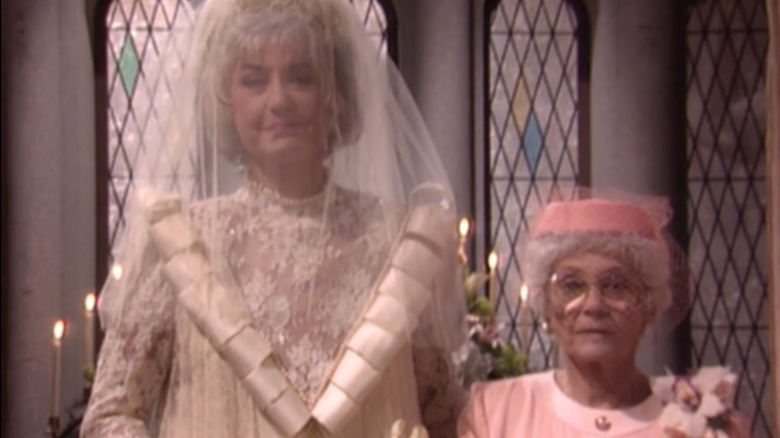 NBC
In 1992, "The Golden Girls" ended with one of its best episodes that saw Dorothy marrying Blanche's Uncle Lucas, played by Leslie Neilsen, and decamping to Georgia. Though the send-off is sweet, it's a sartorially sour note for the usually fashionable series. At the wedding, Dorothy dons a high-necked lace number with a v-shaped detail seemingly made out of, many Redditors point out, toilet paper rolls. "It's awful," wrote u/The_Ice_Queen920 on the r/theGoldenGirls subreddit. "It looks like toilet paper rolls on the front." Meanwhile, u/NewtLevel added, "It's the very worst dress I've ever seen. I've been horrified by it since the finale originally aired when I was in high school!"
Bea Arthur, typically a champion of costume designer Judy Evans, praised the stylist in an interview with the New York Post. "She knew Dorothy had a dramatic side, so she'd give me crazy earrings to wear," Arthur said. "She was extraordinary." That praise, however, didn't extend to the wedding dress.
According to Jim Colucci, author of "Golden Girls Forever: An Unauthorized Look Behind the Lanai," Arthur hated the infamous dress. "Bea wasn't one to criticize Judy's work, because she usually loved Dorothy's outfits, but even she said that was the one time she thought something Dorothy wore was ugly," he claimed in an interview with The Golden Girls Fashion Corner. At least Blanche and Rose look eminently stylish in their matching bridesmaid dresses.