The Office's Rainn Wilson Reveals The Best Piece Of Dwight Schrute Art He Ever Received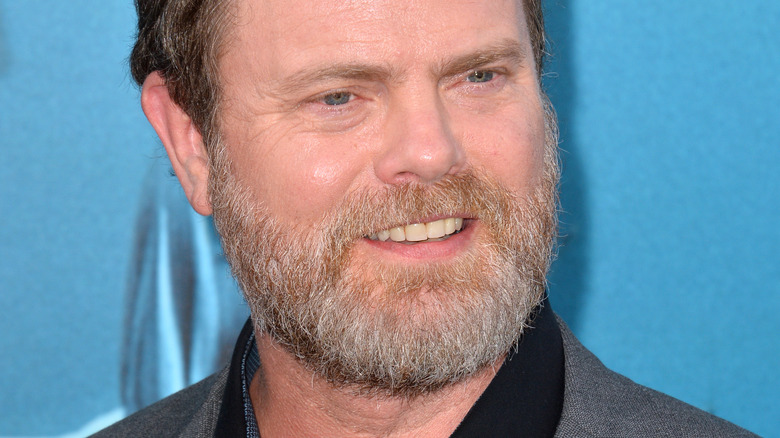 Featureflash Photo Agency/Shutterstock
You may not realize it, but NBC's beloved workplace mockumentary series "The Office" has been off the air at this point about as long as it was on. Yet with the series continuing to delight fans old and new via syndication and streaming binges, it almost feels like it never left at all. In fact, these days, "The Office" fandom is as fervid as it's ever been, with affection for both the show and virtually every single character who appeared on it during its nine-season tenure only seeming to grow.
That affection indeed extends to Dunder Mifflin's beet-farming know-it-all Dwight Schrute, who served as a sort of antagonist to fan favorites like Jim Halpert (John Krasinski) and Pam Beesly (Jenna Fischer) for much of the series run. The character was brilliantly portrayed by Rainn Wilson during the entirety of "The Office." And Wilson's often devilishly deadpan work has helped both he and his infamously prickly character become beloved in their own right. Like many of his "The Office" co-stars, Wilson has also received no shortage of love from fans in the guise of character-inspired art over the years. And he recently got candid about his favorite piece of Dwight Schrute-inspired artwork.    
Wilson received a suitably Schrutian work of art from a superfan of The Office
"The Office" has, of course, been inspiring impassioned fandom since its early days on the air (per Mashable). Part of the reason fans remain so devoted to the series is that the stars of the show have almost universally embraced the love and support bestowed upon them. So, too, has Rainn Wilson, who joyously discussed his wealth of Dwight Schrute-inspired swag during a 2020 video interview for "The Kelly Clarkson Show," telling Clarkson, "I get Dwight Schrute gifts all the time." Wilson then pointed out that much of the artwork seen in the background of the shot was actually sent to him by die-hard fans of "The Office."
The actor went on to profess that, sadly, his all-time favorite piece of fan art was not on display, though it sounded like a deliciously Schrutian piece of work. Per Wilson, "The best piece of Dwight art I ever got ... someone took a beet and carved Dwight's face in the beet. And it was so beautiful." He promptly went on to marvel at how long it must've taken to carve Dwight into the vegetable before lamenting the fact that he failed to take a photograph of the artifact before it decomposed. Decomposition aside, Wilson still spoke fondly of the work, claiming, "It was like one of those beautiful works of art that came and went, like a snowflake."
As Clarkson notes, such works are best enjoyed in the moment. Judging from Wilson's comments, that's precisely what "The Office" star did.