The Disney Characters You Likely Forgot Frasier Star Bebe Neuwirth Voiced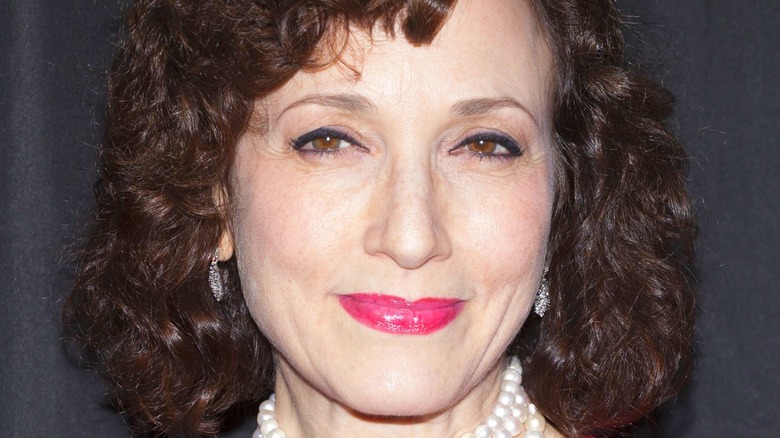 lev radin/Shutterstock
Anybody who's ever caught a "Cheers" rerun or even seen the 1995 film "Jumanji," where she plays Nora Shepard, will recognize Bebe Neuwirth's sometimes venomous but always distinctive voice. It's part of what made her so funny on "Cheers" and later "Frasier" as Lilith Sternin, Frasier's (Kelsey Grammar) icy, intelligent ex-wife. She's also used that voice to sing on Broadway for many years, such as in her performances in stage productions of "Chicago" and "The Addams Family" (Broadway World).
While also performing live on stage and on the screen, Neuwirth has also lent her vocal talents to a number of television shows and films over several decades, including "Duncanville," "The Magic School Bus," and "All Dogs Go to Heaven: The Series." The actress credits her performances to her sense of rhythm, as she told The Palm Beach Post, "I could be standing on the cabaret stage singing or doing a part in a comedy TV show or voicing a character on a cartoon, and there's always a physicality and movement."
Still, it's easy to forget about some of her many voiceover roles, especially in Disney projects.
She was Sylvia in An Extremely Goofy Movie
Bebe Neuwirth was first connected to Disney when she reprised her role as Lilith as part of "Disneyland's 35th Anniversary Celebration" special in 1990 (via IMDb). But the Disney role Bebe Neuwirth is arguably best known for is the direct-to-video "A Goofy Movie" sequel, "An Extremely Goofy Movie." Neuwirth voices Sylvia in the animated movie, a cool librarian who strikes up a romance with Goofy (Bill Farmer). The pair bond over their love of 1970s culture, especially in one unforgettable disco dance sequence, while she helps him figure out his bond with his college-aged son, Max (Jason Marsden).
The movie is actually well-regarded critically compared to other Disney sequels (via Rotten Tomatoes). Polygon even ranked "An Extremely Goofy Movie" sixth in a list of the company's direct-to-video films. The site criticized the look of the animation but still found praise for the flick and the amount of fun one has while watching it.
Despite Sylvia's chemistry with Goofy, Farmer revealed that he and Neuwirth never actually met during the voice recording process (via Journey of a Frontman). The voice actor said, "She was in New York doing a show on Broadway and I was in LA. She did her lines up there, I did mine in LA and they put them together."
Neuwirth also played Mirage on Aladdin and was recently on DuckTales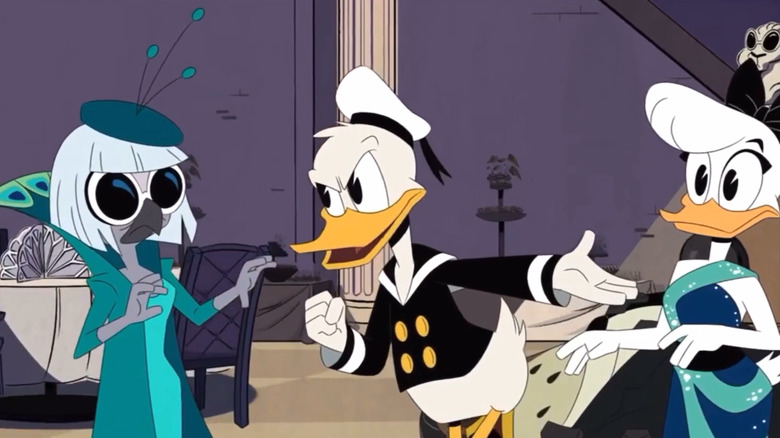 Disney/YouTube
Over the course of her considerable career, Bebe Neuwirth has taken on other Disney characters as well. She played the evil Mirage on several episodes of "Aladdin," an elemental being who is one of the most powerful and malevolent foes of the series. The actress later voiced the character La La on an episode of the Disney Channel series "Jungle Cubs." Neuwirth's deep, flat intonations were also perfect for the recurring character of Bronte Bladdar, the contemptuous English teacher on "Pepper Ann."
Neuwirth continued to record voice roles for shows like "Over the Garden Wall" and "Cyberchase." But she didn't return to a Disney production until 2020, when Neuwirth voiced Emma Glamour, a snobby party planner with a reputation, on the recent animated remake of "DuckTales." Naturally, the actress was playing someone almost as cold and hard to impress as the character, Lilith, which made her famous many years ago on "Cheers" in 1986. Some things just don't change, especially when you're a beloved character actress.