Who's Behind The Price Is Right's Iconic Theme Music?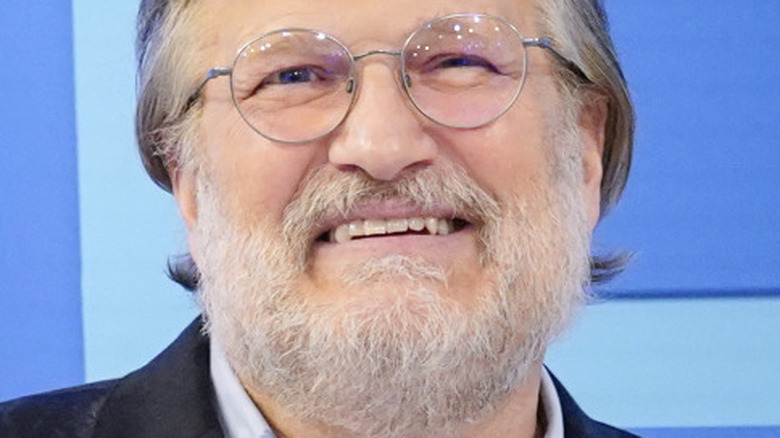 Adam Torgerson/CBS
With 50 years of high-stakes, often hilarious gaming action under its belt and no end on the horizon, CBS' hit daytime game show "The Price Is Right" is the very definition of iconic. That status can legitimately be applied to almost every single facet of the show, including its set design, its fascinating range of games, and both of its long-time hosts Bob Barker and Drew Carey. It also very much applies to the show's funky, jazz-tinged theme music as well. 
These days, said music is arguably as identifiable to the legendary show as Barker himself. We'd even go so far as to wager the bulk of "The Price Is Right" fanbase can't think about the show without that rollicking theme song popping into their head. That music has, after all, been the one constant in the series since it debuted back in 1972. Over the years it's both opened and closed more than 9000 episodes of "The Price Is Right" (via IMDb). You may not know it, but the show's theme was composed by one man. And as it turns out, "The Price Is Right" is far from his only hit in the television realm.
Edd Kalehoff masterminded The Price Is Right music, and several other iconic Television themes
The composer in question is Edd Kalehoff, and working up the theme music and cues for "The Price Is Right" was actually one of his first credited gigs in television. While there's been some debate surrounding royalties and credits over the show's iconic theme music over the years (via Genius), it's safe to say that music still remains a legitimate calling card for both the show and Kalehoff himself.
As Kalehoff recalled in an interview for Henry Hey's "The Right Key" YouTube series, much of the show's music was recorded via a mix of synthesizer and Moog work, with a handful of session players (including members of Los Angeles' famed "Wrecking Crew") stepping in for live in-studio contributions. Though "The Price Is Right" remains arguably his best-known work, the music he contributed to the show is only a fraction of what Kalehoff has crafted as a composer.
Indeed, "The Price Is Right" is far from the only show sporting a Kalehoff theme. According to the composer's own website, Kalehoff's vast sonic vault boasts contributions to the likes of "ABC's World News Tonight," "The View," "48 Hours," "Nightline," "PBS NewsHour," and "Monday Night Football." Heck, he even composed the theme music for Nickelodeon's legendary, slime-centric game show "Double Dare." In a 2015 interview with PBS, Kalehoff said he also helped record the iconic ticking clock intro for "60 Minutes." With a resume like that, Kalehoff can arguably claim the title of icon.