Every Song In The Frozen Franchise Ranked Worst To Best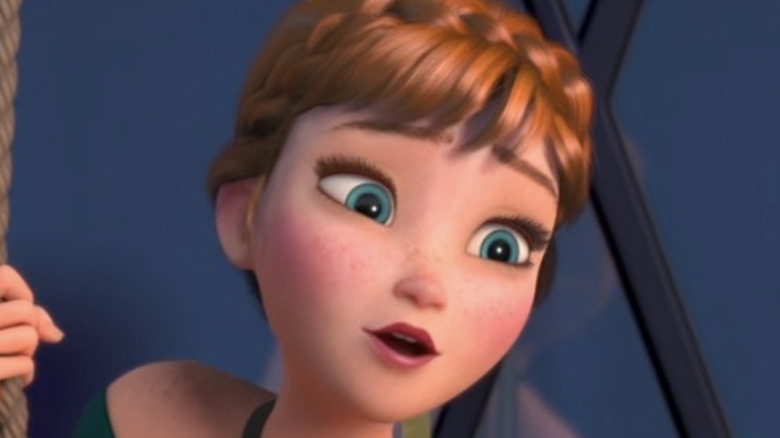 Walt Disney Studios Motion Pictures
Everyone who loves Disney's "Frozen" franchise has their favorite song. Whether you're into classic ballads or '80s rock, whether you prefer upbeat, dance-worthy songs or slow compositions you can relax to, there's a "Frozen" song for every mood and occasion.
Disney frequently pumps "Frozen" through its synergy machine, with the franchise's extended universe, as it were, comprised of a multitude of diverse projects at the disposal of Disney's vast portfolio: a Broadway musical, theme park attractions, and even a narrative arc on "High School Musical: The Musical: The Series," among which there has been no shortage of show tunes.
In the "Frozen" series proper, Walt Disney Animation Studios has created a few anchor projects that have music at their center: 2013's "Frozen," the 2015 short film "Frozen Fever," the 2017 holiday special "Olaf's Frozen Adventure," and 2019's "Frozen 2." These have collectively provided 21 songs in the "Frozen" songbook, and today we're going to rank all of them. So bundle up and let's hit the ice.
21. Fixer Upper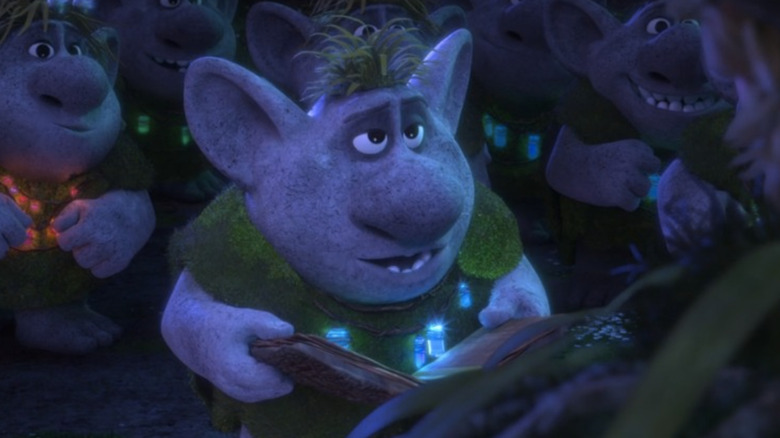 Walt Disney Studios Motion Pictures
This upbeat production number is performed by the trolls toward the end of the original "Frozen." It ranks at the bottom of the barrel for the way it slows the story down and for its questionable subject matter. 
Kristoff was raised by trolls, and when Elsa accidentally strikes Anna's heart with her icy powers, Kristoff thinks the trolls might know a way to heal Anna. That's the reason for his visit, but the trolls completely dismiss the life-and-death matter at hand to instead sing a song to convince Anna to marry Kristoff. Because that makes sense.
The "fixer upper" in question is Kristoff himself, who the trolls proceed to completely throw under the bus with lyrics describing his less-than-desirable traits, like "how he only likes to tinkle in the woods." Their point is that even though Kristoff needs some work, Anna should realize he's a perfect match for her and marry him immediately. As in, right now.
The bizarre lyrics continue with the odd statement, "We're not saying you can change him 'cause people don't really change." What? Isn't the entire point of the movie that people can change for the better? All in all, "Fixer Upper" is a chaotic frenzy of a tune that pauses, if not regresses, the narrative rather than moving it forward, and for that it ranks last among "Frozen" songs.
20. Making Today A Perfect Day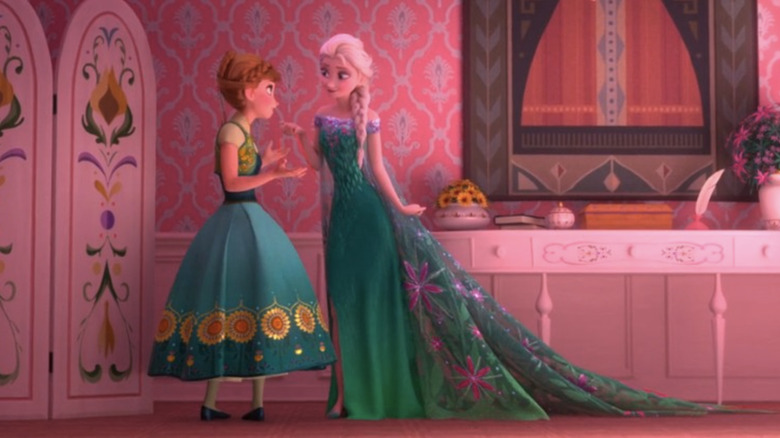 Walt Disney Studios Motion Pictures
This five-minute song encompasses the majority of the eight-minute "Frozen Fever" short film, which debuted in 2015 alongside the theatrical release of Disney's live-action "Cinderella" remake. As the first major "Frozen" project following the massive phenomenon of the original film, "Frozen Fever" acts as something of a catch-all of who's-who appearances from favorite characters, from Olaf and Kristoff to Wandering Oaken and even Hans. Songwriters Kristen Anderson-Lopez and Robert Lopez return to write the song, which threads the sequences together.
In the short film, it is Anna's birthday, and Elsa has prepared an entire day of festivities to make up for years of not celebrating while the kingdom gates were closed. Elsa's a bit under the weather, however, meaning Idina Menzel performs the song in an ill, stuffy-nosed voice — story-accurate and committed to the role, but not the greatest experience for the listener.
19. Frozen Heart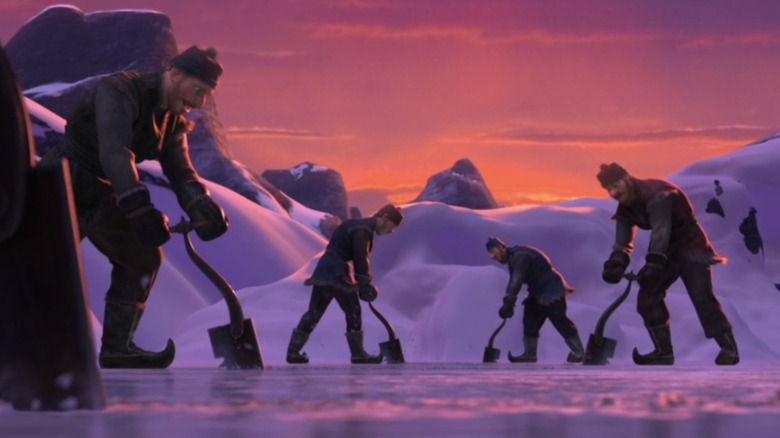 Walt Disney Studios Motion Pictures
Just after the opening credits of the original "Frozen," a group of male ice harvesters sing ominously as they chip away at large formations to make cubes to sell. Those listening closely can pick up on small hints of foreshadowing at the story to come, as the harvesters' words allude to the mystical properties of ice and caution all to "beware the frozen heart." Later in the film, Elsa learns that her icy powers can have grave consequences — healable if inflicted upon most parts of the body, but nearly irreversible if in contact with the heart.
"Frozen Heart" sounds something like a sea shanty, which is appropriate given its resemblance to "Fathoms Below," the song that opens "The Little Mermaid." "Fathoms Below" is similarly sung by a group of men performing a task together — in that case, navigating a ship — and hinting at a tall tale that is later found to be true. It just so happens that both "The Little Mermaid" and "Frozen" were inspired by stories originally written by Hans Christian Andersen. "Frozen Heart" serves its purpose, but isn't nearly as memorable as the songs that follow.
18. When I Am Older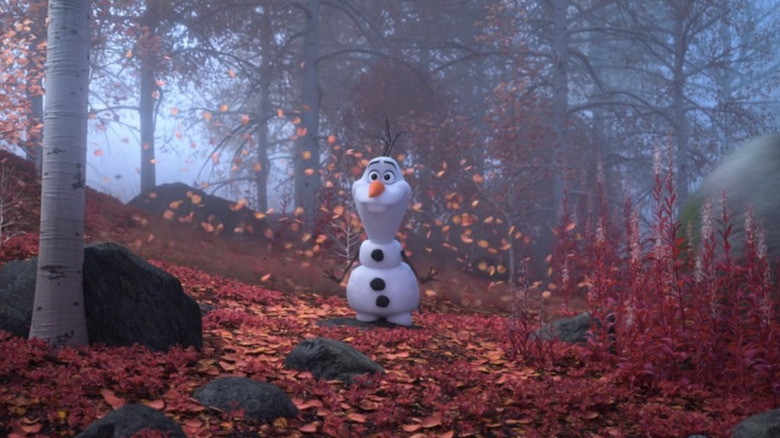 Walt Disney Studios Motion Pictures
As Olaf wanders the Enchanted Forest in "Frozen 2," he thinks aloud in song about his confusion. Earlier in the film, the whole gang assured him that their happy life would always stay the same, but suddenly Olaf's entire world has changed. He comes to the conclusion that his lack of understanding must simply be a consequence of him still being young. "This will all make sense when I am older," he surmises.
He finishes his tune by belting, "When you're older, absolutely everything makes sense!" His sentiments likely elicit a chuckle or two from audience members who are older and know this to not be true at all. The song delivers some humorous inner dialogue from Josh Gad as Olaf. Particularly funny is his prediction that "One day when I'm old and wise, I'll look back and realize that these were all completely normal events."
17. All Is Found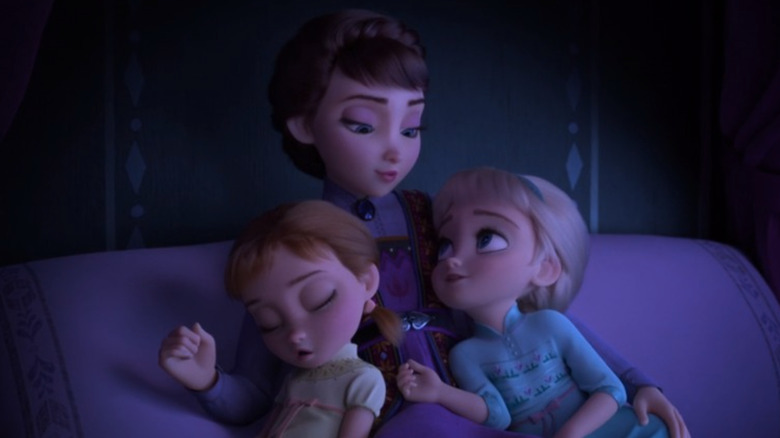 Walt Disney Studios Motion Pictures
Anna and Elsa's mother sings this lullaby to her young daughters during a flashback at the beginning of "Frozen 2." Serving a similar function as "Frozen Heart," the opening song of the first film, "All Is Found" weaves a mythic tale that foreshadows the story that follows in the rest of the film. Elsa's mother sings, "Where the north wind meets the sea, there's a mother full of memory," alluding to the location that Elsa must travel towards in adulthood to discover her destiny from the ghost of her deceased mother.
While the song is calm and serene, its lyrics are sometimes dark. At one point, the song warns, "Dive down deep into her sound, but not too far or you'll be drowned." That's a nice sentiment to hear just before going to sleep. In the film, Evan Rachel Wood performs "All Is Found" as Anna and Elsa's mother. Casey Musgraves covers a version of the song in the movie's end credits.
16. Reindeer(s) Are Better Than People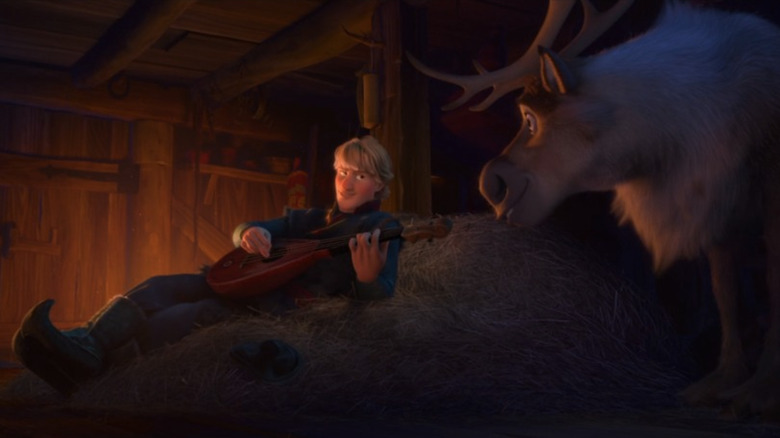 Walt Disney Studios Motion Pictures
Jonathan Groff was already an accomplished performer by the time he was cast as Kristoff when "Frozen" hit theaters in 2013. As such, it might be expected that Kristoff would be an integral part of the film's soundtrack, though that's oddly not the case. Groff does get his own song, "Reindeer(s) Are Better Than People," but it's less than a minute long.
As Kristoff prepares for bedtime, he sings to his reindeer, Sven, pretending the song is a duet as he subs in for Sven's inability to talk by performing both parts. Kristoff sings about how he much prefers to rough it with Sven than spend time with people, with which Sven obviously agrees. The song is simple and no-fluff, with the only music coming from Kristoff's slow-playing guitar. While the song is sweet, it doesn't do justice to Groff; thankfully he would get more opportunities to shine in later "Frozen" productions.
15. The Ballad Of Flemmingrad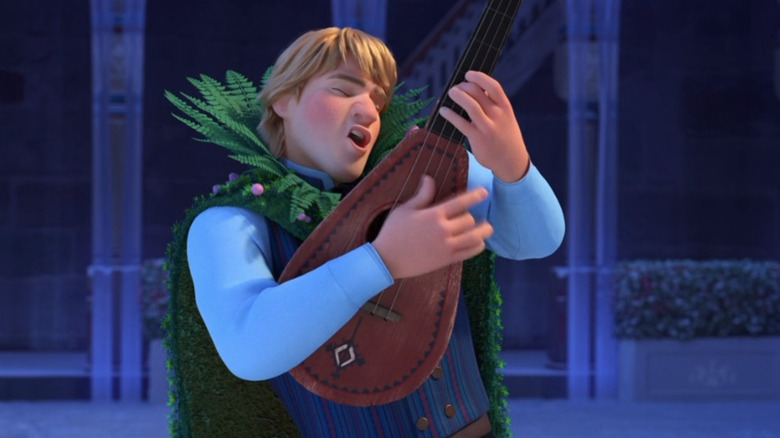 Walt Disney Studios Motion Pictures
Walt Disney Animation Studios debuted "Olaf's Frozen Adventure" as a holiday special in 2017. (You may remember how the project was developed as a half-hour television program before being switched to a theatrical release alongside Pixar's "Coco," which confused and frustrated many moviegoers.)
"Olaf's Frozen Adventure" unfortunately repeats the pattern established in "Frozen" of reducing Kristoff's musical involvement to a song that lasts less than a minute. Jonathan Groff performs "The Ballad of Flemmingrad" as the character, singing of how during his youth, Kristoff and his adopted family of trolls celebrated the holidays by honoring a mythic figure known as Flemmingrad. While the song only lasts 44 seconds in the mini-movie itself, the good news is that the soundtrack supplies a full three-minute version, elaborating on the tale of "Flemmy" and featuring Groff absolutely committed to the part.
"Olaf's Frozen Adventure" is the only project in the "Frozen" franchise thus far to not include songs written by Kristen Anderson-Lopez and Ropert Lopez. The holiday special's songs are instead written by Elyssa Samsel and Kate Anderson, whose other work includes the Apple TV+ show "Central Park" and the off-Broadway musical "Between The Lines."
14. That Time Of Year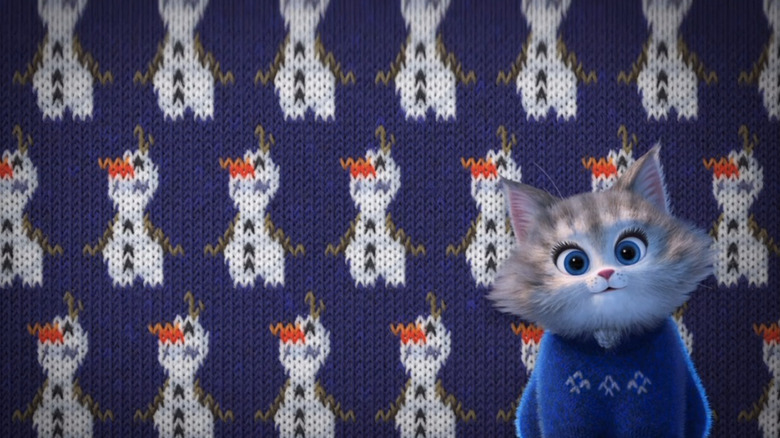 Walt Disney Studios Motion Pictures
If there are two qualities that are Olaf's signature, it's that he is always curious to learn more about the world around him, and that he's deeply empathetic of his friends' emotions. In the holiday special "Olaf's Frozen Adventure," Anna and Elsa realize they don't have a family tradition for the holiday season because their home was always isolated growing up. Olaf feels their sadness, and sets out to find a solution.
The snowman takes to the streets of Arendelle, asking every family in the kingdom to share with him their holiday traditions so that he can find the perfect one to bring back for Anna and Elsa. What follows is a zippy song that shares a number of cultural holiday traditions, Olaf providing his own comical commentary on them as he goes along. ("You cut down a tree and then you dress its corpse with candles? I love it!") 
The lyrics may bring to mind fun traditions that listeners/viewers have in their own family. Truth be told, it's the most elaborate song Olaf performs in the entire franchise, even beyond the full-length films.
13. The Next Right Thing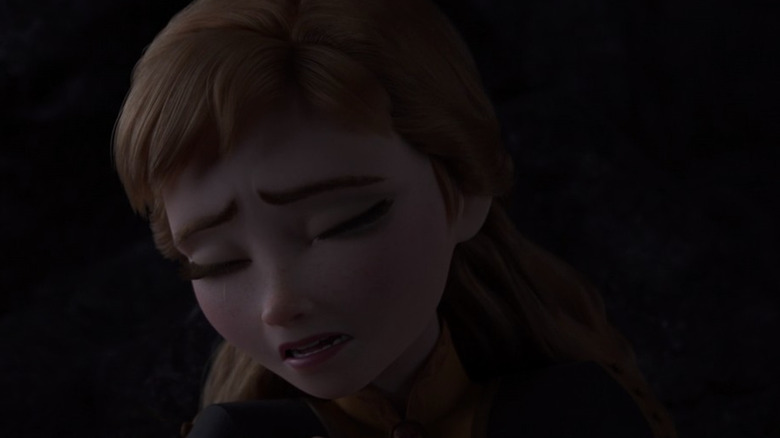 Walt Disney Studios Motion Pictures
"Frozen 2" isn't afraid to tackle sophisticated, mature subject matter. At the lowest point in the story, Anna has all but given up. Olaf has perished (at least for the time being), Elsa's whereabouts are unknown, and Anna finds herself alone in a cave. Despite her grief, though, she chooses to keep going and find a solution, and therein lies the substance of "The Next Right Thing," Anna's only solo number in the film.
The message of this song — to not give up, even in hopeless moments — is an important one, and works best in the context of the film at large. As an individual song, it's a heavy listen. Not that a song about being at wit's end should be chipper. "The Next Right Thing" absolutely accomplishes its purpose narratively. In the process, however, its lyrics go to some really dark places that make the song difficult to assess in a ranking with Broadway-style production numbers that make up the majority of the rest of this list. After all, it's hard to imagine preschoolers singing along in the car to the words "Hello, darkness, I'm ready to succumb."
Still, "The Next Right Thing" eventually takes a turn to the hopeful message that sometimes the best thing we can do is simply take the next step. 
12. Ring In The Season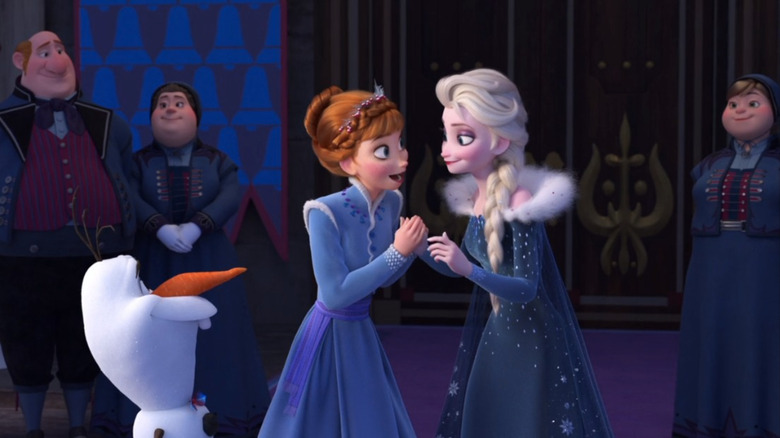 Walt Disney Studios Motion Pictures
This opening number of "Olaf's Frozen Adventure" wonderfully blends the stylings of Arendelle with the flair of Christmastime to kick off the "Frozen" holiday special on an upbeat note. As the first holiday season since they opened the gates of the kingdom, Anna and Elsa want this one to be extra special, and their anticipation is through the roof. "Look at the joy," they sing, "And it's everywhere! I feel the Christmas spirit in the air."
This song would make a particularly appropriate selection as the first holiday tune that superfans of the season listen to while perhaps decorating their own home or sipping on a cozy cup of hot chocolate. "It's finally here and it's happening fast" are not just lyrics of this song, but also the sentiments of many people who can't wait to put up their Christmas tree or enjoy a candy cane after waiting all year to do so.
11. Some Things Never Change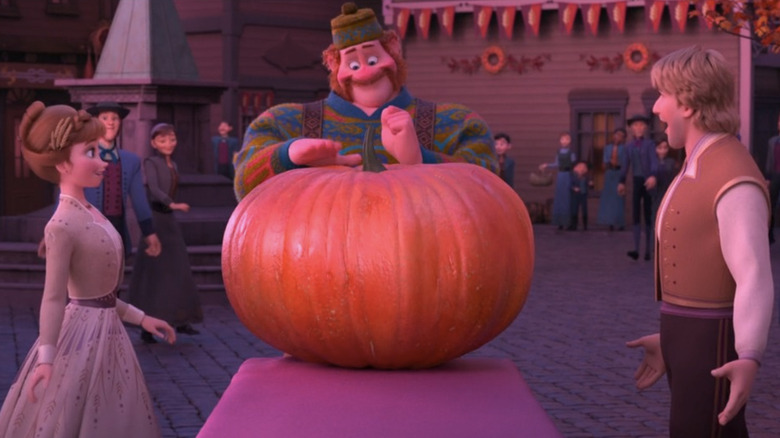 Walt Disney Studios Motion Pictures
This jubilant ensemble number serves as a re-introduction to the main cast in "Frozen 2," with vocal parts for Anna, Elsa, Olaf, and Kristoff (and, by extension, Sven). As the characters welcome the autumn season, they sing about the comfort they find in parts of their lives that have remained the same during a period of otherwise dynamic change. It's a fun song that gives each character a moment to shine and sets up individual arcs upon which the rest of the film will deliver.
The arrangement of "Some Things Never Change" is also unique to most of the other songs within the "Frozen" franchise. It's not quite a full-on country song, but it does have a bit of a rustic feel, occasionally leaning into instruments that American pop culture typically associates with the autumn season, like banjos and fiddles.
Somewhat similar to the song "Where You Are" from "Moana," "Some Things Never Change" is an opening number that confidently declares lyrics that the characters will soon discover are not true at all. Many of the things listed that will "never change" are about to change in a big way. For example, in the song Elsa proclaims, "I promise you the flag of Arendelle will always fly" just a few scenes before the flag is violently blown away from its pole by gusts of wind. It's an indication of the thematic core the story will soon center itself around.
10. When We're Together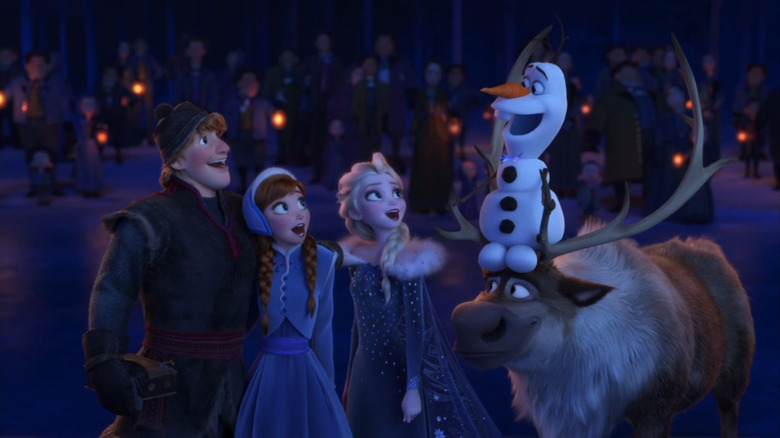 Walt Disney Studios Motion Pictures
This radiant finale of "Olaf's Frozen Adventure" is brimming with warm holiday cheer. It begins as a sweet, calm song between Anna and Elsa before trilling into a more buoyant tune with the help of Arendelle citizens making up a chorus in the background. As everyone celebrates, Elsa uses her powers to create an icy wonderland of a decorative display, complete with a snowy tree in the middle.
The lyrics of "When We're Together" encompass a central theme of the holiday season and of the "Frozen" franchise itself, togetherness. The sisters sing, "Doesn't matter where we are, if you're there with me 'cause when we're together, that's my favorite place to be." The holiday season can be a hectic time of year for many families to arrange plans and try to make everything perfect, but when it's all said and done, the plans themselves are less important than the people with which they're spent.
9. In Summer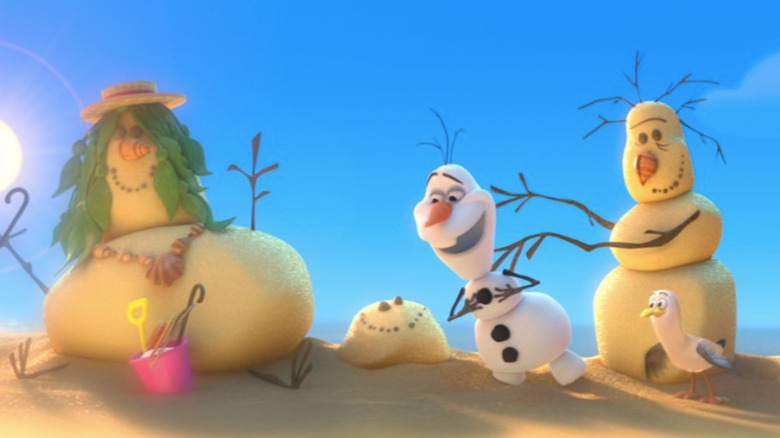 Walt Disney Studios Motion Pictures
When searching for Elsa in the original "Frozen," Anna and Kristoff stumble upon a snowman come to life. He's Olaf, and he likes warm hugs. There's something else he likes, too: summer. The oxymoronic humor of a snowman in love with "the idea of summer and sun and all things hot" carries the scene into "In Summer," a song detailing Olaf's summer fantasy come to life. In the tradition of such Disney songs as "I Just Can't Wait To Be King" from "The Lion King" and "Almost There" from "The Princess and the Frog," Olaf's surroundings are hyperbolized to show the situations he imagines himself enjoying in his hypothetical summer.
"In Summer" is the audience's primary introduction to Olaf. It accomplishes the large task of communicating the character's core motivations and inner dreams in a way that fits his quirky personality and endears the audience to (hopefully) like him as the film's main sidekick. It's safe to say that the song achieves these goals and then some, with Olaf becoming a hugely popular figure in family entertainment throughout the 2010s. That popularity began with "In Summer."
8. Lost In The Woods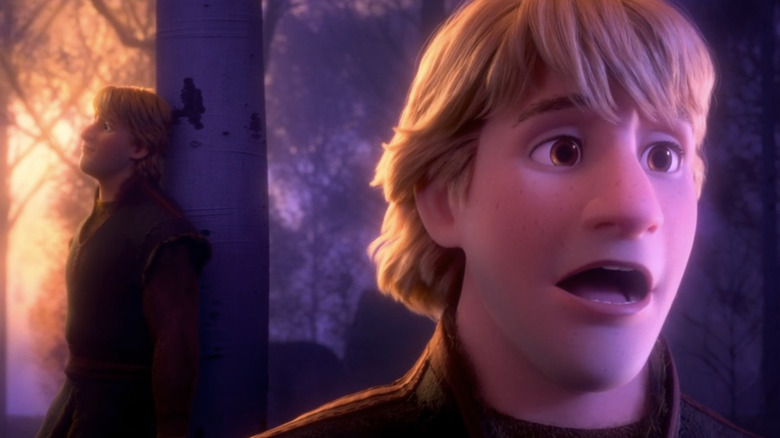 Walt Disney Studios Motion Pictures
After getting snubbed out of the spotlight in former productions — when his musical involvement was reduced to one-minute ditties — Kristoff is redeemed with a full number of his own in "Frozen 2" called "Lost In The Woods." Following a number of failed attempts to propose to Anna, Kristoff wonders if he prematurely misjudged their relationship. Is she growing distant from him? Are they not as ready to be engaged as he thought? How can he make things right, or let her move on if that's what she needs? These questions haunt Kristoff's mind, and he belts them out with all his might as he is both literally and figuratively "Lost In The Woods," wandering the Enchanted Forest.
The song's treatment involves a glorious spoof of classic '80s love ballads, with stylized close-ups of Kristoff, funky guitar riffs, and back-up vocals performed in falsetto that feel comically and intentionally out of place in the otherwise timeless fairytale aesthetic of the rest of the film.
7. Do You Want To Build A Snowman?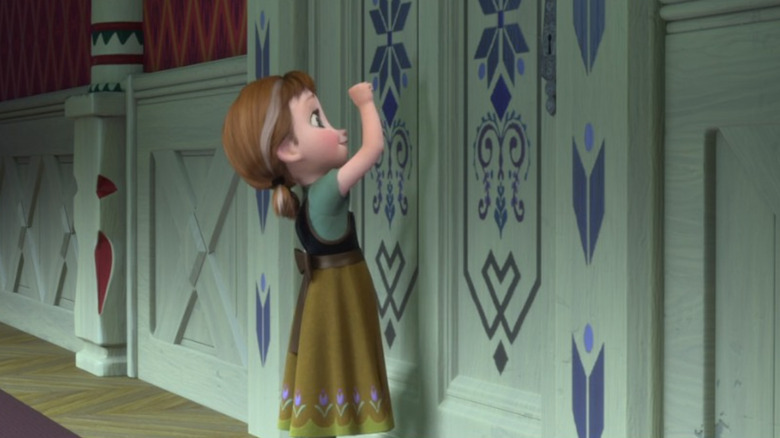 Walt Disney Studios Motion Pictures
At the beginning of "Frozen," young Elsa has to hide her powers from Anna. Unaware of her sister's magic, Anna innocently knocks on Elsa's door as the years go by, asking if she wants to build a snowman with her.
This song has a lot to accomplish narratively, spanning three different moments in the timeline stretched years apart, including the death of Anna and Elsa's parents. As such, its vocals are performed by three different performers singing as child, teenage, and adult versions of Anna, ultimately ending with Kristen Bell.
For some reason, "Do You Want To Build A Snowman?" has become a staple of radio station holiday playlists around Christmastime in recent years. Somewhat similar to the same inexplicable phenomenon thrust upon "My Favorite Things" from "The Sound of Music," there's nothing particularly holiday-related in "Do You Want To Build A Snowman?" other than its mention of a snowman, yet its annual association with Christmas songs has rendered it a holiday tune all the same. This is especially odd considering there's an entire holiday special filled with "Frozen" songs that actually connect with Christmas, and any of those would seemingly be better suited for yuletide celebrations.
6. Love Is An Open Door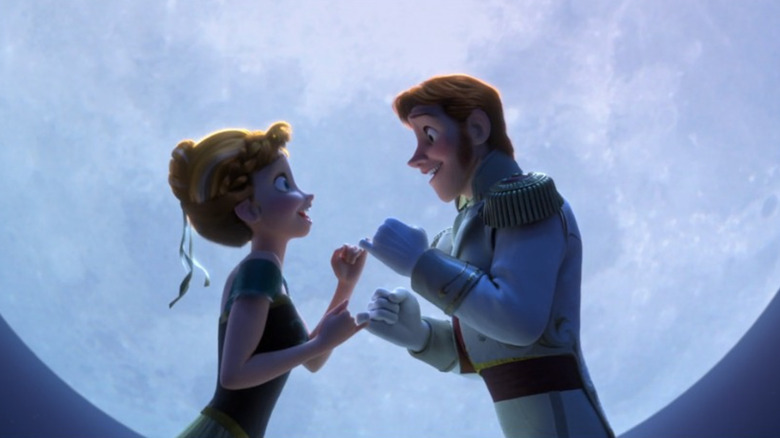 Walt Disney Studios Motion Pictures
A love song that's actually a villain song in disguise, "Love Is An Open Door" takes on completely new meaning upon repeat viewings of "Frozen." But the first time audiences hear Kristen Bell and Santino Fantana perform the song as Princess Anna and Prince Hans, it seems all about their budding romance, not Hans duping Anna. At the conclusion of the song, when Hans asks Anna to marry him, while it might come across as rushing the relationship, if anything the audience might simply judge the couple or write off their naivete. There's nothing to indicate his treacherous true nature.
The song's melody bobs along with a more upbeat rhythm than the slow, dreamy nature of most Disney love songs. This makes it a refreshing contrast to what audiences might expect, and also a perfect choice to belt out as a duet in the car. "I mean, it's crazy. We finish each other's—" "Sandwiches!" "That's what I was gonna say!" No one can resist singing along with that.
5. Show Yourself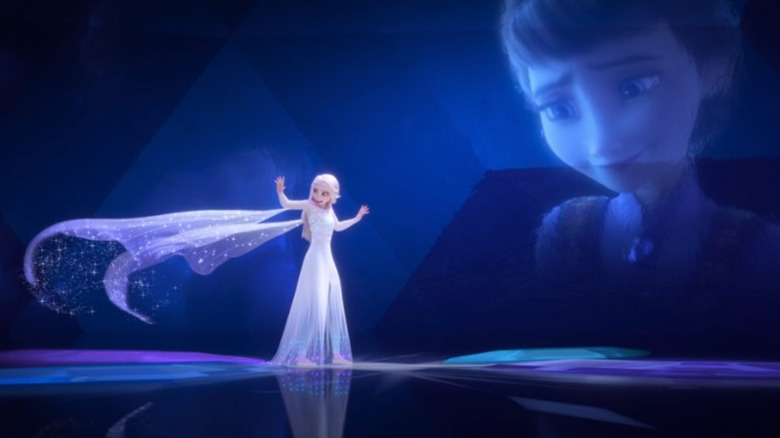 Walt Disney Studios Motion Pictures
What's the only thing better than an Elsa power ballad? How about two Elsa power ballads?! "Frozen 2" gives Elsa two solo numbers, including "Show Yourself," an eleventh hour song near the climax of the film. The moment in the story feels somewhat akin to when Mufasa's ghost appears to Simba in "The Lion King" to remind his son of his destiny. Here, the memory of Elsa's mother reveals to her daughter that Elsa is among the magical spirits that comprise the elements of nature — along with earth, air, fire, and water.
Emotionally, "Show Yourself" is a juggernaut, with Elsa being affirmed, "You are the one you've been waiting for." Musically, the song is a force, as well, as it integrates the melodic voice Elsa has been hearing the length of the movie while also incorporating a portion of "All Is Found," the lullaby that begins the movie.
4. Vuelie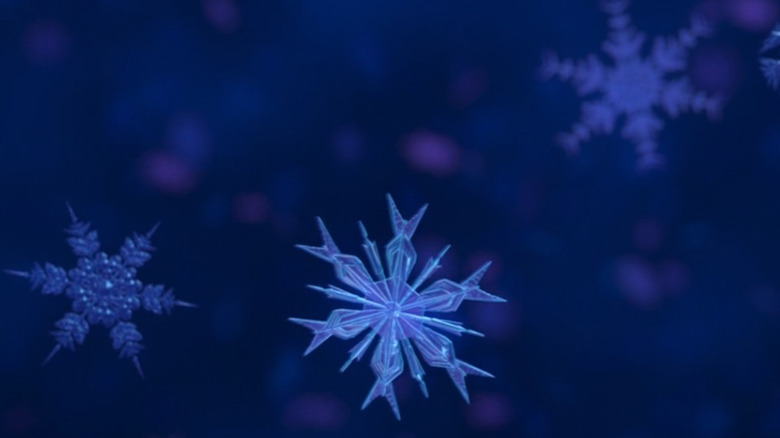 Walt Disney Studios Motion Pictures
This opening chant begins the original "Frozen" on a prestigious note that immediately gives weight to what's to come and tells the audience to settle in for something unique. Offscreen vocals provide an enchanting overture, as animation of falling snowflakes gently fills the frame and reveals the movie title.
"Vuelie" was written by musician Frode Fjellheim and "Frozen" score composer Christophe Beck. In a 2014 interview with Animated Views, Fjellheim shared that the version of the song that appears in the film began as Fjellheim's existing "Eatnemen Vuelie," which itself was inspired by the hymn "Deilig Er Jordan," or "Wonderful is the Earth." Fjellheim explained that while the specific words of the song have no meaning, a "Vuelie" itself is a type of chant native to the Sámi culture of Norway, Sweden, Finland, and Russia. Its inclusion begins "Frozen" with a touch of authenticity for its Scandinavian-inspired setting.
3. For The First Time In Forever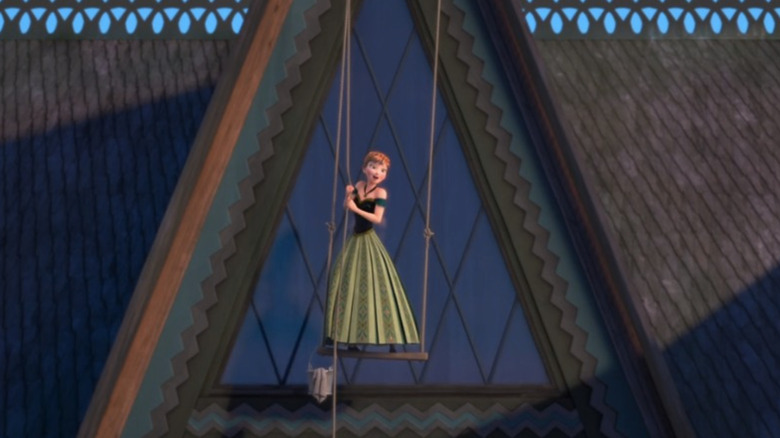 Walt Disney Studios Motion Pictures
When coronation day arrives in the original "Frozen," Princess Anna is beside herself that the gates of Arendelle will finally open to celebrate Elsa becoming queen after years of the kingdom being closed off to guests. In "For The First Time In Forever," Anna expresses her hopes and dreams for the big day, which might just change her life. While several smaller songs precede this one within the sequence of the film, this is the first grand production number and Princess Anna's big "I want" song. It's an introduction to the core of the story in the style of classic Disney fairytales that aptly welcomes the audience to the magic.
Musically, it's also of note and impressive that the last third of the song changes gears and softens to include Elsa's inner dialogue, which contrast Anna's excitement with a sense of anxiety about the gates opening. This was the song that concluded the most epic trailer of the film's promotional campaign and made its message clear: prepare yourself for a new Disney classic.
2. Into The Unknown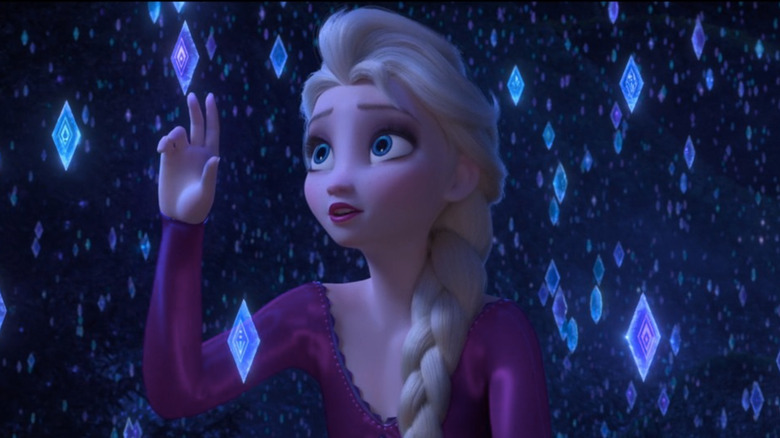 Walt Disney Studios Motion Pictures
Elsa's anthem in "Frozen 2" continues to explore her identity and character journey. It certainly has big shoes to fill following her former signature song, "Let It Go," and admirably comes into something all its own. Without a doubt, "Into The Unknown" is the showstopper of "Frozen 2," a perfect storm of thematic gravitas, an outstanding vocal performance by Idina Menzel, and dazzling visual effects from the Disney animators. It's three minutes and 14 seconds of every department in the production operating at their very best, leading to a sequence that feels like when it's over, even if you're watching at home alone, you should burst out in applause.
Menzel performs "Into The Unknown" accompanied by Norwegian singer-songwriter AURORA as the voice Elsa hears in the distance. An end credits cover of the song is performed by Panic! At The Disco. "Into The Unknown" was nominated for an Oscar for Best Song, with Menzel and international Elsa voices from around the world memorably performing the song together at the awards ceremony.
1. Let It Go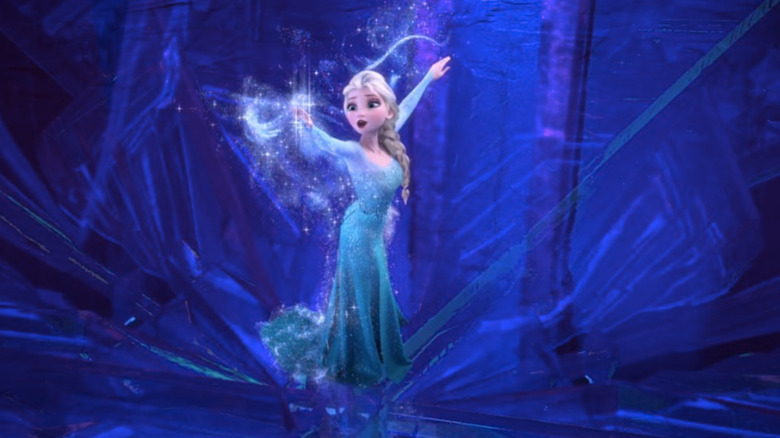 Walt Disney Studios Motion Pictures
This is it. The song that was everywhere. The fuel of the "Frozen" phenomenon, this Oscar winner remains champion of the franchise's songbook. 
"Let It Go" comes at the moment in the original film when Elsa stops fearing her icy powers and learns to embrace them. In short, she begins to love herself. While this decision eventually has unexpected consequences, for now, in the moment of the song, Elsa feels like her full self for the very first time. This theme most certainly resonated with audiences all over the globe, and that is a huge part of what makes the song stick.
Upon the debut of "Frozen" in 2013, "Let It Go" crossed the threshold from being merely a song featured in a movie to an anthem embedded within the zeitgeist of popular culture. At its peak, the song was #5 on Billboard's Top 100. Demi Lovato performed the pop version of "Let It Go" that played over the credits of "Frozen," while other artists who would cover the song in years to come included Rascal Flatss with Lucy Hale, the Disney Channel Circle of Stars, and countless talented YouTubers.