The Ted Lasso Star You Might Have Missed In Sandman Season 1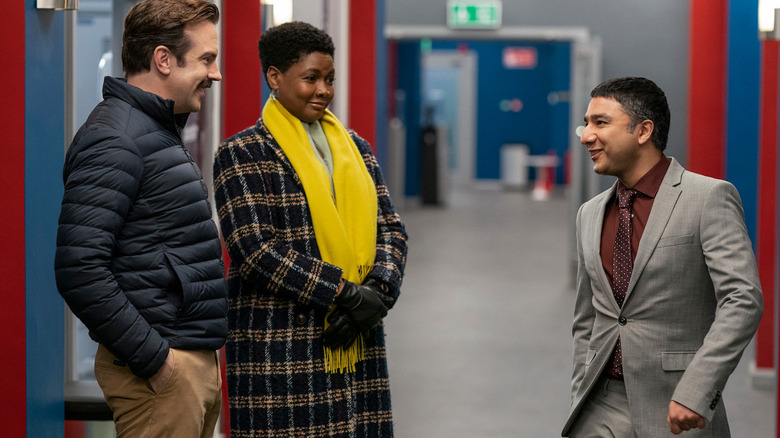 Apple TV+
While there's a fair amount of doom and gloom in Netflix's adaptation of "The Sandman," Neil Gaiman's tale of Dream's (Tom Sturridge) journey across time, space, and his own domain also has a few other innocent souls get mixed up in this madness. Not everyone is on a quest for power and chaos; some are just simple bystanders caught up in the mix, including one familiar face you might recognize from an Emmy-guzzling show from another streaming service.
The show in question is Apple TV+'s Emmy award-winning series "Ted Lasso," and the familiar face can be seen in the 1st season of "The Sandman," entertaining some alarming thoughts following an act of kindness toward a random stranger. However, these thoughts just might be ideal for the character they play on "Ted Lasso." While the mentioned role on the sports sitcom is based in a far more friendly environment, it's a territory that occasionally gets stressful when tackling the issues of everyone's favorite fictional soccer team, AFC Richmond.
Ted Lasso's Sarah Niles is the unsuspecting Samaritan Rosemary on The Sandman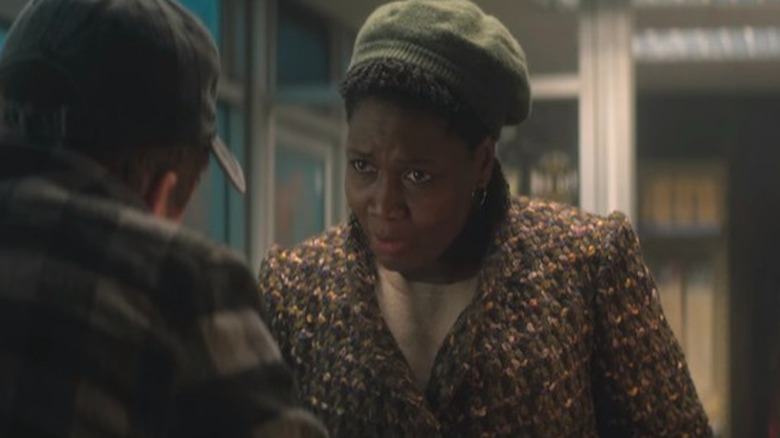 Netflix
That's Sarah Niles from "Ted Lasso" you saw in that scene from "The Sandman" where John Dee (David Thewlis) escapes and first steps into a world he's been separated from for years. He comes to an emergency stop after being hit by a car, and the driver, Rosemary (Niles), quickly apologizes and offers him a ride. She then realizes she should've kept on going – or even rolled over him when she had the chance.
While she may appear as a soft and sweet soul that gets mixed up with the wrong hitchhiker, Niles plays a far more stern figure on "Ted Lasso." As Dr. Sharon Fieldstone, Niles debuted in the 2nd season of Apple TV+'s flagship show as the therapist hoping to help out the Greyhounds and causing some friction with our favorite mustached manager played by Jason Sudeikis. It's a big contrast from her performance on "The Sandman." Of course, when the biggest threat on "Ted Lasso" is gravel-gargling ex-player Roy Kent (Brett Goldstein), Dr. Fieldstone clearly should be able to handle anything.
Her turn on the feel-good foo ... ahem, soccer sitcom gained some attention during awards season, too, when she earned an Emmy nomination for her performance. Thankfully, the impressive turn was also recognized by the show's creator when Bill Lawrence confirmed to Deadline that Dr. Fieldstone, along with James Lance's Trent Crimm (formerly of The Independent), would also be back for the 3rd and final season of the show. The former "Scrubs" showrunner assured fans that both will be playing key roles in the coming season. 
Of course, with a 2nd season of "The Sandman" trickling into development, and Neil Gaiman wanting the show to last a little longer, we might see Rosemary return, too. Well, we can dream, can't we?