Why Some Simpsons Fans Are Worried By The Show's Longevity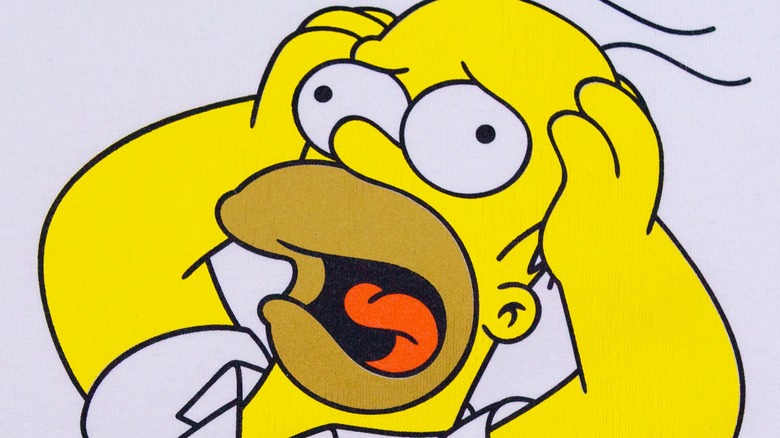 darksoul72/Shutterstock
For plenty of fans of long-running TV series, it's common to easily develop a bond with each main character. Episode after episode, viewers watch these characters develop emotionally, philosophically, and if the show is running long enough, even physically. However, fans must remember that these are real people playing these characters, and it's always possible that something tragic might happen to them in the real world. 
Put simply, all long-running series must eventually face the unfortunate reality of real-world deaths. Although some shows seem prone to outlive us all, the same sadly cannot be said for any cast members. When that moment occurs for one of the actors, show producers often face a very tough decision: Do they kill off the character or replace them with another actor?
No matter what the decision is, the change is jarring and difficult for some fans to accept. Although recasting roles after tragedies remains a common practice in Hollywood, recent history suggests that it has somewhat fallen out of favor. When Cory Monteith died in 2013, "Glee" writers decided that Finn Hudson would die as well (via Today). When John Ritter died in 2003, his character on "8 Simple Rules" also met a similar fate (via Washington Post). 
Of course, when we talk about an animated series like "The Simpsons," the answer to the question becomes somewhat more vague. Although voice actors in animated series are just as important for character development as they are in live-action projects, it's ultimately easier to replace them. Interestingly, this potential ambiguity has more than a few fans of the series concerned about the future of the show.
Fans are worried about how the show might handle the death of a series regular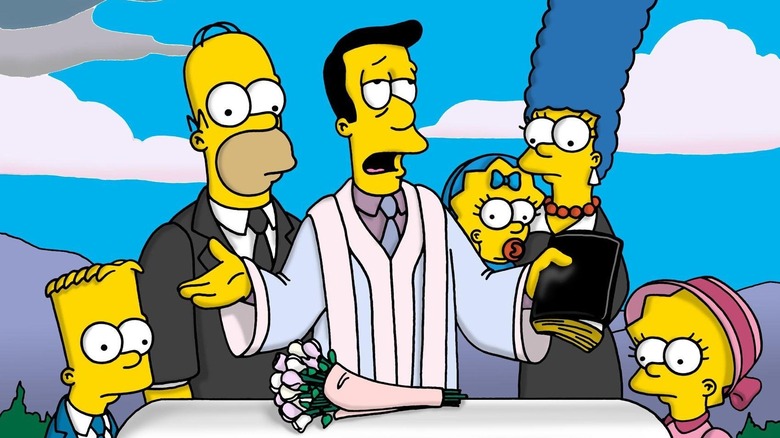 Haelen Haagen/Shutterstock
So far, "The Simpsons" has opted for a very deliberate approach to losing cast members. Vulture reports that when Phil Hartman passed away, his ongoing characters Troy McClure and Lionel Hutz, along with other minor characters he voiced, vanished from the show. Similarly, when Marcia Wallace died in 2013, "The Simpsons" writers penned a tribute episode, repurposing old dialogue as a way to say goodbye to the character (via Variety). In fact, real-life deaths have resulted in more than a few "Simpsons" characters mysteriously disappearing. 
However, "The Simpsons" has never had to grapple with the sudden exit of a series regular. During a discussion on the r/TheSimpsons subreddit, a number of the show's fans debated how such a loss would impact the series. Unsurprisingly, many of these questions centered on the voice actors behind the central members of the titular family. In one post, u/Financial-Donut-6560 asked, "What do you think they would do if someone like Dan Castellaneta or one of the other actors suddenly died?" Of course, the unknown answer to that question is almost too difficult to comprehend or think about. 
Still, there were a number of predictions offered. For example, u/rosathoseareourdads insisted that would certainly mean the end of the series. Conversely, a number of other commenters insisted that producers would simply recast the roles. Perhaps one of the most interesting suggestions came courtesy of u/TFlarz, who wrote, "I'm almost literally 50/50 between 'they'll just make new scripts using existing voice clips' vs 'ending the show outright and showing repeats.'"
While it remains to be seen how the series might actually handle such a situation, we simply hope that we're a long way off from writers having to face such a difficult question.