How WWII Permanently Changed Jimmy Stewart As An Actor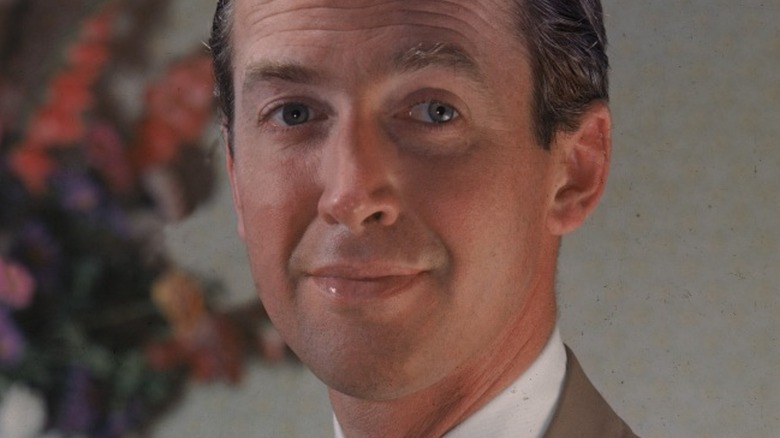 Getty Images/Getty Images
Many famous American actors served in the U.S. military during World War II, including Paul Newman and Marlene Dietrich (via USO). But few performers aided in the war effort with as much distinction as the iconic James "Jimmy" Stewart.
Already known by that point for "The Philadelphia Story" and "The Shop Around The Corner," Stewart was the first Hollywood movie star to outright enlist during World War II, at a time when the military draft was still in place. An excellent amateur pilot, the actor first worked training others to fly planes, but appealed to his commanders for more responsibilities. Stewart would become a commanding officer in the 445th Bombardment Group in England (via Den of Geek).
Stewart commanded several missions within Europe and eventually earned the rank of colonel. After the war ended, Stewart continued to serve in the Air Force Reserves and retired as a brigadier general. That's the highest ranking earned by an actor in the history of the military, according to USO. But his service also signaled a change in both his films and his performances.
After the war, Stewart chose much darker roles
After World War II ended, a changed James "Jimmy" Stewart returned to his hometown of Indiana, Pennsylvania (via Life), and considered retiring from acting to take over the family store (via Military.com). Instead, the actor starred in his first postwar film, 1946's "It's A Wonderful Life." While not a success at the time of its release (via Mental Floss), the Frank Capra tearjerker eventually became a beloved classic, and signaled that Stewart was capable of truly intense, even frightening performances.
Stewart's new darkness as an actor seemed to have emerged from his time in combat. The war had taken a serious toll on him, both physically and mentally. But he was able to channel his trauma into his later projects (via Den of Geek). These included his often provocative roles in Hitchcock films like "Rope" and the haunting "Vertigo," as well as the various Westerns he made with director Anthony Mann.
According to Den of Geek, it was rare for Stewart to talk about the war with his loved ones, let alone disclose his true emotions. But maybe that's why, as the San Francisco Chronicle writes, Stewart was such a good actor. He may have played many characters who kept their emotions hidden from others, but with the audience he was always emotionally honest.