Gilmore Girls Fans All Seem To Agree On How They Feel About Kirk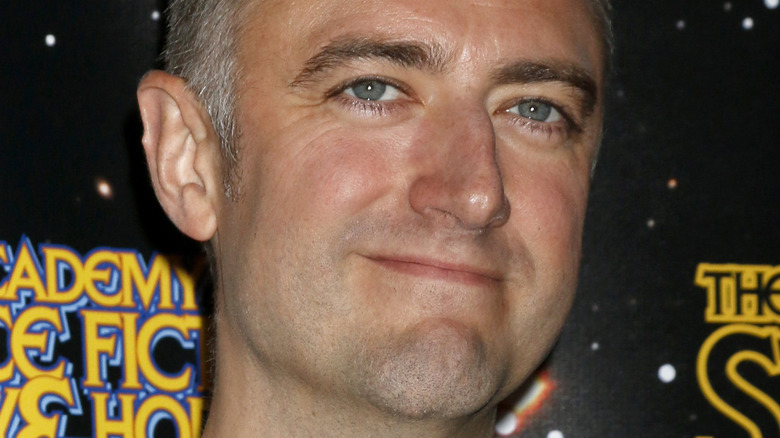 Kathy Hutchins/Shutterstock
When reminiscing on "Gilmore Girls," the first characters to come to mind are likely the mother-daughter duo of Lorelai (Lauren Graham) and Rory (Alexis Bledel), in addition to diner-owner Luke Danes (Scott Patterson). And then there are other major "Gilmore Girls" characters some fans just can't stand. However, there's another character so ingrained in the quaint town of Stars Hollow that he can't be forgotten.
Kirk Gleason (Sean Gunn) is a multi-talented resident who is involved in every career, hobby, and local happening. In fact, YouTube's The Gilmore Girls Guide calculated Kirk's variety of jobs, which total over 60 throughout the show's seven seasons. His positions run the gamut, from a car mechanic and exterminator to more outlandish jobs, such as a hot dog mascot and ice hockey commentator. This is in addition to his passion for the arts, which sees him create "A Film By Kirk."
This character's work ethic is undoubtedly impressive. Still, nobody is without a few flaws. Kirk can be extremely awkward at times and borderline childish, mainly when he stays at the Gilmore residence and builds a cereal box fort. He is also known to be gullible when taking sides in the best rivalry in "Gilmore Girls."
Many "Gilmore Girls" fans share the same opinion of Kirk, but which is it? Do they find him an endearing addition to Stars Hollow or the weird guy who names his cat after himself?
Kirk is adored by fans of Gilmore Girls
On Reddit, u/imkirbyy shared the opinion that Kirk is the most underrated character on "Gilmore Girls." They continued, "He does not care what others think, he's tried every single job there is, and he is a phenomenal lover of the arts." The thread creator also praised Kirk for his dedication to his girlfriend, Lulu Kuschner.
Many fans couldn't have agreed more. Several users shared how they prefer Kirk over other characters. U/nutcracker_78 said, "I adore Kirk. There is a reason he is one of the featured characters in the intro because he gives the show more than most of the other top-tier characters." U/Alternative-Goal6200 revealed that, other than Luke, Kirk was why they kept tuning into "Gilmore Girls."
U/BellesNoir begged to differ that Kirk is underrated. According to them, Kirk is beloved by the masses more than people realize: "He is universally adored and appreciated. He is understated because a man of such renown, class, and poise does not need to bring attention to himself. Attention will come instinctively." U/aghostgarden added, "He brought us Cat Kirk; how could we not love him?"
Overall, viewers of "Gilmore Girls" feel strongly about Kirk for many reasons. Not only does he provide comic relief, but he also experiences quite the impressive character growth. In early episodes, Kirk lives with his mother and struggles to connect with others. By the end of the series, he has moved out, is in a committed relationship with Lulu, and can call Lorelai and Luke true friends.
The character of Kirk almost didn't exist
It's hard to imagine Stars Hollow without Kirk. However, the character of many skills didn't exist at first. In an interview with Scott Patterson on his "I Am All In" podcast, guest star Sean Gunn reflected on how, when he first appeared on "Gilmore Girls," he portrayed Mick, a DSL installer.
Gunn thought his time on "Gilmore Girls" would be a one-time thing. But soon, the character of Kirk was born, with his constant pop-ups around town becoming a running gag. However, throughout Season 1, Gunn didn't get too comfortable on set. He said, "The whole time, I thought, 'This gag is gonna wear thin.'"
Gunn almost didn't audition for the role of the DSL installer. "[M]y manager at the time called me and said, 'Hey, I have this role for you for a show called 'Gilmore Girls.' Your agent wants you to pass on it,'" Gunn told Vulture. "My agent didn't want me to audition because it was a co-star role, and I was booking larger roles at the time."
However, Gunn read the scene and loved it. "It was rapid-fire," he said of the writing. "I was a fan of Howard Hawks and Preston Sturges, and I knew that old style of bang-bang-bang comedy. So I decided to take the role anyway."