Prey Star Dane DiLiegro Knows What Horror Icon He Wants To Play Next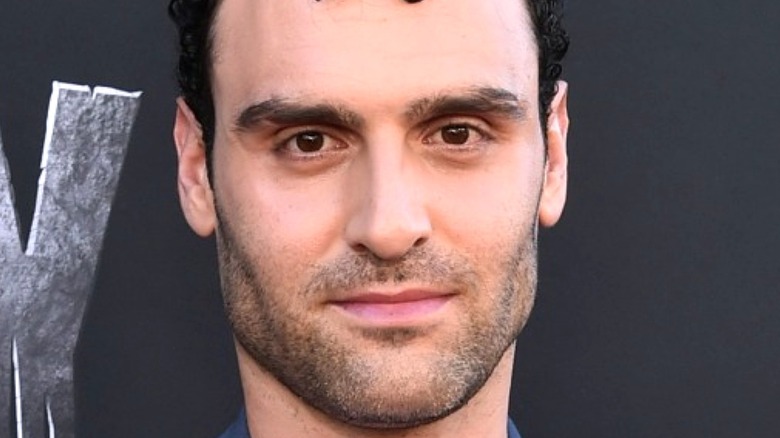 Alberto E. Rodriguez/Getty
"Prey," the latest addition to the "Predator" film series, is set to hit Hulu screens soon, and already the buzz around the movie is that it has Rotten Tomatoes critics picking their jaws up off the floor. Directed by Dan Trachtenberg, "Prey" is a prequel to 1987's "Predator" and follows the young Comanche Nation hunter Naru (Amber Midthunder) as she unexpectedly faces off against the terror-inducing alien that's entered her terrain.
The film is set sometime in the 1700s, and Naru uses what she has available to battle it out with this futuristic alien. The Predator itself is obviously a huge presence in the film, even more with the movie being set in the eighteenth century. In the first two "Predator" movies, actor Kevin Peter Hall played the alien and brought the creature to life, kicking off its legacy (via IMDb). Sadly, Hall died in 1991 (via New York Times), and the role has since been played by a number of other actors.
In "Prey," the Predator is portrayed by Dane DiLiegro, who was once a professional basketball player for Italy's team, Forlì (via ProBallers). DiLiegro donned the 70-pound costume on location in Calgary for weeks on end and brought the famed monster to life once more. Notably, the list of movie monsters DiLiegro would like to play extends beyond the alien in "Prey" and into entirely different franchises as well.
Dane DiLiegro would like to be the terror of campers at Crystal Lake
In an interview with Entertainment Weekly, Dane DiLiegro opened up about his passion for playing monsters and his dream part of Jason Voorhees from the "Friday the 13th" franchise. When asked if he would go after the part of the hockey-mask-wearing slasher, he said, "I definitely have my eyes on it. My parents went to this Halloween festival in Massachusetts, and I was too scared to go, so they came back with a knife autographed by the actor who played Jason Voorhees. I still have it to this day. I was Jason for four Halloweens."
The "Friday the 13th" movies have a permanent residency in the hearts of horror and slasher fans everywhere. The franchise has twelve films spanning back to the original in 1980. However, the hockey-masked, machete-wielding, camp-counselor-killing machine that DiLiegro is referring to didn't make his big appearance until the 1982 installment of "Friday the 13th Part 3." Since then, Jason Voorhees has been played by a number of actors, including Derek Mears in 2009's "Friday the 13th" and Kane Hodder, who played Voorhees from 1988 to 2002 (via IMDb).
In the same interview with Entertainment Weekly, DiLiegro also discussed his past creature work as a zombie on AMC's "The Walking Dead." DiLiegro's first outing as the famed Predator can be seen on Hulu, starting on August 5.