Brad Pitt's Bullet Train Fight Scenes Were More Real Than You Realized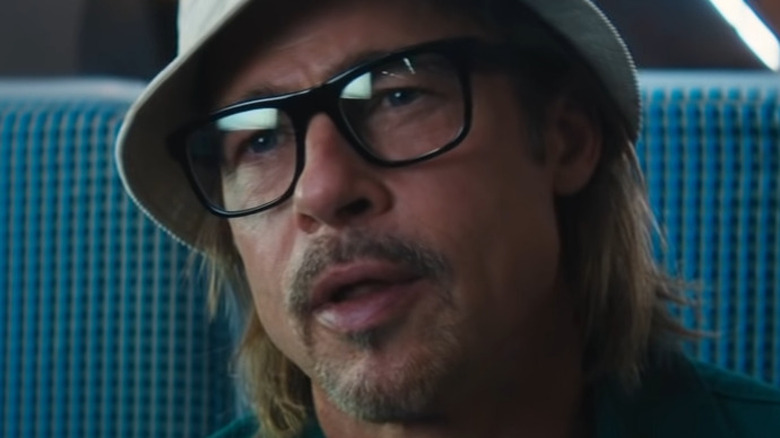 Sony Pictures
"Bullet Train" is speeding into theaters this weekend, boasting an all-star cast with Brad Pitt front and center. Based on the novel "Maria Beetle" by Kōtarō Isaka, "Bullet Train" follows the story of aging assassin Ladybug (Pitt), who is looking to get out of the murder business but is pulled back in for another job by his handler Maria (Sandra Bullock).
The "Bullet Train" trailers promise a high-octane action flick, full of hand-to-hand combat aboard the close-quarters locomotive. A handful of other assassins are after the same briefcase Ladybug has been tasked to retrieve, resulting in one fight after another in neon-lit train cars. Thanks to the story, "Bullet Train" is a stunt-heavy film with Pitt's former stunt double David Leitch at the helm. You can bet the stunts in the movie are top-notch with a pro like Leitch directing, and it also helps that Pitt went above and beyond for all his physical scenes.
Brad Pitt did almost all of his own stunts in Bullet Train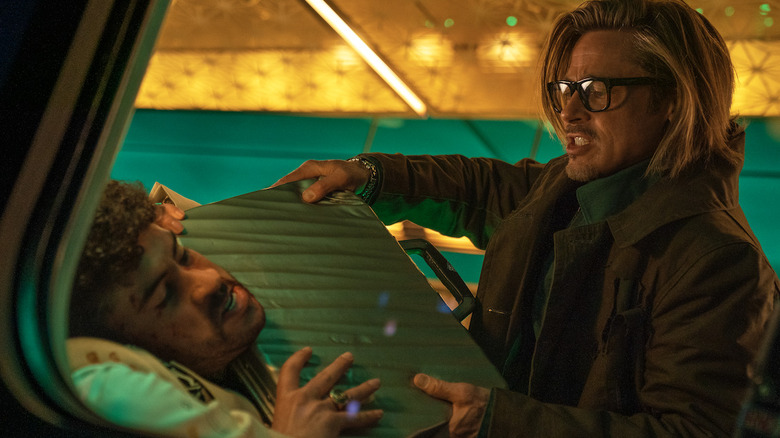 Scott Garfield/Sony Pictures
Brad Pitt, who nabbed his first acting Oscar for playing stunt-double Cliff Booth in "Once Upon a Time... in Hollywood," absolutely smashed his fight scenes in "Bullet Train." According to "Bullet Train" second-unit director Greg Rementer, Pitt wasn't one to shy away from throwing down. "Brad did 95 percent of his physical stunts — the fighting," Rementer told Vulture. "He's like a natural-born athlete. He really got in there!"
We can't be sure the 5% of Ladybug's stunts Pitt didn't partake in, but we can assume he did a lot of the hand-to-hand fighting with characters like Tangerine (Aaron Taylor-Johnson), Lemon (Brian Tyree Henry), and Wolf (Bad Bunny). We get to witness all of these fights in the first "Bullet Train" trailer, and Pitt seems super dedicated to making everything seem as authentic as possible.
When chatting with The Hollywood Reporter, Pitt noted that his long relationship with Leitch — who was his stunt double on "Mr. and Mrs. Smith," "Fight Club," and "Troy" — prepared him to play Ladybug in "Bullet Train." "He trained me for those fights and in a way he [was] helping me develop the character; now he's a director with his own voice and own vernacular and I'm serving him, he's the boss. So there was a beautiful symmetry for two old friends," Pitt said of his pal.
Brad Pitt wasn't the only Bullet Train actor all in on the stunt work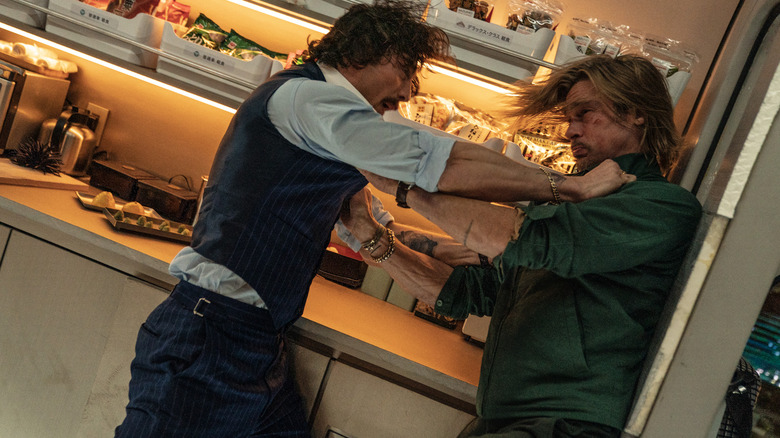 Scott Garfield/Sony Pictures
Confidence and dedication were prevalent on the "Bullet Train" set, as Greg Rementer revealed it wasn't just Brad Pitt going all in on his stunts. "Never have I ever done so many huge actors in one feature where all of them excelled at the physical movement of our training," Rementer said. "So Brad, Brian [Tyree Henry], Michael Shannon, Hiroyuki Sonada, Andrew Koji — who was already a stud in terms of where he comes from with the show 'Warrior' — all these actors put out some great action and did a lot of their [own] stuff."
Henry told The Hollywood Reporter that he loved getting to do his own stunts. "When you get an opportunity to do a David Leitch movie with David Leitch choreography and David Leitch stunts you want to do it — I did and I had to sit down too. I'd do it again, I really would," he noted.
Aaron Taylor-Johnson also did a fair bit of stunt work, which landed him in the hospital. The actor told Variety that he got kicked during a fight scene, which resulted in a fairly severe cut on his hand that required stitches. "I literally went wham, passed out. And then I came back and was like 'Should we go again?' And they were like 'No, no, no. You gotta go get stitches at the hospital.' So then I spent the night in the hospital," Taylor-Johnson remembered.
We'll see if all this hard stunt work paid off when "Bullet Train" lands in theaters on August 5.