Fans Have Some Theories On How That '90s Show Will Handle Hyde's Absence
The following article includes allegations of sexual assault.
As soon as it was announced "That '70s Show" would be getting a (more) modern spin, theories of what fans are most excited for in "That '90s Show" started popping up. This news brings memories of nostalgia and laughs, but there is also a dark cloud hovering over the production. Danny Masterson played resident stoner and basement-dweller Steven Hyde in the original series and has been the subject of sexual assault allegations stretching back to 2019 (via Variety). With Masterson already being fired from the Netflix series "The Ranch" (via Entertainment Weekly), there is no question that he will be absent from the new series.
Hyde was an integral character in the series. He was the Formans' adopted son, as well as the boyfriend of Jackie Burkhart (Mila Kunis) in Season 5 through Season 7. The couple was so beloved that fans never understood how Jackie ended up in a different romance. Had there been a way to rectify this glaring oversight, the time has since passed. The returning cast will not include Masterson, leaving many to wonder how this will be explained in "That '90s Show."
If you or anyone you know has been a victim of sexual assault, help is available. Visit the Rape, Abuse & Incest National Network website or contact RAINN's National Helpline at 1-800-656-HOPE (4673).
Fans don't want the show to go too dark
The circumstances surrounding the absence of Danny Masterson are pretty dark, motivating "That '90s Show" to exclude the actor from being involved (per Nerdist). But with the character's popularity and his role in the Forman home, the character not being mentioned at all would be odd. Hyde's character should still be resolved somehow, and Reddit fans have ideas on how to implement this.
"My theory for Hyde's absence in 'That '90s Show' is that he is in California working on a record store that his father Barrett owned," posted u/RayKVega. "I felt theories about him being deceased or in prison are way too dark and too much for that." With his broken home and hanging out with hippies like Leo (Tommy Chong), prison was always implied as a possibility for Hyde. But fans think this would be a step too far in the sitcom world. This fate would be a reminder of the disturbing facts surrounding the actor's absence and remove Hyde's previous character progression.
"I hope it's something like that because putting him in prison would undo his entire development throughout the show," noted u/kurosaki715. Hyde spends much of the series grappling with his family history. He bounces from father figure to father figure only to realize that the Formans have become his real family. Erasing that would disrespect the character's legacy.
Red and Kitty will be joined by a new generation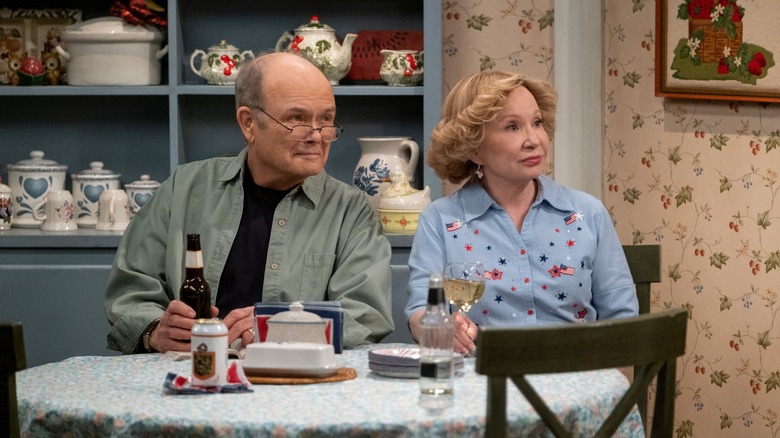 Partrick Wymore/Netflix
Luckily for viewers old and new, the subject of Hyde will most likely not be focused on too heavily. Though Kurtwood Smith and Debra Jo Rupp are confirmed for 10 episodes, the same cannot be said for the rest of the returning cast (via IMDb). According to Variety, original cast members, including Topher Grace and Laura Prepon, will only appear in guest roles. Ashton Kutcher, who is reprising his role as Michael Kelso, confirmed to Variety that his appearance did not take long to film.
"We thought, 'Listen, we're only in the position that we're in because of that show, so let's just go back and do this,'" Kutcher said, referring to himself and his real-life wife, Mila Kunis. "We just went back and had fun for a week." This way, the series can revolve around a new cast of young kids getting into trouble.
Callie Haverda will be at the center of the show as Donna and Eric's daughter, Leia Forman, who is visiting her grandparents in Point Place (per Deadline). Like her father, she will find kinship with a friend next door. Ashley Aufderheide will play Gwen, who introduces Leia to a rock 'n' roll lifestyle. With the addition of four other teenagers, Leia will encounter the same coming-of-age story as Eric and Donna but with new politics and fashions.