Scott Haze Dishes On His Roles In What Josiah Saw, Jurassic World Dominion, And Venom - Exclusive Interview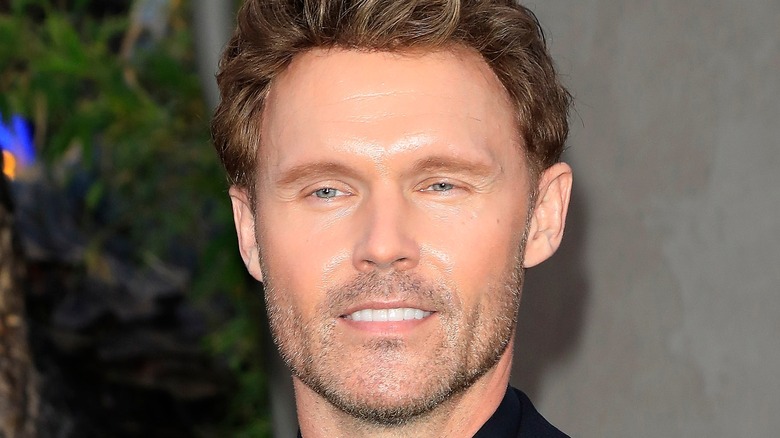 Joe Seer/Shutterstock
In "What Josiah Saw," Scott Haze stars alongside Robert Patrick ("Terminator 2: Judgment Day"), Nick Stahl ("Terminator 3: Rise of the Machines"), and Kelli Garner ("Lars and the Real Girl") to tell the tale of a small-town family with a big secret. The psychological horror film, now streaming exclusively on Shudder, follows three estranged siblings and their abusive, alcoholic father as they reunite at their remote farmhouse to confront long-buried issues and sins of the past.
Haze plays Thomas, the slow-witted son of Josiah (Patrick) who lives a lonely, tortured existence that's consumed by his castigating father and an unhealthy obsession with his ex-wife. It's a role Haze was so sure of, he helped finance the film.
While Haze's career finally seems to be taking off, he has been acting for almost 20 years now, frequently collaborating with James Franco, including in the 2013 film "Child of God." In recent years, the rising star has appeared in "Venom" and "Jurassic World Dominion."
During an exclusive interview with Looper, Haze dished on what it was like to work alongside Patrick and revealed the greatest souvenir he took home from the "Jurassic World" set.
The 'trickiest' part of What Josiah Saw was the plot twist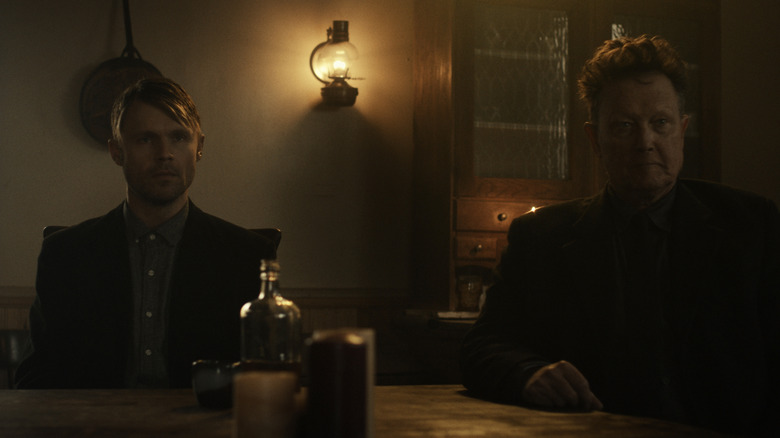 Shudder
"What Josiah Saw" is a pretty dark, complex film. What was the hardest part of getting into character?
My gosh, that's hard to say without the spoilers, but I feel that the hardest part of getting into the character was really thinking about the film on its full scale, when you watch the film as an audience member and how to approach the scenes, where there is a lot going on that the audience doesn't know at first and then gets revealed. Then, looking back at the film and what that experience would be like and making that all believable — that was the trickiest part about Thomas.
When you first read the script, did you see the plot twist coming at the end with Robert Patrick? And did it change the way you approached the film or your character at all?
Oh, yeah. It's the essence of everything. Did I see it coming? I've been attached for so long ... I helped put this film together with the director, Vincent Grashaw. That's why I'm an executive producer on it. I found the money to make this movie possible, but I can't even remember the first time I read it. It changed so many times and there were many different rewrites, but the reveal was one of the things that I thought was really special about what's really happening. That influenced everything. That was the essence, the genesis of my work: How do you reverse engineer into that moment?
Haze and Robert Patrick are now 'friends for life'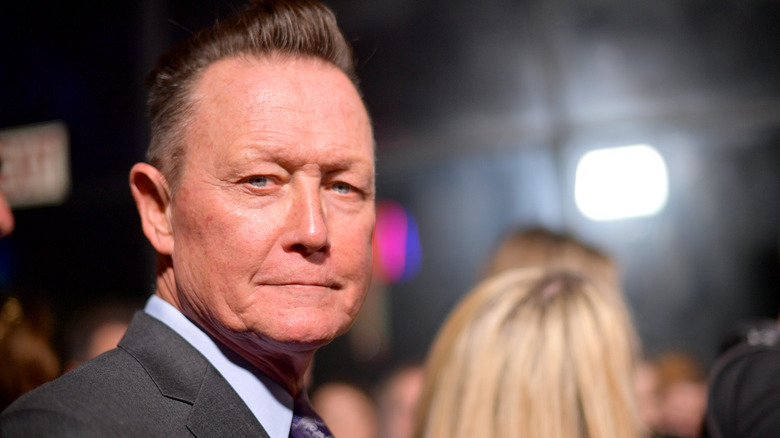 Matt Winkelmeyer/Getty Images
What was it like working so closely with Robert Patrick?
I grew up watching him in one of my favorite movies of all time, "Terminator 2." It was a really special time for us to be together, and we had a lot of mutual friends. I call him Rip. We'll be friends for life. He's such a good guy, such a brilliant actor. I loved working with him and, like I said, we'll be friends forever.
As a fan of "Terminator," was your mind blown that you were there with Robert and Nick Stahl, who both starred in the franchise?
I did think it might have been a "Terminator" reunion at first. I didn't know what was happening, and then there was also the fact that I was friends with [late actor] Brad Renfro, who was friends with both Nick and Kelli back years ago. He was going through a hard time, and I tried to help him, and it was really surreal to be with those two who also knew Brad. There was a lot of synergy of bringing us forward together and we all really clicked. I loved working with each of them.
It's a pretty dark film, but did anything funny or memorable happen on the set, whether with Robert or Nick or anyone?
Robert and I, we had a lot of fun. There was a scene where the words for Robert felt like Shakespeare. There was a lot of "thou" and "though" and "art." The entirety of that scene did not make the final film, but there is a [shorter version] of that scene that I'm talking about. We laughed. Robert couldn't get it. He was tongue-tied on some words, and it was hilarious. We kept laughing all night. That's the day I remember that was the funniest.
Tom Hardy was his 'rock' while filming Venom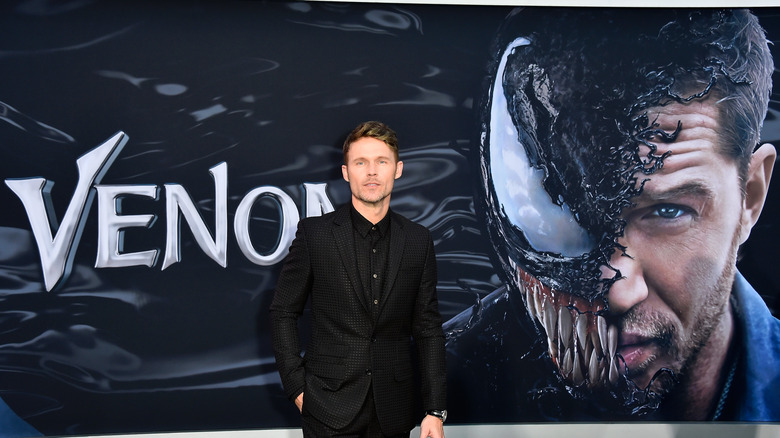 Frazer Harrison/Getty Images
Outside of "What Josiah Saw," you just appeared in "Jurassic World Dominion." What was that experience like? Any good Chris Pratt stories?
Chris was the best. We got along amazingly. We talked about a lot of personal things that were really special, like dealing with spirituality and life. He's  a really great guy. I admire him, and I had a lot of fun working with him. I'm excited for the extended cut that's coming out, which has a lot more scenes with me and him in it.
Another huge film for you was "Venom," which means you're part of the Marvel Cinematic Universe now. What was the most exciting part of joining the MCU, or the most memorable moment for you there?
It was working with Tom [Hardy]. He was like my rock during the filming of that. We got along so well. I felt like as long as I was connected to him, he was my linchpin to get through that film. Working with him, getting to collaborate on telling a story with him, was great. That was my favorite thing, working with him.
He kept his Jurassic World costume as a souvenir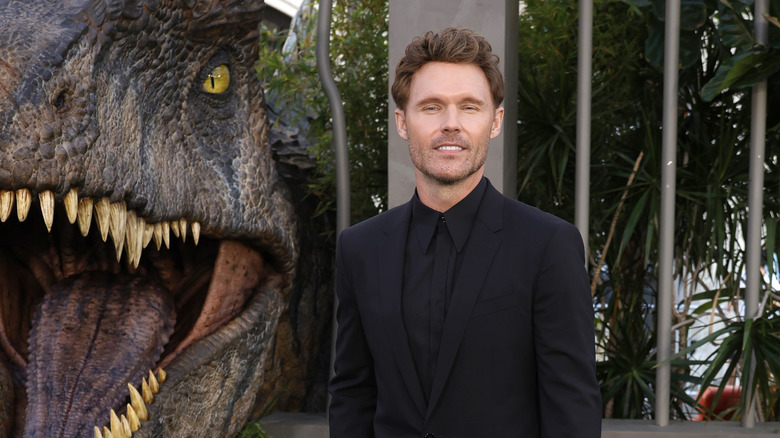 Frazer Harrison/Getty Images
Did you take any souvenirs or keepsakes from either the "Jurassic World" or "Venom" sets that you hold dear?
I did. I don't know if anybody knows that I have some of the Rainn Delacourt costume [from "Jurassic World"]. I actually took a lot. "Jurassic World" was a very special film because we were the only movie in the world being made [during the height of Covid]. We were all locked down. Judd Apatow went and made a movie about our bubble experience.
The biggest souvenir I have from either one is [when] I made a short film while I was shooting "Jurassic World," because we had a month off and I was trapped in this bubble. I got film gear and created a short film with Destry Spielberg, Steven's daughter, and Taylor Olandt, and it was really fun. I have a little movie that's a time capsule of that time, and that's my biggest souvenir.
You and James Franco are friends and have worked together on several projects. What's your favorite part of working with him, and do you two have anything new in the works?
When it comes to James, I went through some really hard times in my life, and he was there for me in ways that I can never repay. He really helped me and I'm so grateful for him.
I haven't talked to him about any work stuff lately, but I've seen him continue to grow. He's like my brother, and I'll always love him. I'm so grateful for how he has impacted my life. He really believed in me, at first as an actor and then on a personal level. That's where it stands with me and him. I love the guy.
Haze's latest film, "What Josiah Saw," is now streaming exclusively on Shudder.