Read This Before You See The Bubble
This content was paid for by Netflix and created by Looper.
The last two years have been an absolute roller coaster, as all of society has been affected in ever-changing ways by the coronavirus pandemic. Every industry has experienced major shifts in one way or another, not the least of which is the movie business. Film and television productions were among the first to shut down when the pandemic was declared in 2020, and bringing them back into operation has been a unique challenge, especially as filmmakers, casts, and crews create all-new safety protocols to get those cameras rolling again.
All of these circumstances are indeed incredibly serious, of course, but one film that dares to showcase the humor in Hollywood's unexpected rebirth is "The Bubble." From writer-director Judd Apatow, this stitch-inducing film features some of the biggest stars in Tinseltown playing, well, a group of movie stars who must hunker down together to make the next anticipated installment to their major film franchise, "Cliff Beasts 6." Along the way, they face some uproarious challenges in the production process and from being stuck with each other.
Before this hilarious new pic arrives on April 1, here's a look at everything you need to know about "The Bubble."
A film within a film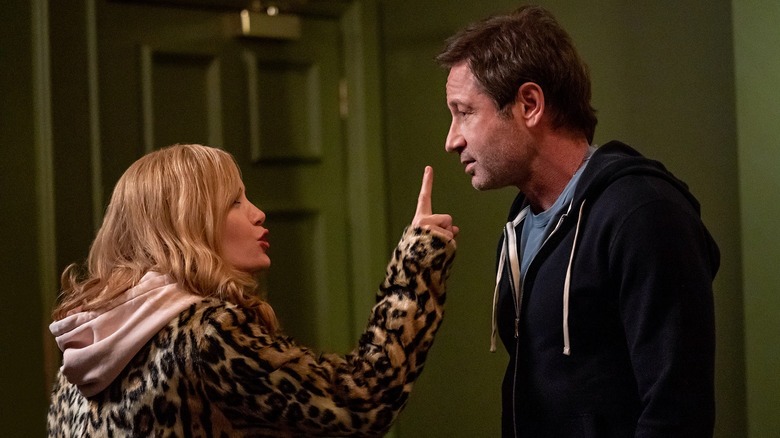 Laura Radford/Netflix
If you haven't yet heard of the first five "Cliff Beasts" films, don't worry. The ostensibly blockbuster series is actually a bit of metafiction in "The Bubble." This faux film franchise is about a group of heroes who dare to fight back against a species of dinosaur-like monsters that like to feast on human flesh and tend to lurk near — you guessed it — cliffs. In the world of "The Bubble," this series has been dominating the box office for more than a decade, and its leading stars have been dutifully returning to their roles again and again as the movies take them cliff beast-hunting across the globe. 
Of course, after years of working together, the actors have developed some, well, unique relationships between themselves, for better and (mostly) for worse. So when all of these already-wild personalities are reunited alongside some new faces to try and pull off one of the very few studio films still in production amid a global crisis and give their long-lived series a properly cinematic sendoff, things become hysterically disastrous. There will be injuries, illnesses, and personality clashes galore to behold in "The Bubble," which Apatow directs from a script co-written by himself and Emmy-winning "South Park" writer/producer Pam Brady. 
Leading cast member David Duchovny described the film's concept in an interview with Forbes, saying, "We're trying to make a big action franchise film, like we're number six in the franchise, and we're all different levels of happy to be coming back for the sixth time. And it's really just charting the protocols you have to do to make a movie and then the added pressures of what it must be like for people who've been working together for so many years to then be quarantined together and the kind of petty hatreds and petty competition and just the boredom and the freak outs that would happen in such a pressure cooker of quarantining."
Though the film is based on an original story and has no relationship to any other production, the constant news about the stop-and-go production process of "Jurassic World: Dominion" may have been an open source of inspiration for Apatow and Brady.
Seeing double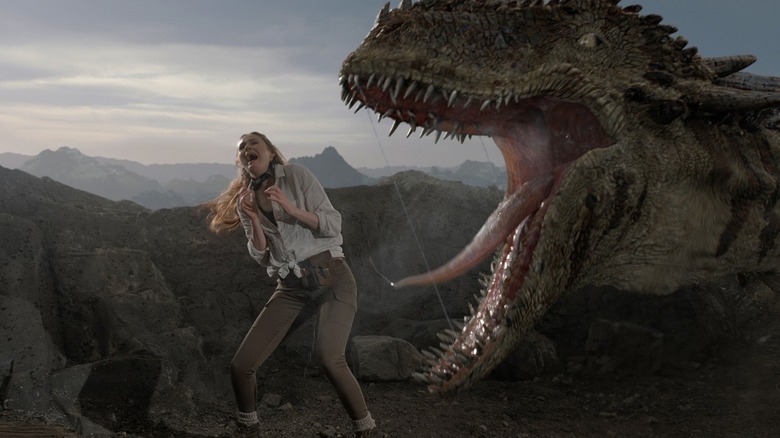 Laura Radford/Netflix
Many of the stars of "The Bubble" get to pull double duty portraying both actors and their "Cliff Beasts 6" characters. At the center of the action, you have David Duchovny as Dustin Mulray, who leads up the "Cliff Beasts" cast as Dr. Hal Packard. Duchovny is, of course, no stranger to science fiction, thanks to his long-running and Emmy-nominated role as Fox Mulder in "The X-Files." 
And he's also had some experience lifting the veil on the entertainment industry in another tongue-in-cheek film. The 2006 dramedy "The TV Set" features the actor as a screenwriter who experiences the highs and lows of bringing a network television pilot to life. Perhaps not coincidentally, the film was executive produced by Judd Apatow himself. Duchovny also previously worked with Apatow on "The Larry Sanders Show" early in both of their careers.
Here, the "X-Files" actor is joined by Leslie Mann as Lauren van Chance, the on-again, off-again love interest of Dustin who's also appeared in every "Cliff Beasts" movie as Dolly. In addition to Mann being Apatow's real-life spouse, she's also starred in a great number of his films, including "The 40-Year-Old Virgin," "Knocked Up," "Funny People," and "This is 40." Plus, she's also known for her work in films like "17 Again" and "The Other Woman." 
Keegan-Michael Key stars in the film as Sean Knox, an extremely enthusiastic actor who loves to do his own stunts in the "Cliff Beasts" movies. Key previously starred in the Apatow-produced comedy "Wanderlust," and he's also well-known for his hilarious TV work in shows like "Key and Peele" and "Friends from College," along with movie comedies like "Let's Be Cops" and "Keanu."
A cast within a cast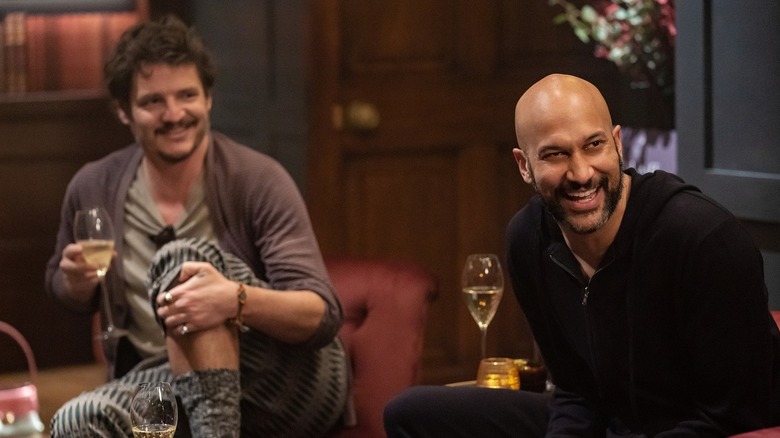 Laura Radford/Netflix
Karen Gillan also stars as Carol Cobb, the actress who portrays Dr. Lacey Nightingale in "Cliff Beasts 6." It's probably not much of a stretch to imagine Gillan kicking butt in screen blockbusters since she stars in the MCU as the unconquerable Nebula and appears in the "Jumanji" film series as well. Fans may also recognize her for her memorable work in films like "Oculus" and "Gunpowder Milkshake."
Also appearing as one of the five central "Cliff Beasts" stars is Guz Khan, who portrays Howie Frangpolous, the actor behind Gerard, the comedic relief of the franchise. Khan is known for his work in small screen series such as "Turn Up Charlie" and "Four Weddings and a Funeral."
The five regular stars of the film-within-a-film are joined by a couple of interesting newcomers to the franchise. For example, there's Pedro Pascal's self-confident character Dieter Bravo. Pascal is, of course, a household name thanks to his take-notice roles in hit series like "Game of Thrones," "Narcos," and "The Mandalorian," and he's also recently starred in films like "Triple Frontier" and "We Can Be Heroes."
Another addition to the "Cliff Beasts" franchise is Iris Apatow's character, Kristal, a TikTok star who shakes things up on the set in a big way. Apatow is, of course, the daughter of Judd Apatow and Leslie Mann, and she's also appeared in several of their film collaborations, along with starring in the romantic drama series "Love."
And that's not all of the A-listers audiences can expect to see in "The Bubble." The film also features "Saturday Night Live" all-timers Fred Armisen and Kate McKinnon, "Borat 2" sensation Maria Bakalova, Peter Serafinowicz, and more. So prepare for a wild ride indeed when "The Bubble" arrives on Netflix on Friday, April 1.