Here's How To Stream She-Hulk As Soon As It Drops
Marvel's newest addition to its already jam-packed lineup of television series is the upcoming Disney+ original "She-Hulk: Attorney At Law" — a series which is reportedly unlike any other Marvel project out there. "She-Hulk" follows a lawyer named Jennifer Walters (Tatiana Maslany), whose life becomes extremely complicated when she is accidentally transformed into the eponymous green superhero following a botched blood transfusion from Bruce Banner (Mark Ruffalo). 
According to Marvel Studios boss Kevin Feige, the series will "expand the definition of what a Marvel Studios production can be," due to its tongue-in-cheek tone and overall comedic nature. "There's something so surreal and so funny about a giant, 6-foot-7 Hulk in the courtroom," Feige explained in an interview with Entertainment Tonight. Indeed, despite gaining the powers of the almost infinitely strong Bruce Banner, Walters makes it clear that she still wants to be a lawyer regardless of her new condition — undoubtedly leading to some hilarious and utterly absurd confrontations in the courtroom. 
Feige's comments and the series' exciting new trailer — which already has fans buzzing about the TV return of Daredevil — will no doubt have plenty of fans waiting with bated breath for the "She-Hulk" release date. For all those wishing to see this latest chapter in the MCU, here's how you can watch "She-Hulk" as soon as it drops.
She-Hulk will premiere on Thursday August 18th, exclusively on Disney+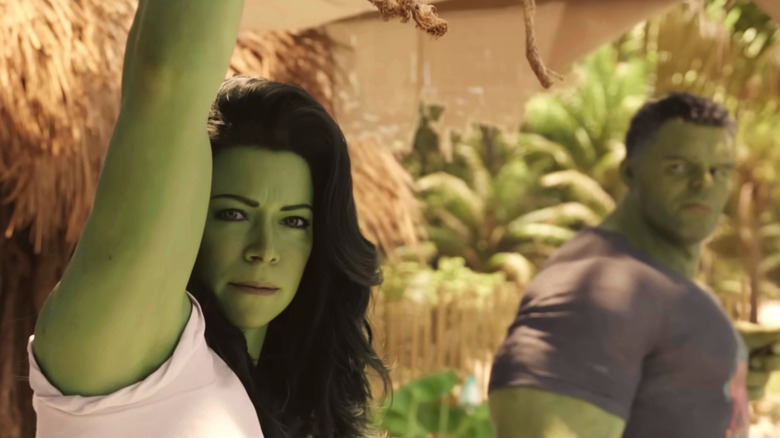 Marvel Studios/Disney+
Unlike previous Disney+ Marvel originals "Moon Knight," "Hawkeye," and "Loki" — which all premiered their episodes on Wednesdays — "She-Hulk" will be released on Thursday, August 18th, and will release weekly on Thursdays from then on (via Marvel Studios' Twitter). Like the rest of Marvel's Phase 4 television series, the show will stream exclusively on Disney+ — where memberships start at $7.99 per month or $79.99 per year, along with a bundle option that includes both ESPN+ and Hulu (No Ads) for $19.99 a month.
Although there has been no explicit confirmation from Disney+ about what time "She-Hulk" will release episodes each Thursday, we can speculate that each of the series' nine episodes will release at a similar time to previous Marvel shows such as "Loki" and "Wandavision," which routinely premiered their episodes at 3 a.m. ET (via Decider).
Regardless of what time the series premieres, as long as you have a Disney+ subscription of some sort you will be able to stream the series the moment it arrives — which is no doubt welcome news for those excitedly awaiting the release of "She-Hulk."