Director Ron Howard & Co-Producer Raymond Phathanavirangoon Talk Thirteen Lives - Exclusive Interview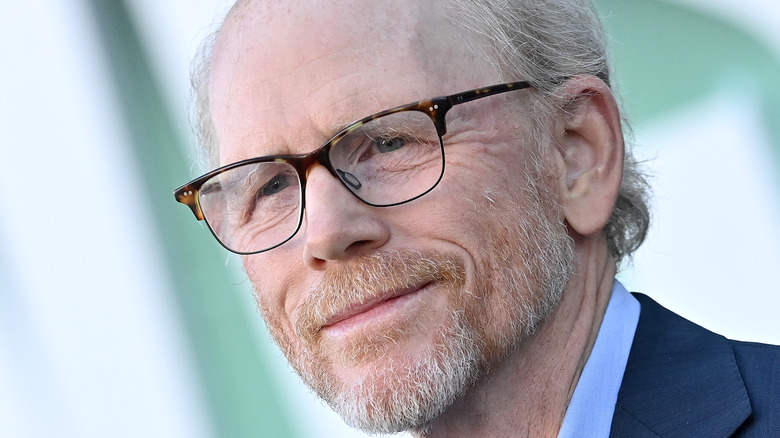 Axelle/bauer-griffin/Getty Images
Over the course of his directing career, Ron Howard has worked on a wide variety of films ranging from "Splash" to "Solo: A Star Wars Story." However, the one genre he's best associated with is dramas based on true stories — films like "Apollo 13," "A Beautiful Mind," and "Frost/Nixon." His new film for MGM and Amazon Studios, "Thirteen Lives," is his latest foray into dramatizing recent history, realistically portraying the 2018 rescue of twelve young soccer players and their coach from the Tham Luang cave network in northern Thailand.
Looper got the chance to speak to the cast and crew of "Thirteen Lives" in four different group interviews. In our second exclusive interview, this time with Howard and the film's co-producer Raymond Phathanavirangoon, we talked about the film's move from a traditional theatrical release to a global streaming launch, the many different documentaries that have covered this story, and Howard's work with Disney and LucasFilm on the new "Willow" series as well as potential future "Star Wars" projects.
Why Thirteen Lives is a good fit for streaming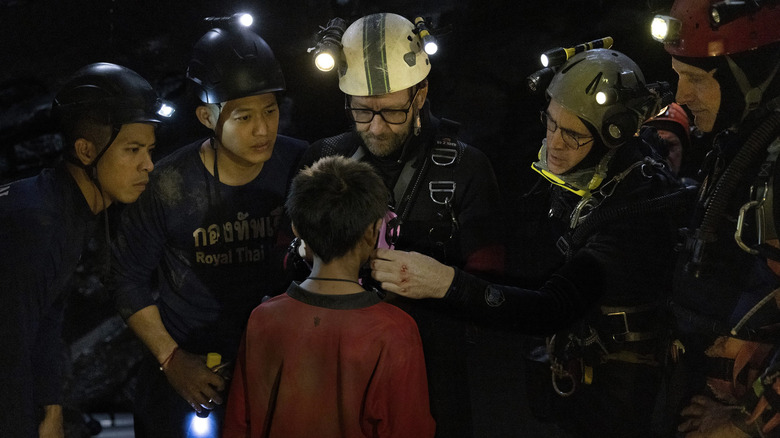 Amazon Studios
"Thirteen Lives" was initially scheduled for a wide release in theaters, but shifted plans to a limited release followed shortly thereafter by streaming. How do you feel about this change?
Ron Howard: Given COVID and the way movie viewing is shifting around, I was never 100% certain that this would really be a theatrical release, primarily. It's always been a very fluid thing throughout the process. I love big screen experiences, but when Amazon acquired MGM [and] saw the movie ... They had so much passion for it and belief in it as a worldwide experience. And they want to release it in 200 countries all at once. And I couldn't help but feel, well, this is interesting. Because this is really the way the world experienced the actual event. 
While I continue to be a fan of it on the big screen ... The movie is built for that. I'd love as many people as possible to see it that way in that first week where we are out theatrically and in other subsequent special screenings that we'll have along the way. I also really appreciate Amazon's passion for the movie and this idea that we're going to have this moment where the whole world can see our dramatization of this event that they may remember.
The Rescue and other documentaries on the story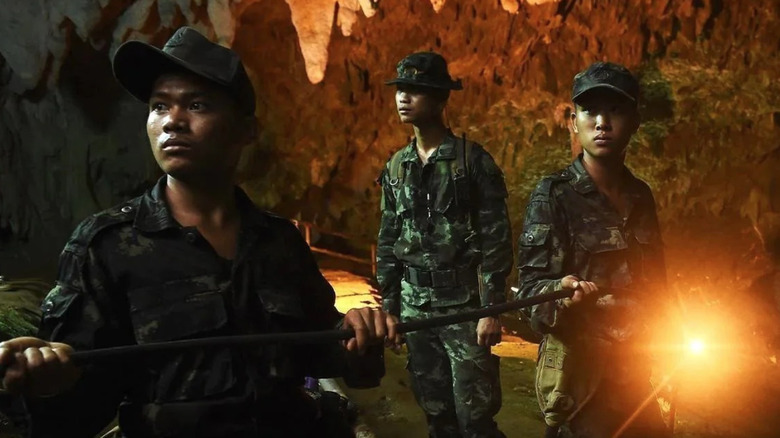 National Geographic
This film comes out less than a year after the release of "The Rescue," an outstanding documentary on the same true story. Did you see this documentary? If so, what did you think about it?
Howard: I saw the documentary, but it was after I finished shooting, well into editing. Jimmy Chin and [Elizabeth] Chai [Vasarhelyi], they're great filmmakers, and it's a wonderful film. They interviewed many of the people who I'd gotten to know and a couple of the people who are technical advisors, and in fact, it gave me comfort. It made me feel like, "We're getting our basic facts right. Now, our opportunity here is to create that drama with great actors and allow people to have an even more emotional and deeper, personal connection to this story, which also creates a lot of suspense for audience members."
[To Phathanavirangoon] Did you see the documentary?
Raymond Phathanavirangoon: No, I haven't seen-
Howard: You haven't seen it? Oh.
Phathanavirangoon: No, I haven't seen it [yet].
Howard: It's great, by the way.
Phathanavirangoon: Yeah, because I'm in Thailand, it's not as available as it is [in the United States].
Howard: I did see, prior to that, a very lengthy PBS documentary that was made and some BBC stuff too. It was outstanding. There's been a lot of coverage. It's a fascinating story. If people are intrigued, there are a lot of reasons to look at this in the various mediums.
Thirteen Lives vs. Apollo 13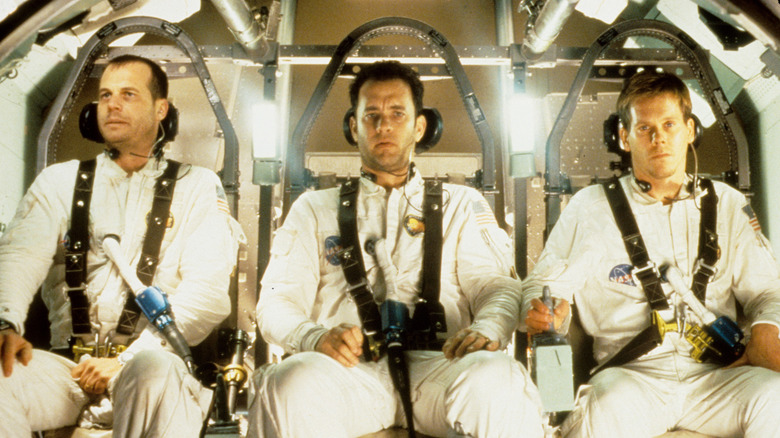 Universal
[Ron] Howard, you've made a lot of different kinds of movies, but the claustrophobia and focus on process here calls specifically to mind "Apollo 13." Did you use any similar techniques?
Howard: I didn't use similar shooting techniques, particularly. When we shot the weightlessness in Apollo 13, we were actually in an airplane, nicknamed The Vomit Comet, which flies parabolas out over the Gulf of Mexico. On the dive, it creates 23 seconds of weightlessness. We shot all of our wide shots during those 23 seconds of diving. 
We did 10 or 12 days of this kind of shooting, and it was really intense. There was a feeling of discovery, surprises ... Sometimes things would shift in the shot in interesting, very realistic ways. That was similar, in a lot of ways, to underwater shooting and that sense of capturing a real environment like with "Thirteen Lives."
Raymond, this is your first Hollywood production credit. Given the opportunity, if you could remake any of your previous films into an English language Hollywood film, which would you want to do? What do you think would be the best fit?
Phathanavirangoon: The kind of films I make usually are more independent, but they're also quite specific to their cultures and the social political situations they're in. I'd love to have films that are shown to more people around the world in English, but I tend to like stories that are very specific to cultures, and to languages, and things like that. If other people want to try it and go ahead with it, they have my blessings. 
Personally, I like to make films that are [including this film] very specific to when, and where, and what happened. That's the kind of cinema that I'm really attracted to — not exactly a wide audience kind of film, but films that say something about the world that we live in and the conditions of the different places and times that we are in.
Working on Willow and Star Wars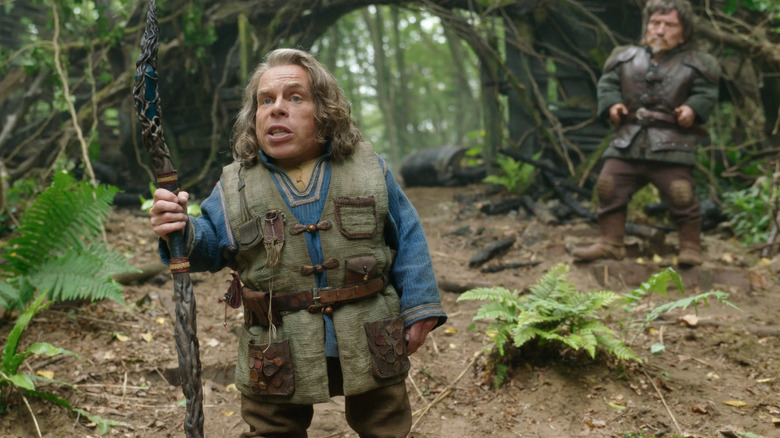 LucasFilm
Another question for [Ron] Howard: How involved are you in the upcoming "Willow" show for Disney+?
Howard: The upcoming "Willow" show is something I'm so excited about. I'm an executive producer, not hands on, not in the trenches there. Jon Kasdan, who I worked with very closely on "Solo," has taken the reins of the show and is doing a great job with it. However, I'm reading all the scripts, seeing dailies, seeing the cuts... I'm really excited for the show. The way the show is evolving, it's both true to the traditions of Willow and the work that we did then, but it's a real contemporary evolution of it, in a cool way that is entertaining. 
It preserves a lot of the humor, but in a much more modern way. Jon and the team are great, and it's great to see Warwick Davis back as Willow, wiser, but [still] Willow. It's been fun to be a part of it.
You and your daughter, Bryce Dallas Howard, are now both "Star Wars" alumni. Have you ever considered possibly teaming up for any future movies, whether in the "Star Wars" universe or elsewhere?
Howard: I'm so proud of Bryce, and she's thrilled with her relationship with "Star Wars," and the work that she's been getting to do there, and the exposure that she's gotten from it. We've been working [together] a little bit more on the documentary side. She made a documentary at Imagine, and I was also an executive producer on it, called "Dads," which can be seen on Apple. Now, she's making one for Disney+ called "Pets." 
On that side, we're doing a lot of collaborating. One of these days, what I really hope is that she's directing something and she casts me as an actor, because it would be great to get bossed around by your daughter. It would be a blast, and she's a good director, too.
"Thirteen Lives" is now in limited theatrical release and will be available to stream worldwide August 5 on Prime Video.
This interview has been edited for clarity.