Weir Sukollawat Kanaros & Pattrakorn 'Ploy' Tungsupakul On The True Story Behind Thirteen Lives - Exclusive Interview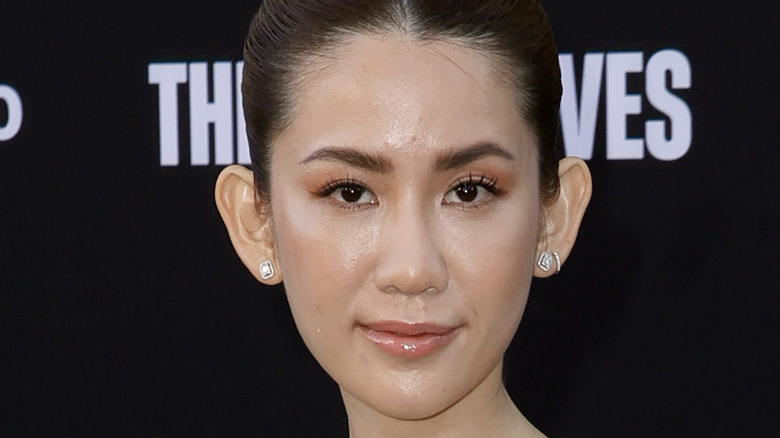 Frazer Harrison/Getty Images
"Thirteen Lives," the new movie directed by Ron Howard and coming to Prime Video on August 5, retells the true story of how people from around the world came together in 2018 to save twelve young soccer players and their coach who were trapped in the flooded Tham Luang cave network in northern Thailand. In the film, Weir Sukollawat Kanaros plays Saman, the leader of the Thai Navy SEALs who made the first attempts at the rescue operation. Pattrakorn "Ploy" Tungsupakul plays Buahom, the mother of one of the trapped boys and a stateless person worried that she and her son could face deportation.
Looper got the chance to speak to the cast and crew of "Thirteen Lives" in four different group interviews. In our first group interview with Weir and Ploy, we asked the Thai actors about how they did research for playing these real life characters, their memories of the events in 2018, and the differences between working on Thai films and Hollywood films.
Remembering the 2018 cave rescue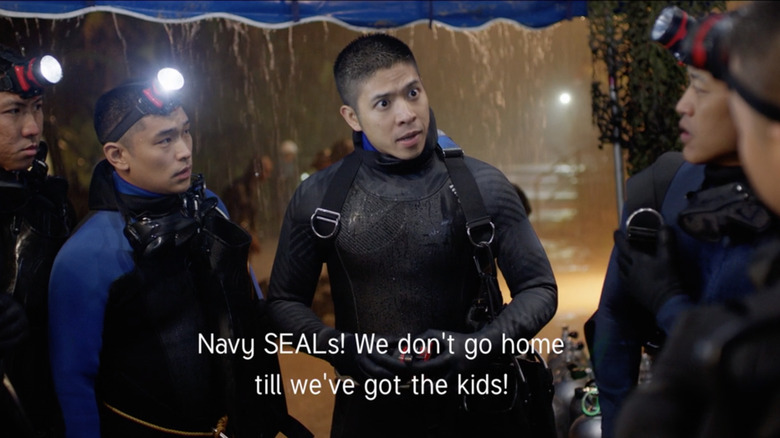 Prime Video
How did you go about researching your characters?
Weir Sukollawat Kanaros: I haven't got a chance to talk to his family, but I discussed directly with Ron [Howard] about a script and chart, and I practiced on my own and the rest on set. I got a diving certificate already.
Pattrakorn "Ploy" Tungsupakul: [My character is] the mother of the boy Chai. [Once I found out that] I got this role, I went back to watch the documentary, the news, and interviews of the real parents and focused on the reactions of the parents at that time, [to see] what they felt. I focused on that. I talked to Ron, talked to the Thai producers, Raymond and Billy, and we create this character together.
Do you have any particularly vivid memories of what it was like in Thailand while these events were happening in 2018?
Ploy: When the incident happened in 2018, I followed the news closely every day — not only me, but everyone in the country followed the news. There was live [coverage] on every TV station channel that [allowed us to] follow what happens day by day. During that time, there were a lot of rumors coming out [about]  whether or not they could find a child, and eventually, it became a successful rescue operation and it [brought] happiness for everybody in the country. This is from my recollection from that incident.
Yeah. And Weir?
Weir: [I don't remember anything specific from] that time. I heard a lot about the situation. I heard about the news, and I tried to wish that everyone [would] be safe.
Thirteen Lives highlights Thailand's stateless people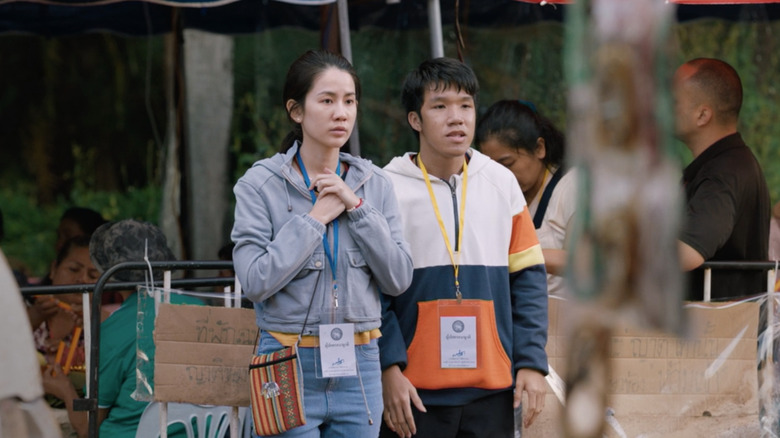 Prime Video
What were the biggest differences between working on this Hollywood production and working on the Thai movies you've acted in previously?
Weir and Ploy (joint answer via translator): Actually, there is a huge difference as to working with international production and Thai production for sure. The most impressive part for them is that they have a chance to give the input to Ron and the team to ensure the authenticity of the story. Ron also let them work closely with our department, [including] costumes, props, and one even brought them for the tour of the cave site, which is newly built only for this movie so that they can get to know the site well and get themselves well prepared for the filming. This is different from how they work in Thailand.
This question is for Ploy. Your character Buahom is a stateless person who has extra reason to be afraid for her and her son. What are your thoughts on the plight of stateless people in Thailand?
I am happy that this movie mentioned the stateless person situation in Thailand because it's still an ongoing issue in our country and [many other places] around the world. In my opinion, the stateless position is related to access to the fundamental human rights. When this movie tries to [draw attention to] this issue, it's a great chance for the government or the people involved to relook into this issue and try to address the issue correctly.
"Thirteen Lives" is now in limited theatrical release and will be available to stream worldwide August 5 on Prime Video.
This interview was edited for clarity.