Seinfeld's John O'Hurley Filmed Fewer Episodes Than You Probably Thought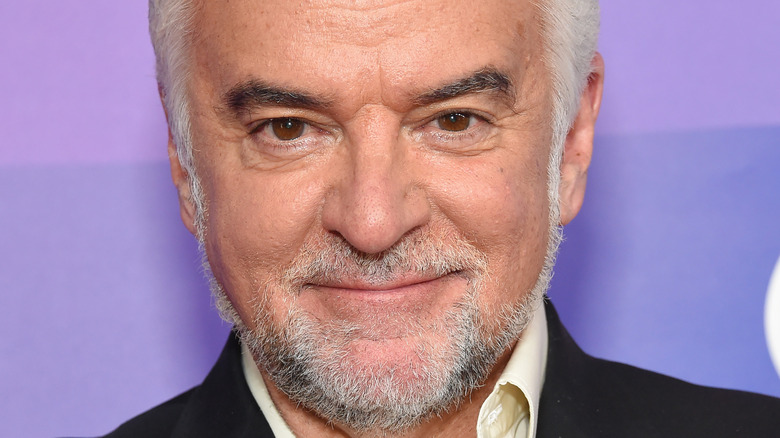 DFree/Shutterstock
Everyone knows the four core characters of "Seinfeld" include Jerry Seinfeld, George Costanza (Jason Alexander), Elaine Benes (Julia Louis-Dreyfus), and Cosmo Kramer (Michael Richards). But there are plenty of others who became indispensable over the years, too. Who could forget George's grating parents, Frank and Estelle (Jerry Stiller and Estelle Harris), Jerry's nemesis Newman (Wayne Knight), and Elaine's boyfriend David Puddy (Patrick Warburton)? The show wouldn't be the same without them. And they're far from the only secondary characters whose big personalities launch them into critical plot points, leading "Seinfeld" fans to view them as central to the sitcom's overall success.
J. Peterman (John O'Hurley) is one of those side character additions who, at first glance, looms large throughout the show's nine-season run from 1989 to 1998. But that's the illusion created by a strong actor with great material to work with. The fact is Peterman didn't appear in the earliest episodes. And he wasn't even on "Seinfeld" all that much.
Peterman knows how to spill a tale and sell a jacket
When Peterman first appears in Season 6, Episode 23, "The Understudy," there is — as always — a lot going on story-wise. Jerry is dating Gennice, a woman who cries at the drop of a hat and is the understudy for Bette Midler in the musical "Rochelle Rochelle." George injures Midler during a softball game, giving Gennice her big chance. Meanwhile, Elaine is tormented by the idea that her manicurists might be gossiping about her in Korean, and she brings in Frank Costanza to prove that they are. Kicked out of the salon for this transgression, Elaine sobs through the street in the rain until she bumps into a stranger with a large umbrella and an unusually detailed description of the jacket she's wearing. It's none other than J. Peterman, who regales Elaine with stories of adventure and Italian capto oxfords. "Sophisticated, yet different, without making a huge fuss about it," he intones, easily folding his catalog copy into his monologue.
When he asks Elaine about her shirt, she quickly picks up on the game, telling him, "This innocent-looking shirt has something which isn't innocent at all. Touchability." Peterman leans forward, intrigued, and by the end of the episode, Elaine is happily reporting to Jerry that she has a new job writing for the J. Peterman catalog.
Thus established as Elaine's new boss, Peterman secures his role on the show. But while he remains a part of "Seinfeld" straight through to the end, he appears in only 20 episodes out of a total 180.
A man like Peterman must be set free
J. Peterman may play a small role on "Seinfeld," but when he shows up, things always seem to go sideways. In his second appearance, in Season 7, Episode 7, "The Secret Code," he brings George to visit his sick mother, forces George to reveal his ATM code to save a man from a burning building, and winds up believing George killed his mother. In Season 7, Episode 12, "The Caddy," he designs a bra as a top and assigns a miserable Elaine to write the catalog copy. And in Season 7, Episode 16, "The Shower Head," he fires Elaine, mistakenly believing she's using drugs.
It's not the only time Peterman aims to be rid of Elaine. He also relieves her of her duties in Season 8, Episode 17 "The English Patient," for hating the movie of the same name. But thankfully, each time, Elaine is reinstated and continues working for him. Without Peterman, we would lose the driving force behind Kramer's decision to sell his life stories (Season 8, Episode 14, "The Van Buren Boys") as well as the origin of the J. Peterman Reality Bus Tour (Season 8, Episode 21, "The Muffin Tops).
In his last appearance, Peterman witnesses the well-attended trial of Jerry, Elaine, George, and Kramer in Season 9, Episode 22, "The Finale Part II." By the end, the four core characters are sentenced to a year in jail, and Peterman is presumably free to continue traveling the world and creating apparel made for a life of adventure.