The Real Reason We Didn't See More Puddy On Seinfeld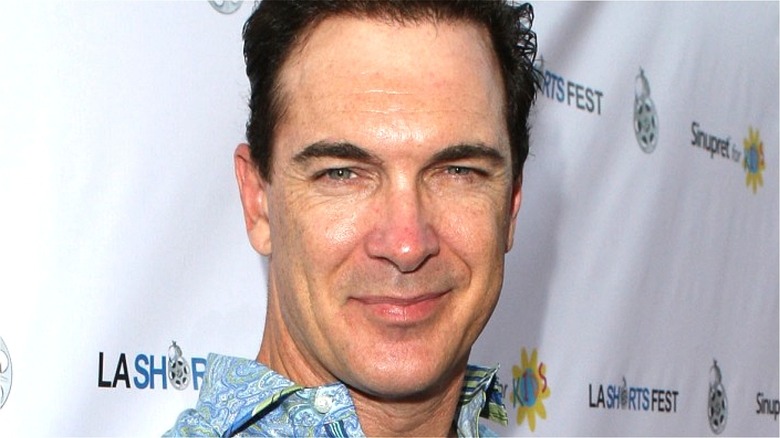 Jason Merritt/term/Getty
"Seinfeld" still holds up as one of the best sitcoms of all time, and like most sitcoms, a big part of the appeal is the characters. While the core four ensemble of Jerry (Jerry Seinfeld), Elaine (Julia Louis-Dreyfuss), George (Jason Alexander), and Kramer (Michael Richards) are all iconic, the show also had a deep bench of hilarious supporting players. Characters like George's parents Frank (Jerry Stiller) and Estelle (Estelle Harris), eccentric Yankees owner George Steinbrenner (Larry David, Lee Baer), or eccentric catalog owner J. Peterman (John O'Hurley) all became popular in their own right, reliably delivering laughs across multiple episodes.
One fan favorite in particular is David Puddy (Patrick Warburton), Jerry's mechanic who's also Elaine's on-again, off-again boyfriend. Puddy first appeared in the Season 6 episode "The Fusilli Jerry," in a memorable story about Puddy stealing a certain romantic "move" from Jerry. Later that season, Puddy was featured in the episode "The Face Painter," when Elaine discovered his insane love for the New Jersey Devils.
Clearly, Puddy was one of the breakout characters of Season 6. Yet Puddy didn't appear again until Season 9. It might seem strange that "Seinfeld" would stop using a hit character for three seasons, but Warburton explained the reason for his prolonged absence.
Patrick Warburton was contracted for another sitcom
NBC/Netflix
"I could have done a lot more ['Seinfeld episodes'] but I was already signed on another show called "Dave's World," Warburton told News.com.au in 2016. "And so for two years I was getting calls every now and then about my availability for 'Seinfeld' and I couldn't do it. Then they canceled 'Dave's World' and I crossed paths with Jerry and he said, 'Do you want to come back on the show during the ninth season?' That was a great opportunity."
"Dave's World" was the sitcom based on the life of "Miami Herald" humor columnist Dave Barry, with comedian/magician Harry Anderson in the lead role as Barry. Warburton played Eric, a handyman who marries Dave's assistant, Mia (J.C. Wendel). The show ran for four seasons on CBS from 1993 to 1997, with Warburton appearing on the final two.
Once "Dave's World" was canceled, Warburton returned to "Seinfeld" and played Puddy in eight more episodes during Season 9. On the show, it was explained that Elaine and Puddy had broken up and then gotten back together after a few years apart. Throughout Season 9, Elaine and Puddy's breakups became a running joke. In Warburton's first episode back, Puddy and Elaine have an entire breakup and reconciliation during the course of a flight home from a vacation in Europe.
Puddy has plenty of memorable moments and quotes in Season 9. It's a good thing Jerry Seinfeld and Patrick Warburton ran into each other,