12 Shows Like The Wheel Of Time You'll Probably Love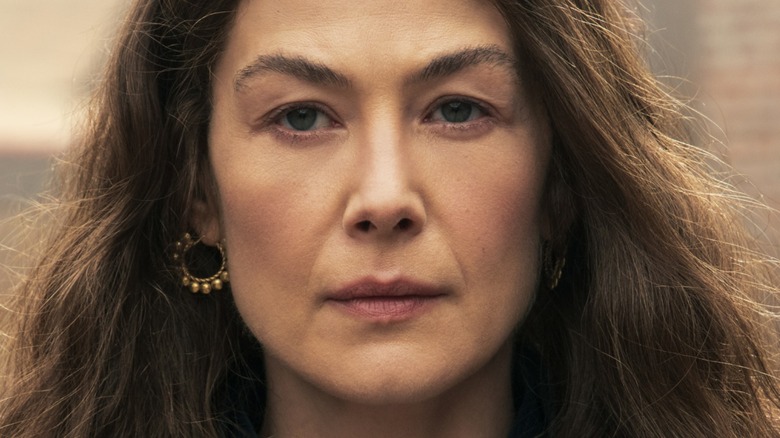 Amazon Studios/Jan Thijs
The Amazon original series "The Wheel of Time" seems to have proven to be the spiritual successor to "Game of Thrones" that fantasy fans have been looking for. With its origins in the classic novel series of the same name, the franchise's passionate fans were happy to see it on the small screen with the big budget it deserved, and were finally able to put the low-budget FXX TV pilot from 2015 behind them. The new series delivers a solid mix of dark fantasy, high-stakes drama, and luscious visuals to complement its sweeping story.
Set in a world of magic and fantastic supernatural powers, the twist in "The Wheel of Time" is that only women are able to wield those forces. The Aes Sedai — a clandestine order of women warriors — sets out to discover the truth of a prophecy that declares one of their group to be the destined bringer of doom — or their world's savior.
Debuting to broad praise from critics in 2021, a Season 2 soon followed in 2022, and Season 3 was quickly greenlit after that, per Deadline. If you can't get enough, fret not because we're here to help you uncover more epic fantasy fare that you'll likely love if "The Wheel of Time" is your new favorite series.
Shadow and Bone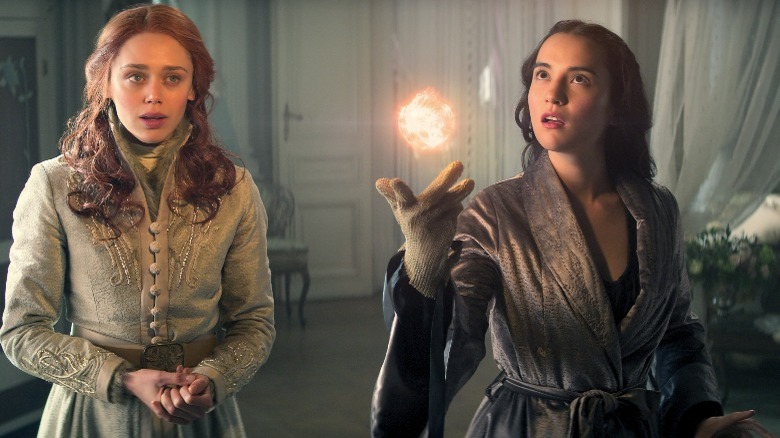 Netflix
Like "The Wheel of Time," the Netflix original series "Shadow and Bone" is based on a series of epic fantasy novels. The "Shadow and Bone" books are written by Israeli author Leigh Bardugo, whose debut novel, "Ninth House," is also receiving an adaptation from Amazon Studios (per Deadline). "Shadow and Bone," whose first season of eight episodes began airing in 2021, stars Jessie Mei Li, Archie Renaux, Freddy Carter, Amita Suman, Kit Young, and Ben Barnes.
Set in Bardugo's Grishaverse, the series centers on a group of individuals called Grisha who wield a unique form of apparent magic that allows them to control different forms of matter. In the nation of Ravka, we meet Alina Starkov (Li), a cartographer who discovers that she possesses the powers of the Grisha and that she has a great destiny to fulfill as the world of Grishas teeters on the brink of war.
With a powerful female sorceress and a prophesied savior, "Shadow and Bone" shares many themes with "The Wheel of Time." It mixes in a dash of heavy romance and political allegory, and while it's packed with plenty of tropes you'll no doubt recognize, there are enough fresh takes to make it something entirely new. The Season 1 was a relatively self-contained story, while "Shadow and Bone" Season 2 is based on the plotlines that come from the novels "Siege and Storm" and "Six of Crows."
His Dark Materials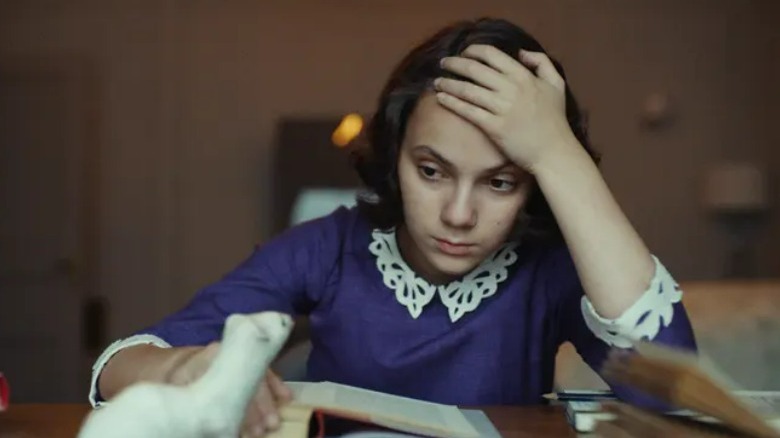 HBO
Although the franchise had already been adapted into a big-budget feature film — the 2007 movie "The Golden Compass" — the book series "His Dark Materials" received a more faithful serialized adaptation in 2019 from HBO that rebooted the franchise. With three books to translate to the screen, the series has already seen two full seasons that cover plotlines from the first two novels, "Northern Lights" and "The Subtle Knife." Season 3 is based on the final book in the trilogy, "The Amber Spyglass."
An ensemble cast is led by Dafne Keen, Ruth Wilson, James McAvoy, and Clarke Peters. The series follows the adventures of Lyra Belacqua, and is set in a number of bizarre worlds throughout a multiverse. The center of a witch's prophecy, Lyra's father, is a polar scientist whose research into parallel realities and a mysterious substance called Dust is in defiance of the ruling powers of the Magisterium. However, when Lyra's best friend goes missing, she sets out on a journey across multiple dimensions while being pursued by sinister forces that include witches, lords, and all manner of religious and political figures who have their own dark designs.
Where "The Golden Compass" fell flat with critics, "His Dark Materials" has excelled. Thanks to its eight episode seasons, more stories can be told, which helped expand the truncated movie into a deeper and more soulful adaptation. 
A Discovery of Witches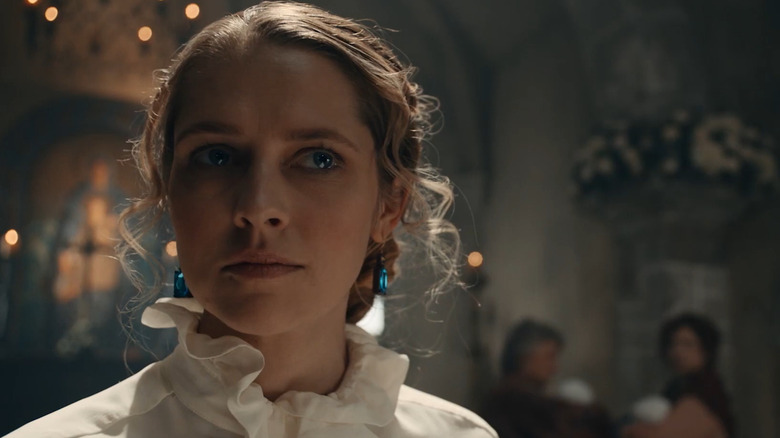 Sky One
A British series airing on Sky One beginning in 2018, "A Discovery of Witches" is named for the first installment of the "All Souls" trilogy written by author Deborah Harkness and stars big screen actors Teresa Palmer and Matthew Goode. Though the world of the series is not quite as deep or expansive as "The Wheel of Time," its focus on witches and powerful leading women will appeal to its fans, while its smaller focus helps it drive a more pointed and focused story.
Palmer stars as Diana Bishop, a seasoned Yale professor studying a combination of alchemy and sciences in Oxford. Born into a family of witches, Diana's parents were murdered by humans who feared their powers and as a result she has avoided her true magical potential all her life. When Diana unwittingly uncovers an ancient and magical manuscript, the Ashmole 782, it draws more than one powerful force to its presence. However, the emergence of scientist and biochemist Matthew Clairmont means she has at least one ally — even if he is a vampire, who have long been at war with Diana's witchkind. 
A perfectly binge-worthy series, "A Discovery of Witches" concluded its three season run in 2022 after completing its on-screen adaptation of all three books in Harkness' trilogy.
The Shannara Chronicles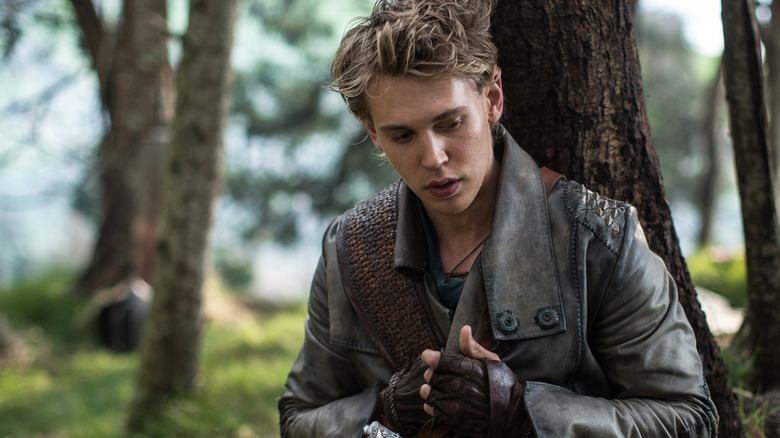 Viacom Media Networks
Acclaimed fantasy author Terry Brooks' "The Sword of Shannara" trilogy, first published all the way back in 1977, finally made it to the screen in 2016, premiering on MTV, of all places, for two seasons and a total of 20 episodes. Though much of its cast was comprised of lesser-known names, it did feature "Spartacus" star Manu Bennett, who is also known for playing the orc Azog from the "Hobbit" trilogy, alongside fellow Middle Earth alum John Rhys-Davies in a minor role.
Skipping over the first entry in the trilogy, "The Shannara Chronicles" adapts the second book in the series, "The Elfstones of Shannara," and is set in a world of witches, warlocks, and elves. It follows Wil Ohmsford, a half-elf who is descended from the ancient bloodline of Shannara and is destined to save his realm. Aided by elven princess Amberle and a human thief named Eretria, Wil fights to stop a horde of demons from entering the Four Lands. The demons in question will be released from imprisonment in the Forbidding if the ancient tree of Ellcrys dies, which leads the young group of warriors to seek the guidance of Allanon, a nearly immortal druid who is the last of his kind.
Created by Alfred Gough and Miles Millar (the duo behind "Smallville"), the series had a more youth-focused energy to it, with critics like The Verge suggesting that it was essentially "Game of Thrones" for a younger audience. A throwback to older fantasy shows, it had a fun flair that was appreciated by its fans, rather than the darker, more grim shows that have since become trendy.
The Witcher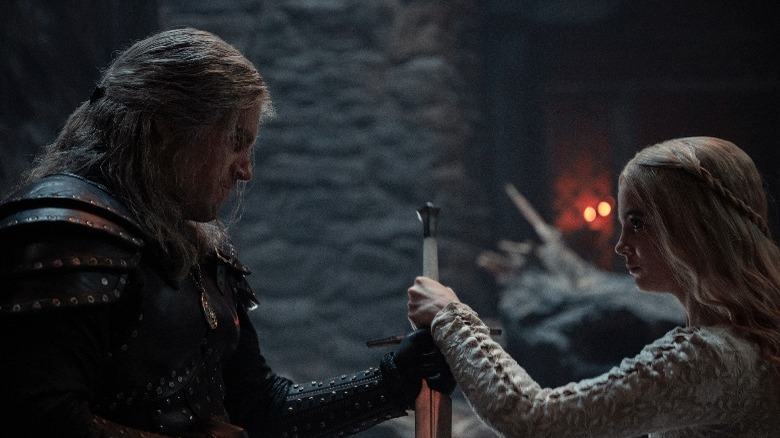 Netflix/Susie Allnutt
Starring Henry Cavill, "The Witcher" is a wildly successful Netflix series derived from a Polish fantasy franchise and shares a penchant for fantasy action with "The Wheel of Time," only with a darker twist. The series of novels by Andrzej Sapkowski started with a short story published in 1986 and produced five novels in the main sequence, a comic book series, and a Polish film. However, the franchise gained global popularity when it was adapted into a series of hit video games starting in the late 2000s.
The first season of the Netflix adaptation of "The Witcher" chronicles a decades long story with three central characters in three different time periods. The central figure is Geralt of Rivia (Cavill), the title warrior, a so-called Witcher who makes his way across the land as a monster hunter. Years before, we meet Yennefer of Vengerberg (Anya Chalotra), a sorceress. Finally, in a story set 30 years later, we meet Ciri (Freya Allan), the crown princess of Cintra, who is searching for an older Geralt. As the action follows each of their journeys separately, the events slowly come together.
Admired by critics and audiences alike, it's been praised for its mix of thrilling action and shock-inducing horror, all while giving Cavill another iconic role. 
The Letter for the King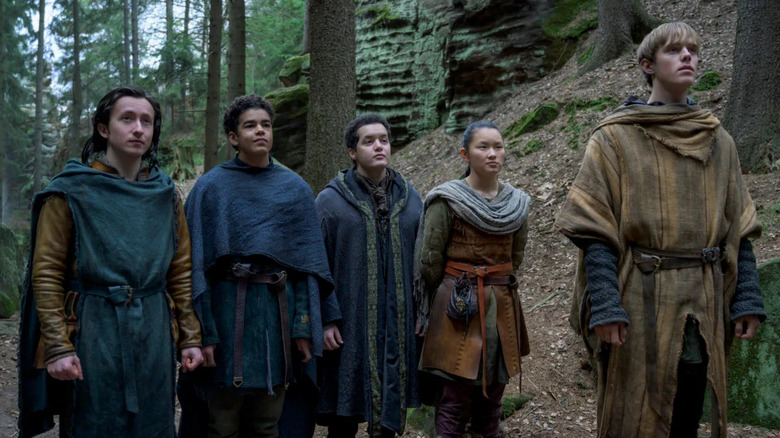 Netflix
If you like "The Wheel of Time" but are looking for something less sprawling, check out the Netflix miniseries "The Letter for the King." This six-part saga is also perfect for fans of epic fantasy who may want to introduce the genre to their kids, as the series is family-friendly, though never light on drama and adventure. Based on the novel from 1962 by Dutch writer Tonke Dragt, this modern update works as a YA fantasy novel come to life.
 In the series, we meet the outsider and underdog Tiuri (Amir Wilson), a sixteen-year-old messenger who has been given a critical message to be delivered to a neighboring kingdom that has dire consequences for his own people. However, as a creeping darkness threatens to envelop three warring kingdoms, Tiuri is pushed into becoming a knight by his domineering stepfather, Sir Tiuri the Valiant (David Wenham). Along the way, he meets allies and enemies, including a charming cartographer, a sword-wielding monk, a powerful sorcerer, and the sinister Prince Viridian.
Though the series operates with a well-worn premise of an underdog hero who undertakes a sweeping adventure to battle an ancient evil, it still delivers a good time, even if it's not surprising. Critics agreed, and Den of Geek gave the series a glowing review, noting that what it "lacks in originality, it makes up for in the earnestness of its execution."
The Legend of El Cid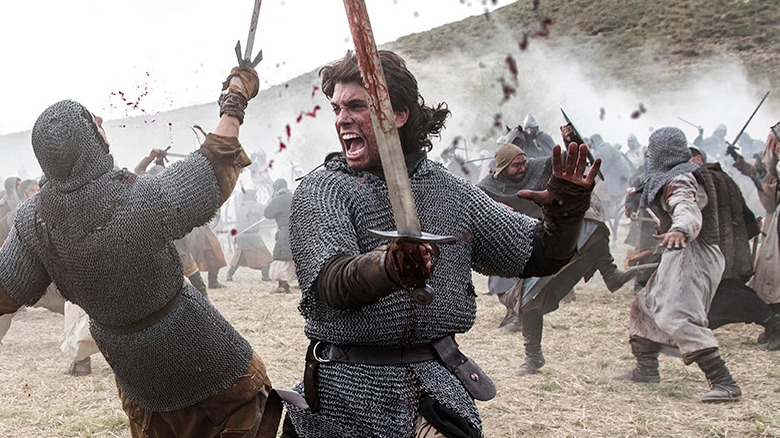 Amazon Studios
If you loved "The Wheel of Time" for its epic adventure filled with eccentric characters but are looking for something a little more grounded, check out "The Legend of El Cid," which is inspired by a true story. The series is based on the historical account of the life of Rodrigo Díaz de Vivar, better known as El Cid, a Castilian knight in medieval Spain who led armies for leaders of both Christian and Muslim nations in the 11th century. Though he has been the subject of several big screen historical biopics, including the Charlton Heston classic "El Cid," this Amazon Prime series marks the first live-action small screen series based around his days as a Spanish warlord.
 Starring Jaime Lorente as El Cid, the series chronicles Vivar's early days as a young nobleman who gets swept up in royal intrigue when Queen Sancha plots to kill her husband Ferdinand, the Count of Castile, in a bid to seize control of their kingdom. However, when El Cid's grandfather becomes part of the scheme, he is torn between his service to Ferdinand and his loyalty to his family.
While "El Cid" does not boast the high fantasy of "The Wheel of Time," the lead character's maneuvering and complex political power plays will draw in fans of the series. Running a brief but satisfying two seasons, it's worth noting that it was filmed in Spanish and Arabic, but thanks to Amazon Prime's many language options it can be viewed in English as well.
The Dark Crystal: Age of Resistance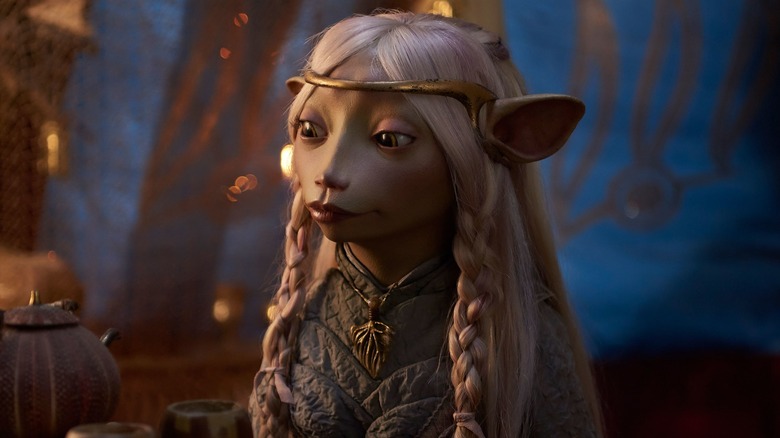 Netflix
Though the next entry on our list is a prequel to the classic 1982 Jim Henson classic "The Dark Crystal," the Netflix miniseries "The Dark Crystal: Age of Resistance" is very much enjoyable as a standalone entry. Produced more than three decades after the film, it features an all-star voice cast for its roster of puppet characters, including Mark Hamill, Jason Isaacs, Taron Egerton, Awkwafina, Anya Taylor-Joy, Benedict Wong, Gugu Mbatha-Raw, Simon Pegg, and Helena Bonham Carter.
Set long before the events of the original film, "The Dark Crystal: Age of Resistance" begins with the innocent Gelflings — an elf-like people — living under the tyrannical rule of the malevolent Skeksis. The Skeksis have been using an ancient relic called the Dark Crystal to keep themselves alive with its rejuvenating abilities, but when its powers wane, the Skeksis look to drain the Gelflings of their life energy to sustain them. Now a trio of Gelflings – Rian, Deet, and Brea — have a plan to bring together the seven fractured clans to fight back against the Skeksis.
Expanding on the mythos created by Jim Henson, "The Dark Crystal: Age of Resistance" — like "The Wheel of Time" — features a powerful female hero leading a battle against dark forces that seek their undoing. A mix of brilliant puppetry and high fantasy, this is one legacy prequel you dare not miss.
Arcane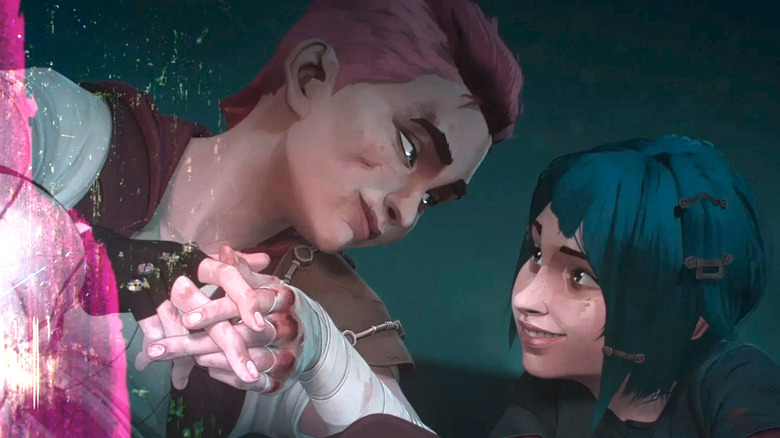 Netflix
Instead of being based on a series of books, the 2021 Netflix animated series "Arcane" is based on a video game, the massively popular "League of Legends." Though the series is technically science fiction, fans of "The Wheel of Time" will recognize plenty of thematic and story similarities. Warring clans, gifted individuals with incredible powers, plenty of political unrest, and an immersive mystical world help make the series a draw for any fan of high-concept genre fare, be it sci-fi or fantasy.
In the series, we meet sisters Vi (Hailee Steinfeld) and Powder (Ella Purnell), who grew up with only each other to depend on after being left alone by the ravages of an endless war. However, after being separated in their youth, the two young women take very different paths, with Powder eventually becoming a deadly villain named Jinx. While both reside in the impoverished undercity called Zaun, the elite lives in Piltover, a futuristic metropolis. In a parallel story, we meet two scientists named Viktor and Jayce, who have recently invented Hextech, a mix of arcane magic and advanced technology. However, while Viktor wants to use it to help the people of Zaun, Jayce has other ideas.
With more in common with YA fiction than the game it's inspired by, "Arcane" drew critical acclaim from fans and reviewers for its lush animation, broad scope, and compelling story. Its clear social allegories for class inequality also gave it a certain substance and gravitas.
Arthdal Chronicles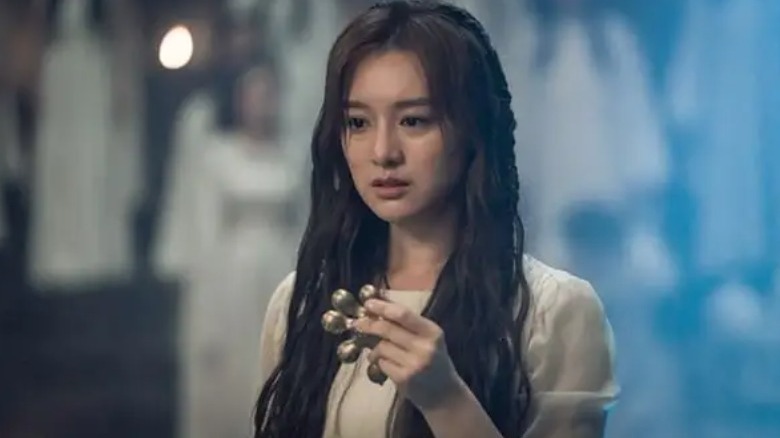 Netflix
Though the Korean fantasy series "Arthdal Chronicles" wasn't a hit in its native country, here in the US it has garnered a decent following. The series is not based on a young adult novel or book series but on the Korean tale of Dangun, who was said to have founded the Korean kingdom Gojoseon. Set during the Bronze Age, it also helps illuminates a bit of world mythology that most probably never learned about in school, mixing legend with a dash of historical fact to create an ancient political fantasy drama on par with "The Wheel of Time."
Like "The Wheel of Time," the series unfolds with a complex backstory that will require your attention. Taking place in an ancient realm called Arth, the aftermath of a great darkness sees warlords San-ung and his son Ta-gon lay claim to much of its lands. Opposing them are the Wahan tribe, led by Eun-seon and Tan-ya, who have been foretold to bring peace. However, the Wahan are now facing their own annihilation, and trouble begins to brew within as different factions vie for control.
With a Shakespearean level of family intrigue and epic power struggles, it also uses supernatural elements to punctuate its high drama. Still, much like "The Wheel of Time," such simplistic descriptions don't capture the true breadth or uniqueness of the series.
Legend of the Seeker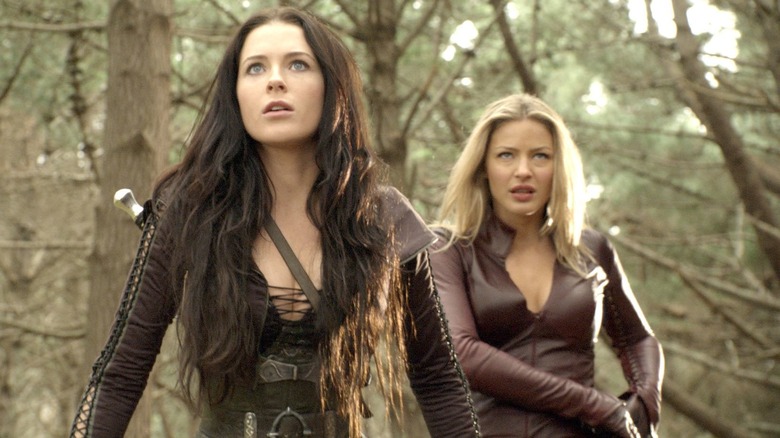 Disney–ABC Domestic Television
"Legend of the Seeker," a 2008 series created by Sam Raimi, was based on the book "The Sword of Truth" by Terry Goodkind. Though it came from Robert Tapert, the producer of "Hercules: The Legendary Journeys," and "Xena: Warrior Princess," this two-season series was a bit more like "The Wheel of Time," with a serious focus on deeper mythology and more action than light-hearted camp. Led by several strong women, it was also the perfect successor to "Xena: Warrior Princess" and predecessor to hits like Amazon Prime's Robert Jordan adaptation.
The series takes place in a fantasy realm with three lands: the Westland, the Midlands, and D'Hara. An evil warlord, Darken Rahl, rules over D'hara with dark magic, but when he invades the Midlands, the Confessors — an ancient order of women warriors — must find the Seeker, who is the only one who can defeat Rahl's power, according to legend. When they find him, however, they realize he is no hero, just a young woodsman named Richard Cypher. With no desire to be a savior, Cypher must discover the warrior within if the people of the Midlands are to be free.
Never a big hit when it was on the air, "Legend of the Seeker" has aged well, and fans of "The Wheel of Time" will find plenty to enjoy in its fantasy world.
Merlin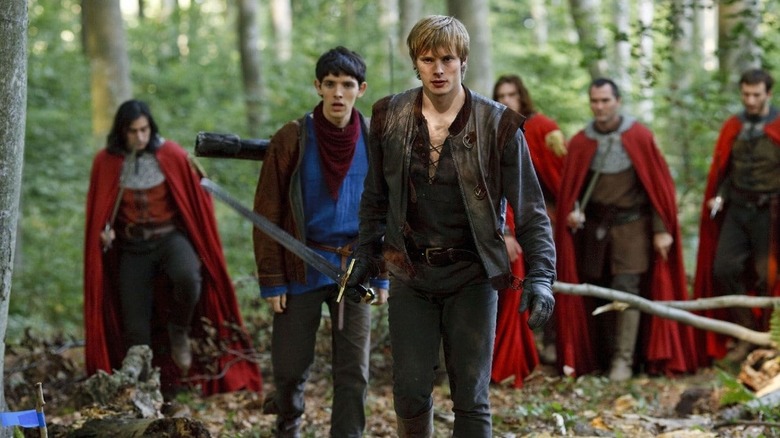 BBC
One of the earliest and certainly longest-running series on this list, the 2008 adventure series "Merlin" is a British import that was popular across the pond for five seasons, and built a cult following in America. While it never took off in the United States the way it did in the British Isles, now is the perfect time for fans of "The Wheel of Time" to look back and discover it for themselves. 
With the title of "Merlin," it should come as no surprise that the series chronicles the adventures of the fabled sorcerer who aided the kingdom of Camelot in Arthurian times. In the series, Merlin is a bright and talented young wizard under the tutelage of Gaius, a court physician who helps train him in the ways of magic. Still, this story has one big twist: magic is forbidden, meaning that Merlin must train in secret and be careful not to be discovered. 
Going up against all manner of fantastic foes, including evil wizards, goblins, and demons, Merlin's tales in the series are less serialized and more episodic in nature than most shows of its type, making it a throwback of sorts. However, the ongoing stories of Merlin's growth into a powerful and legendary figure, and the dramatic family story of Camelot, a young Arthur, and his father the king, helped the series cultivate a sizable fandom that still exists today.