The Iconic 10 Things I Hate About You Line That Was Completely Improvised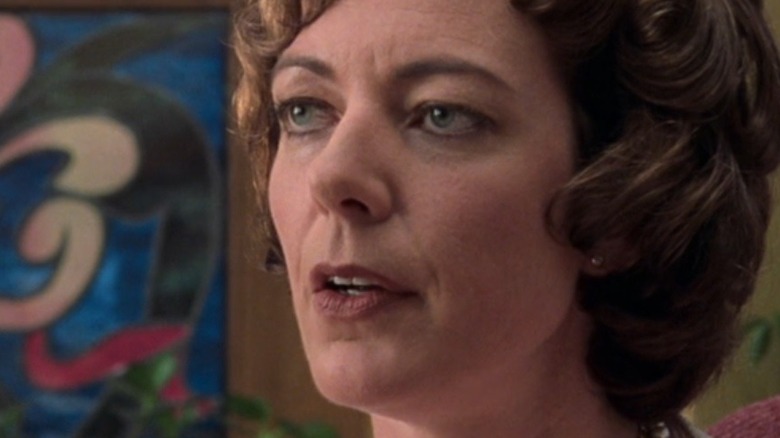 Buena Vista Pictures
"10 Things I Hate About You" may fall under the teen romance genre banner, but it's a hard film to, well, hate. Equal parts funny, charming, and sweet, it's a romantic comedy done right, and it helped make stars out of its leads, Heath Ledger and Julia Stiles. The story follows Kat Stratford (Stiles), a high schooler who seems to have an aversion to dating and most people in general. Her more outgoing younger sister, Bianca (Larisa Oleynik), sets up a scheme to have bad boy Patrick (Ledger) woo Kat in hopes of challenging her father's strict rules on dating. However, as is typical in cinema, the two actually fall for one another.
Along with younger stars of the time, including Joseph Gordon-Levitt and Gabrielle Union, some veteran actors also bring their own brand of humor to the flick. There is Larry Miller as the overbearing, but loving father of Kat and Bianca, as well as "Mom" star Allison Janney as Ms. Perky, the school's guidance counselor who writes bawdy romance novels between appointments with students.
Janney delivers plenty of laughs in "10 Things I Hate About You," and as it turns out, one of her iconic lines was completely ad-libbed.
Allison Janney ad-libbed one of Ms. Perky's best moments
During a scene between Kat and Ms. Perky where the guidance counselor rather bluntly tells Kat how she's viewed by the rest of the school, Ms. Perky picks up her coffee mug as she says Kat's name and then notices there's a cat on the mug. "Kat. Meow," she says before quickly going back to her speech. While speaking about "10 Things I Hate About You" for a 2014 BuzzFeed career retrospective, Allison Janney revealed, "I ad-libbed, 'Kat. Meow.'" 
Janney continued on to explain that ad-libbing is a regular thing for her. "That was me. I do that on some movies when I feel like the atmosphere is right and ['10 Things I Hate About You' director] Gil Junger was open to it and just let me do whatever I wanted to do. I was really thrilled about that one," she said.
That is quite a memory for someone who allegedly forgot she was in the movie altogether. In 2020, Janney replied to an Instagram post celebrating her performance in the film by commenting, "I don't understand! What is this????? What am I in that I forget I was in?" This, however, may have been a joke as she took to her own Instagram just one year earlier to celebrate the film's 20th anniversary.
It's possible that Janney was having a brief memory lapse similar to Gwyneth Paltrow forgetting what Marvel movies she has appeared in. Or perhaps it was the actor pulling a joke on her fans — after all, we know how good she is at those ad-libs.