Who Plays Death On Netflix's Sandman?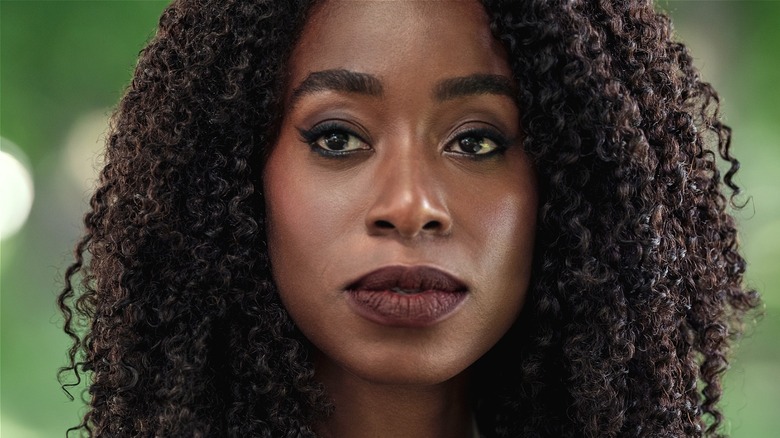 Laurence Cendrowicz/Netflix
The upcoming Netflix series "The Sandman" — which is based on the DC comic book written by Neil Gaiman — will premiere on the streaming service on August 5. Developed by Gaiman, David S. Goyer, and Allan Heinberg, the series follows Morpheus, aka Dream (Tom Sturridge), the king of dreams and a member of the Endless (a family of seven beings who embody powerful forces), who was captured in an occult ritual in 1916. 106 years later, Morpheus escapes and returns to his kingdom to continue ruling the Dreaming.
However, the world of "The Sandman" extends far beyond just Dream. Other key characters of the series include the ruler of Hell, Lucifer Morningstar (Gwendoline Christie); an escaped nightmare, Corinthian (Boyd Holbrook); Dreaming librarian, Lucienne (Vivienne Acheampong); an occultist, Sir Roderick Burgess (Charles Dance); an occult detective, Johanna Constantine (Jenna Coleman); and Dreaming residents, Cain (Sanjeev Bhaskar) and Abel (Asim Chaudhry). Further, there are also Dream's siblings: Desire (Mason Alexander Park), Despair (Donna Preston), and Death (Kirby Howell-Baptiste).
Of all the character names listed, Death may very well be the most notable and intriguing. So, who is the actress playing Death?
Kirby Howell-Baptiste plays Death on The Sandman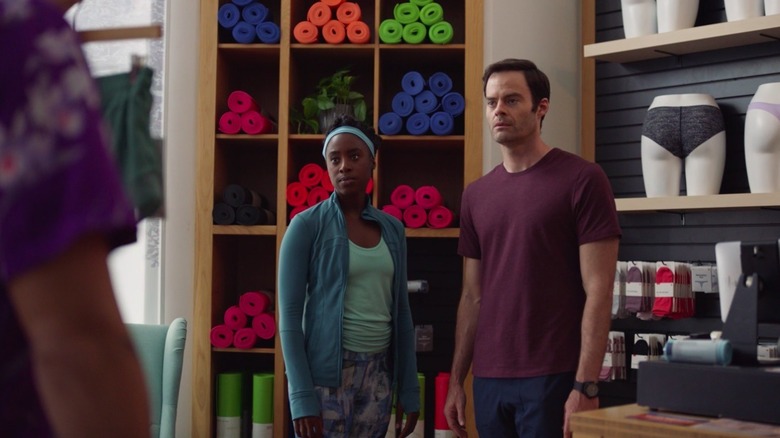 HBO Max
The actress playing the role of Death on "The Sandman" is Kirby Howell-Baptiste. The extent of Howell-Baptiste's IMDb profile suggests you've probably seen her on television before.
She made her first on-screen appearance as a patient in a 2007 episode of the British medical drama "Holby City." From there, she appeared in several short films and minor roles until landing a significant role, the part of Beth on Netflix's romantic comedy series "Love" in 2016. Over two years, Howell-Baptiste appeared in a total of eight episodes of "Love."
In the same year that she wrapped up "Love," Howell-Baptiste began recurring roles on HBO's "Barry," Hulu's "Killing Eve," and NBC's "The Good Place." Playing opposite stars Kristen Bell and William Jackson Harper in the latter series, Howell-Baptiste portrayed Simone Garnett, a human conducting a study on the afterlife. In 2019, Howell-Baptiste teamed up with Bell once again when she showed up on the revived fourth season of "Veronica Mars" on Hulu, playing Nicole Malloy, a nightclub owner and friend to Veronica (Bell). 
In 2019, she also nabbed a leading role on the first season of "Why Women Kill," playing confident lawyer Taylor Harding. In 2021, Howell-Baptiste showed up in a string of films: "Happily," "Cruella," "Queen Pins" and "Silent Night." Most recently, she had a two-episode guest arc on HBO's "Hacks" and has been voicing Dr. Mae Turner in Netflix's "Jurassic World: Camp Cretaceous."
With so much on her plate, it would be easy for fans to wonder... What made her decide to dedicate so much time to "The Sandman"?
Howell-Baptiste loves the depth of the Death character
In July 2022, Kirby Howell-Baptiste talked to Entertainment Weekly about her experience playing Death thus far, including what about this specific iteration of the character speaks to her.
Howell-Baptiste reported liking the depth and layers given to Death in "The Sandman" — namely, she liked that the focus of the character went beyond the end of life. The actor continued, "This character says, 'I was there in the beginning, and I'll be there in the end.' Death is born of life. I think there's something very beautiful and cyclical about her position in the world, because it's so much about the full journey that she is there for. That lends itself to a more feminine energy — there is this much more nurturing, caring side to Death than we've ever seen before."
Howell-Baptiste's view of Death is noteworthy on a number of levels. Of course, an actor's view of their character will always influence the way that they portray the role, but it's notable because creator Neil Gaiman was so quickly sold on Howell-Baptiste taking on the role. Gaiman also told Entertainment Weekly that out of the hundreds of actors that they considered, Howell-Baptiste stood out by a long shot because of her ability to channel honesty within her character's power. 
Gaiman said, "That honesty, and the fact that she could deliver those lines and you believe them, were what sold me on Kirby 100 percent. We had supermodels, we had all sorts of amazing people a lot more famous than Kirby auditioning. But I didn't believe they were Death, I didn't believe they were Tom's big sister that could boss him around. Then Kirby came on and it was just like, 'I love you, I believe you, and you're it.'"