This Is How Raiders Of The Lost Ark Saved The Empire Strikes Back
Apart from making his mark as the writer and director of such classic films as "Body Heat," "The Big Chill," and "Silverado," Lawrence Kasdan, of course, is closely associated with the "Star Wars" and "Indiana Jones" movies. And, as it turns out, his involvement in both franchises wasn't by design, but by mere happenstance. 
Before getting his first big break in 1981 — with his writing and directorial debut, "Body Heat" — Kasdan was a struggling filmmaker trying to sell his scripts in Hollywood. Luckily, one of them — the comedy romance "The Continental Divide" — caught the attention of the director of such classics as "Jaws" and "Close Encounters of the Third Kind." As Kasdan told Entertainment Weekly in an interview about "Light and Magic," his new Disney+ Lucasfilm documentary, "It had taken me seven years to sell two scripts that I had written, two spec scripts. And the second one was purchased by Steven Spielberg. And the day I met Steven Spielberg, he said, 'I'm going to do a movie with George Lucas, and I want you to meet him. Are you okay with that?' I said, 'Yes, I'm very okay with that."
Little did Kasdan know that meeting would set the stage for his crucial involvement in "Star Wars: Episode V — The Empire Strikes Back."
Lucas offered Kasdan a chance to write on Empire before he read the Raiders script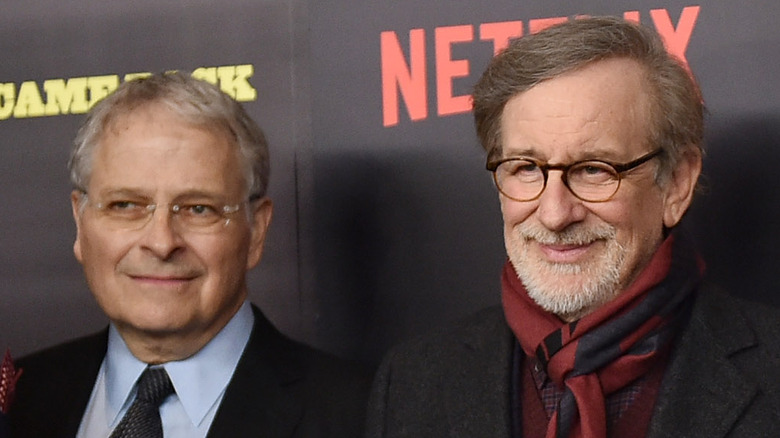 Mike Coppola/Getty Images
According to the aforementioned EW article, Steven Spielberg had more in mind than discussing the screenplay he just purchased from Lawrence Kasdan. It turns out Spielberg and George Lucas — who were prepping "Raiders of the Lost Ark" — were about to give Kasdan a shot at writing the screenplay for their homage to the Saturday movie serial adventures that began in the 1920s (via The Raider).
"[The day I met Spielberg], we walked over, and we saw George, and he gave the bare bones of what 'Raiders' would be," Kasdan recalled for EW, noting he finished the screenplay for the Harrison Ford adventure in about six months. Even before he read the script, though, Lucas asked Kasdan if he'd help him work out the kinks on "The Empire Strikes Back," the hotly anticipated sequel to his 1977 blockbuster "Star Wars." "He said, 'I'm having trouble with the sequel to Star Wars. Will you help me with that?'" Kasdan recalled for EW. "And I said, 'Well, don't you want to read the ['Raiders'] script first?' And he said, 'I'm going to read it tonight. If I don't like it, I'm calling you up tomorrow, I'm taking back this offer.'"
Kasdan thought Lucas' option to retract the "Empire" writing offer was logical enough, but lucky for the screenwriter, Lucas liked his "Raiders of the Ark" script, and they pressed forward. "And so, I found myself unexpectedly writing first 'Raiders' and then 'Empire' in quick succession. And I was in heaven," Kasdan said.
Kasdan rewrote the original Empire script penned by a revered science fiction writer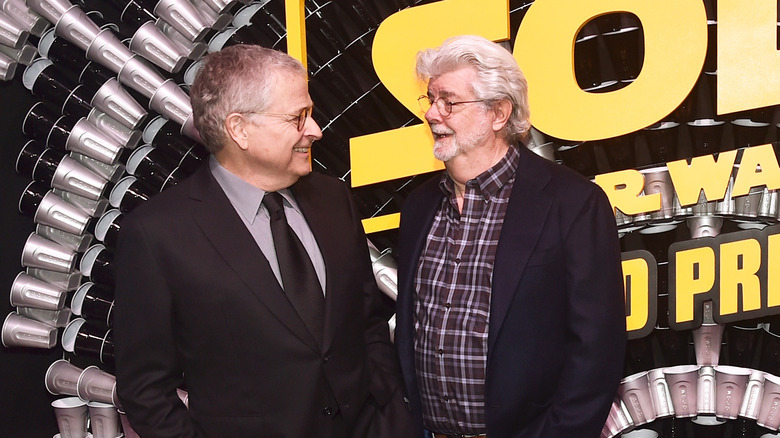 Alberto E. Rodriguez/Getty Images
Lawrence Kasdan's involvement in "The Empire Strikes Back" was rooted in tragic circumstances. According to Den of Geek, Kasdan was brought aboard to re-write "Empire" after renowned science fiction writer Leigh Brackett, who penned the original screenplay, died of cancer in March 1978 — mere weeks after she turned the first draft into Lucas. Both Brackett and Kasdan are credited with writing the screenplay in the film's final credits.
Released in 1980, "The Empire Strikes Back" served as Kasdan's launching pad with Lucasfilm, with the release of "Raiders of the Lost Ark" coming a year later. Kasdan next wrote the screenplay for the 1983 threequel "Star Wars: Episode VI — Return of the Jedi" with Lucas, and returned to the franchise to pen the script for 2015's "Star Wars: Episode VII — The Force Awakens" with director J.J. Abrams. Lawrence Kasdan also co-wrote the screenplay for the 2018 "Star Wars" spin-off film "Solo — A Star Wars Story" with his son, Jonathan Kasdan.
"Light and Magic" is streaming exclusively on Disney+.