First Look At Jodie Whittaker As Doctor Who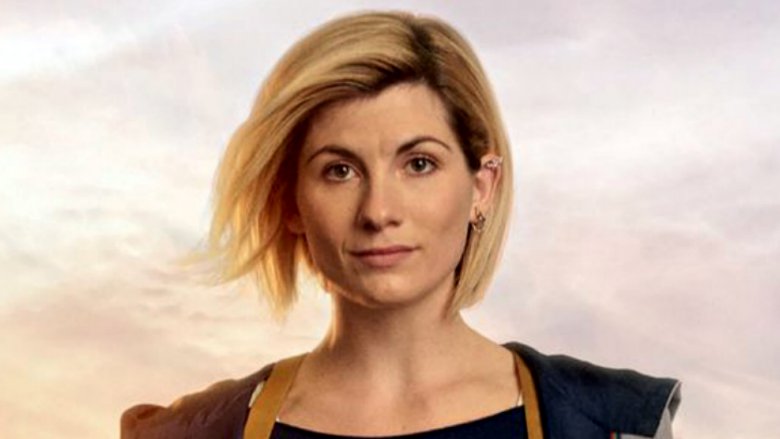 BBC
Doctor Who will have a fresh new look in season 11, but if you look closely, you'll find a few subtle references to previous Doctors.
The BBC released the first official image (below) of Jodie Whittaker (Broadchurch, Trust Me) as the 13th Doctor, who we'll meet in this year's Doctor Who Christmas special. However, the photo reveals more than just Whittaker's costume; it hints that the next era of Doctor Who will be a lot brighter, more colorful, and possibly more optimistic.
Whittaker has the trademark trench coat, but it's pale and lighter than any those recently worn by previous Doctors. She also wears a brightly striped jumper, yellow suspenders, teal cropped culottes, blue and turquoise socks, and brown boots. Whittaker also dons some distinctive earrings at the top and bottom of her left ear.
The suspenders are a nod to Matt Smith's 11th Doctor, and the stripes on the jumper are reminiscent of the striped scarf worn by Tom Baker's 4th Doctor.
When Whittaker was announced as the first female Doctor back in July, she said it felt "overwhelming, as a feminist" to have the role and told fans not to be "scared" of her gender. "It's more than an honor to play the Doctor," she said. "It means remembering everyone I used to be, while stepping forward to embrace everything the Doctor stands for: hope."
In a trailer released at the time, Whittaker was seen in a dark hood and long grey coat, but she said that wouldn't be part of her official Doctor Who outfit. As is customary, she'll likely regenerate in the clothes of the previous Doctor (in this case, Peter Capaldi's 12th Doctor), then adopt her own look. 
She'll be joined in the cast by Bradley Walsh, Tosin Cole, and Mandip Gill, who will play the Doctor's companions.
New series. New Doctor. New look! #DoctorWho pic.twitter.com/0zIew8QiuS

— Doctor Who Official (@bbcdoctorwho) November 9, 2017