Black Panther 2 Star Letitia Wright Explains How Shuri Will Deal With Her Brother's Death
Alberto E. Rodriguez/Getty Images
If the trailer for "Black Panther: Wakanda Forever" is any indication, the upcoming film will be an emotional rollercoaster. It's not just the characters in the MCU who are grieving the loss of T'Challa (Chadwick Boseman) but the fans on the outside who have loved him since "Captain America: Civil War." The trailer depicts Queen Ramonda (Angela Bassett), Nakia (Lupita Nyong'o), and Shuri (Letitia Wright) grieving and reflecting on the loss of T'Challa, and we'll get a much deeper look into their processing when the movie premieres.
Most of the "Black Panther: Wakanda Forever" cast was at San Diego Comic-Con, where they did interviews on the red carpet about their upcoming movie. Wright gave MCU fans an idea of what to expect from Shuri, specifically what she does to cope with the loss of her brother. It looks like this coping mechanism might bring about something massive, which could be helpful or dangerous.
Shuri is going to occupy her mind with her work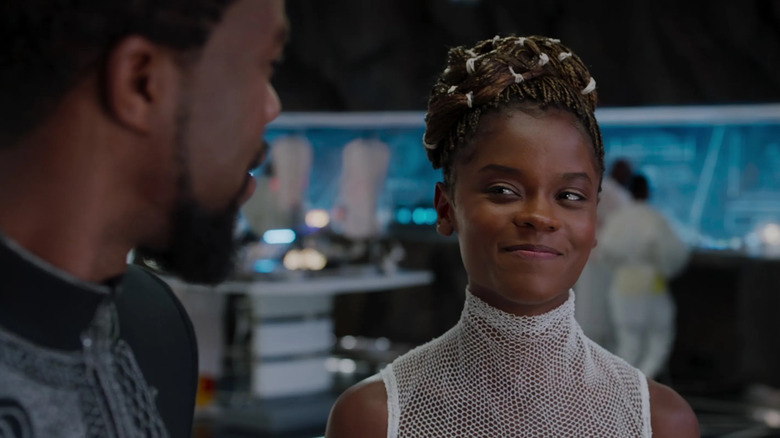 Marvel Studios/Disney
Letitia Wright caught up with Black Girl Nerds at San Diego Comic-Con and gave fans some insight into the Shuri's struggle in "Black Panther: Wakanda Forever." The Wakandan tech genius will completely immerse herself in her work to help cope with the loss of T'Challa. Wright's comments also suggest that Shuri will create something new and unlike anything we might have seen come out of Wakanda before. "So there's so much new technology to look forward to, and I think that's where her sweet spot is at the moment. Like, 'How do I process this?' And she just throws all of her energy, even more so, into technology. So, there's a lot of cool new things to look out for," Wright revealed.
We see Shuri dealing with her grief in the "Black Panther: Wakanda Forever" trailer, but she also appears to be back at work in her lab with MCU newcomer Riri Williams (Dominique Thorne). We only see Riri working in the lab, developing her Ironheart armor, so what Shuri is creating that Wright alluded to is still a mystery. Perhaps it's another Black Panther suit or new and improved Kimoyo Beads. MCU fans will have to wait until November 11 to see what Shuri cooks up and if she is the one to take on the mantle of Black Panther.