Why Aaron Paul Had Fans Completely Thrown Off In Better Call Saul Season 6 Episode 11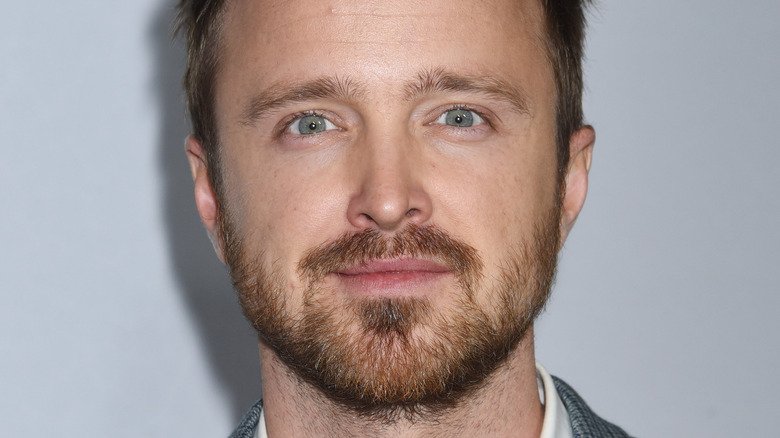 Ga Fullner/Shutterstock
Contains spoilers for "Better Call Saul" Season 6 Episode 11, "Breaking Bad"
After Episode 10 of "Better Call Saul" Season 6 spent its entire runtime in the small-time black and white world of Jimmy McGill's (Bob Odenkirk) Gene Takovic identity, it would have been surprising if the follow-up episode wouldn't raise the stakes — especially since its very title is "Breaking Bad," and Saul Goodman made his grand entrance in a "Breaking Bad" episode called "Better Call Saul." Fortunately, the episode delivers what the title promises. The opening moments show Saul's classic abduction scene from the lawyer's point of view, and soon enough, the much-anticipated duo of Walter White (Bryan Cranston) and Jesse Pinkman (Aaron Paul) appear in all their woolly-hatted glory. 
Though "Better Call Saul" does many things better than "Breaking Bad" and has proven its ability to stand on its own legs many times over, the appearance of the original show's main characters is still a monumental occasion. However, some fans have been completely thrown off by Aaron Paul in "Better Call Saul" Season 6 Episode 11. Here's why. 
Aaron Paul's voice is now surprisingly deep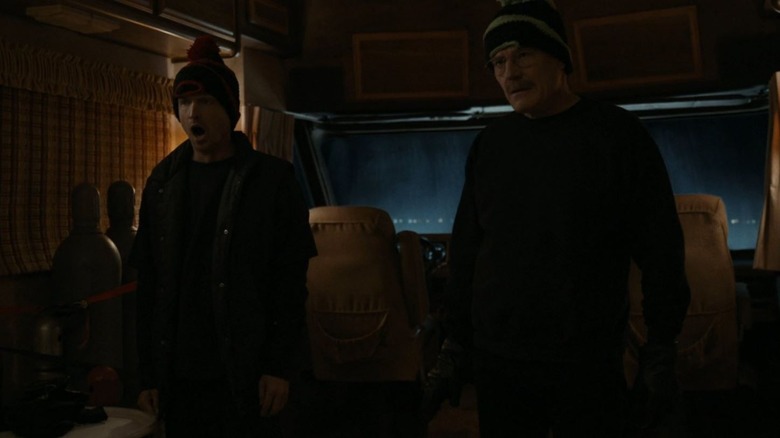 AMC
Time catches up with us all. It can be particularly noticeable in a show like "Better Call Saul," which takes place before — and, by the later stages of Season 6, during — the events of "Breaking Bad," despite the fact that the actors portraying the characters are visibly older. Per writer Thomas Schnauz (via Twitter), time and budget constraints mean that digital deaging isn't really an option for the show, which means it's up to the viewers to suspend whatever age-related disbelief they might have. Since Aaron Paul plays a fairly young character in "Breaking Bad," it's understandable that he might be more susceptible to this than most ... and he is, just not in the way you might think.
It's actually Paul's voice that throws off some fans. In a Reddit discussion about the episode, many viewers were shocked by the actor's surprisingly deep vocal performance. "Aaron Paul's voice descended a full octave since Breaking Bad," u/athomehesatourist wrote. "Paul actually felt quite jarring, I took a few seconds to recognise him even though everything about the scene screamed the BB duo," u/mantism opined. "Lol yeah that threw me off the scene," u/soovestho agreed. Meanwhile, another redditor pointed out that the gradual deepening of Paul's voice is noticeable in his voice role as Todd Chavez in "Bojack Horseman." 
Other fans have also noticed Jesse Pinkman's newly-acquired dulcet tones. "Why is aaron paul's voice so deep he sounded the same in el camino," @whee1s tweeted. "Aaron Paul's voice is so deep now compared to when this is supposed to take place its actually so funny it does not match," @SpvceJamTwo wrote. 
With two more episodes of "Better Call Saul" to go, there's a chance fans will get to see more of Jesse — and hear more of his freshly deep voice.