Parks And Recreation Fans Think This Is One Of Kathryn Hahn's Best Scenes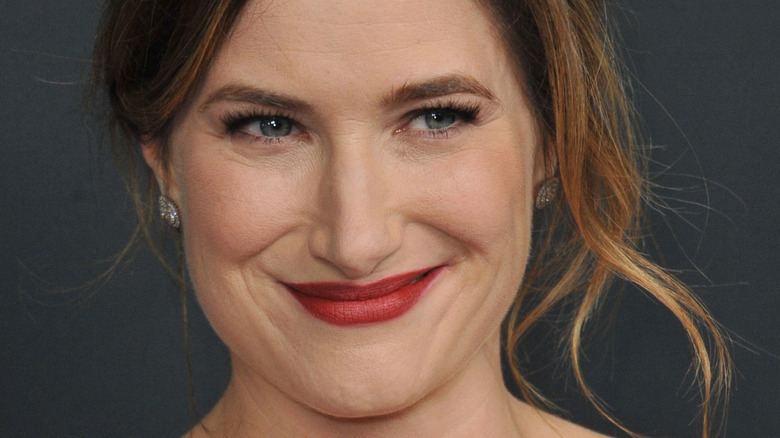 Jaguar PS/Shutterstock
In the early aughts, Kathryn Hahn was Hollywood's preeminent on-screen best friend. She provided a shoulder to lean on and comic relief to Kate Hudson in "How to Lose a Guy in 10 Days," Christina Applegate in "Anchorman," Amanda Peet in "A Lot like Love," and Cameron Diaz in "The Holiday." After shining in comedic ("Step Brothers") and dramatic ("Revolutionary Road") performances alike, Hahn's star continued to rise, culminating in starring roles and her very own forthcoming Marvel project, "Agatha: House of Harkness."
One highlight of the Hahnassaince is the actress' performance in "Parks and Recreation." From 2012 to 2015, Hahn appeared in 10 episodes of the workplace mockumentary as Jennifer Barkley, the cutthroat campaign manager to Leslie Knope's (Amy Poehler) political rival, Bobby Newport (Paul Rudd).
As Barkley, Hahn brings a cold-hearted edge to the tight-knit town of Pawnee, Indiana. Here's the one Jennifer Barkley scene that fans can't get enough of.
Fans love Jennifer Barkley's disdain for children
When Jennifer Barkley is first introduced in Season 4 of "Parks and Recreation," she makes it perfectly clear that she'd rather be anywhere than Pawnee: "I swear the air in this town is killing my brain cells," she complains. She exudes a casual disdain not just towards Pawnee, but everything that small-town America represents. "I have to go back to a city," she quips dryly at one point. "Where things happen."
When Barkley returns to Pawnee in Season 7, Ben (Adam Scott) and Leslie have three children, providing plenty of fodder for Barkley to openly judge their life choices — and flaunt her own. "What's that horrible sound?" she says upon arriving at Ben and Leslie's house. When Ben matter-of-factly says "children," Barkley replies, "Ugh, your life is gross," before flashing a toothy smile. "My life is amazing."
The exchange, perhaps cruel in the hands of a different actor, is so cuttingly funny that it warrants the highest praise from u/CuriousgvaRub on the r/PandR subreddit: "My favorite line from any show."
Barkley proudly upholds her anti-children stance elsewhere, with Redditors sounding off their favorite quotes. "I'm just gonna go spend my time doing exactly what I want to do because I don't have children," quoted u/Zippity-Boo-Yah. Others simply replied with Barkley's outfit of choice when visiting a house full of sticky toddlers: "Poncho!"
The real-life Hahn, who does have children, cited "Parks and Recreation" as the one show she made time for in a house teeming with energy. "I don't really watch [much TV] just because of the kids and yada yada," she told The A.V. Club in 2013. "I haven't been able to sit with a television show that much except for this one."