Here's What Critics Are Saying About Prey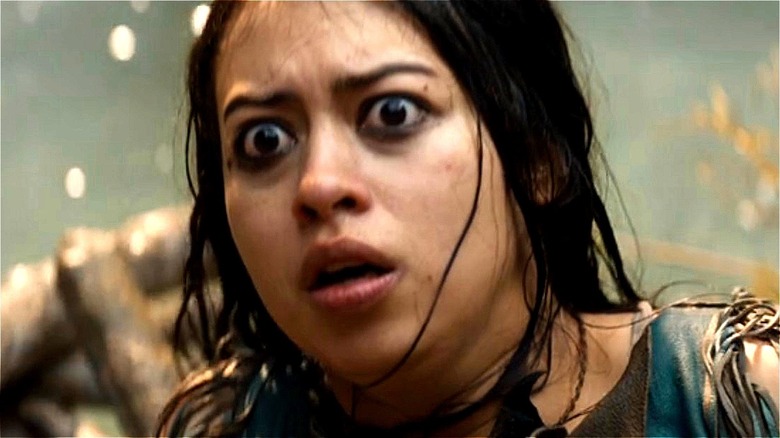 Hulu
Get that mud bath ready, "Predator" fans — your favorite franchise has a brand-new installment headed your way soon. "Prey" is unlike any movie in the franchise's history; set in 1719 among a group of Comanche warriors, it focuses on a battle for survival between central heroine Naru (Amber Midthunder) and a time-traveling predator. While the alien hunter has plenty of high-tech gadgets at its disposal, Naru is highly skilled, ready for combat, and willing to do anything to protect her friends and family from being added to the Predator's trophy rack.
Not only does "Prey" give viewers an early glimpse at that terrifying alien force that would go on to hunt Arnold Schwarzenegger and Danny Glover for sport, but it also accomplishes another first — the film is the first major studio release to feature an audio track fully dubbed in Comanche. In fact, those who settle down to watch the film exclusively on Hulu will have the choice of seeing it in a partial English dub or viewing it in Comanche, with or without English subtitles.
All firsts aside, critics have finally begun to weigh in on the plusses, minuses, pros, and cons of "Prey." Here's how they feel about the film.
Critics are raving about Prey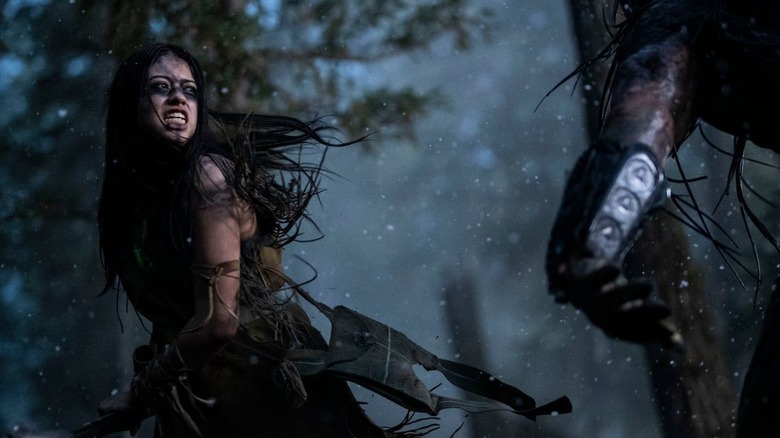 David Bukach/20th Century Studios
Critics weighing in with early reviews on Twitter all seem to agree about one thing: they truly love "Prey."
Perri Nemiroff of Collider now reports that "Prey" is her favorite film of the franchise. In a tweet, Nemiroff wrote, "Love how the story is a deeply personal journey — one powered by Comanche tradition just as much as it is by Predator-sparked thrills." She's joined by Stephen "Dirk" Libbey of CinemaBlend, who concurs that the film is the very best "Predator" movie period. "Amber Midthunder as Naru is a revelation, It's Predator broken down to its core elements and rebuilt better," he added.
Midthunder has won a lot of pre-release praise from reviewers, who seem incredibly impressed by her performance and commanding presence. Critics like Eric Goldman of Fandom and Matt Donato of SlashFilm were similarly awed. The film's direction, pacing, gore, kills, and overall look were praised by CineXPress' Fico Cangiano, who also said, "Director Danny Trachtenberg delivers thrills, kills, and sweet visuals." Documentary filmmaker Charles de Lauzirika also had plaudits for Trachtenberg, echoing the words of a number of critics in celebrating the movie's ability to balance true character portraits and genuine emotion with action and suspense.
Fans will find out for themselves if "Prey" tops the "Predator" franchise pile when the film hits Hulu on August 5.