The Chicago Fire Character Some Fans Didn't Know Was Played By Twins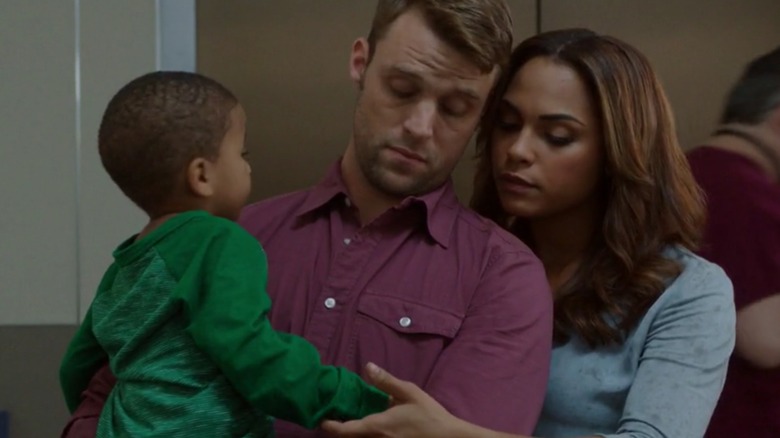 NBC
Airing for a total of ten seasons and filling its Wednesday night slot on NBC with 200-plus episodes and counting, "Chicago Fire" has given fans a massive number of characters to keep track of and get attached to. Just focusing on the series' regular cast members, Chi-Hards can choose from a firehouse full of central players who have suited up for action on the show, from former captain Matt Casey (Jesse Spencer) to Rescue Truck 3 leader Kelly Severide (Taylor Kinney), veteran firefighters Mouch McHolland (Christian Stolte) and Christopher Herrmann (David Eigenberg) and paramedics Sylvie Brett (Kara Killmer) and Violet Mikami (Hanako Greensmith). Then there are the numerous main-cast-adjacent recurring actors like good-guy-gone-bad Carl Grisson (Gary Cole), firehouse chaplain and potential Sylvie Brett love interest Teddy Sears (Kyle Sheffield), and 51's temporary new Lieutenant Brett Dalton (Jason Pelham).
And this is just the tip of the Chi-town iceberg vis a vis all the additional one-offs and minor characters turning up on the show. But, as far as sniffing out the persona who is portrayed by twins on the show, the choices are basically limited. It's pretty unlikely there could be a major cast member who could (or would) swap places with a twin brother or sister that fans never knew about, so count them out. Recurring-but-not-regular characters? Well, while it's none of those names mentioned above, it turns out that one well-known recurring face on "Chicago Fire" is actually two different-but-very-similar faces. Can you guess who it is?
Fans were surprised that Louie Thompson is played by twins
Spanning the fourth and fifth seasons of "Chicago Fire" is a narrative involving paramedic/firefighter Gabby Dawson (Monica Raymund) and efforts by her and fiancé Matt Casey to adopt the young boy she rescued from a fire in a foster home. That young boy is Louie Thompson, and he is portrayed by twins Austin and Aiden Cohen (via IMDb) with the two 3-year-old actors sharing the part from their debut in the "Kind of a Crazy Idea" episode in 2016 to their final appearances in "The People We Meet" installment in 2017. 
So why use twins? It's the law! 
Well, in some cases. The fact is, child labor laws limit the number of hours young children can work in a day, so many productions turn to twins to solve this casting conundrum. Some "Chicago Fire" fans, however, were totally caught off guard by this switcheroo. Posting on a discussion in the show's subreddit, user u/Clexa The_100 said they didn't really care for the whole adopting-Louie subplot, but admitted, "I just found out he was portrayed by twins (The Cohen Twins) and not by just one person." Also voicing their surprise in the thread: u/SparkleSun89787 who wrote, "Awww they're so cute! I thought it was one child too!" and u/Lizcredible, who was also surprised by the twin-actors gambit: "I had no idea! This is so precious ... Those are two talented young boys!"