Zombieland Fans Will Be Delighted To Hear Zoey Deutch's Thoughts On A Zombieland 3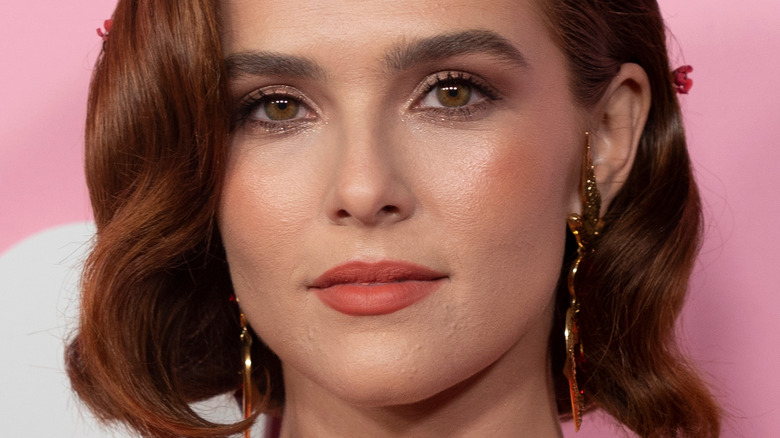 lev radin/Shutterstock
"Not Okay" is a 2022 social media drama about a woman who lied to accrue the kind of fame that would get her into an influencer's bedroom and how that fame spiraled disastrously because, hey, lying is bad! Basically, it's "Dear Evan Hansen," but if the protagonist actually suffered the consequences of their manipulative actions. It's important to understand this because the buzz around "Not Okay" has given its star, Zoey Deutch, a larger platform. 
Deutch is an actress so far best known for productions such as "The Politician" (oh look, Ben Platt's here, too), "Flower" (maybe don't look this one up), and "Zombieland 2: Doubletap" (the segue for our story). This final credit has drawn attention because Deutch apparently holds her time in Zombieland near and dear to her heart.
In "Zombieland 2," she portrayed Madison, a certified bimbo who Columbus (Jesse Eisenberg) couldn't bring himself to kill when he mistook her severe nut allergy for zombification. Despite existing in a dark comedy film, she successfully got a happy ending with Berkeley (Avan Jogia). In Deutch's mind, however, Madison's story is far from over. 
Zoey Deutch wants to return to Zombieland
In a recent interview with The Hollywood Reporter, Zoey Deutch discussed her thoughts about returning to the "Zombieland" franchise. She said, "I would love to put the 'Von Deutch' attire back on, for lack of a better pun. That experience was so fun, and I've been begging Ruben [Fleischer] to put me in a movie of his again. But yeah, I would love to play Madison again. She's such a character."
It seems as though she isn't the only one interested in her return, either. "Zombieland" director Ruben Fleischer went on the record — in a separate, earlier, The Hollywood Reporter interview — to say, "I would love to do a Madison stand-alone movie ... I think that story remains to be written." 
With "Not Okay" receiving broadly positive reviews that focused praise on Deutch's performance (according to Rotten Tomatoes), it's possible that the actress will soon garner the kind of industry status that would allow for such a spin-off to be greenlit. Until such news is officially released, expect potential participants to continuously seed the ground with hopeful comments during interviews like those listed here. It's what Ryan Gosling did.