Breaking Bad Fans All Agree That This Minor Character Is An Unsung Hero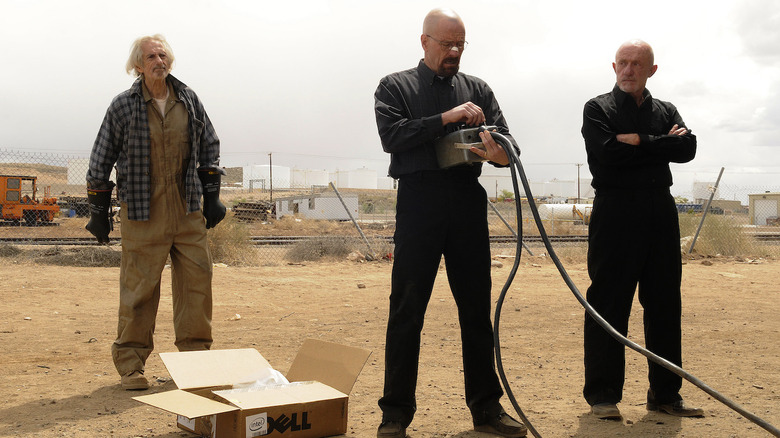 Ursula Coyote/AMC
Over the course of its five-season run on AMC, the legendary crime saga "Breaking Bad" was renowned for its taut storytelling, shocking twists, and cinematic style. It was, of course, also renowned for fronting arguably some of the strongest characters in the history of narrative television. And yes, that list extends far beyond primary players like Walter White (Bryan Cranston), Jesse Pinkman (Aaron Paul), and Skylar White (Anna Gunn). Heck, arguments could be made that secondary characters like Gustavo Fring (Giancarlo Esposito), and Jimmy McGill/Saul Goodman (Bob Odenkirk) were every bit as intriguing as those other towering figures. 
But one of the things that truly set "Breaking Bad" apart from many of its small-screen contemporaries is that the series' creative team surrounded even those central and secondary players with an entire world (or underworld, if you will) of minor characters that were every bit as well-drawn. Series fandom has rightfully thrown plenty of praise in the direction of those "Breaking Bad" small-timers over the years too, even claiming some as their personal favorite characters. Whether they live for scenes featuring Gale Boetticher (David Costabile) or claim Ed the Disappearer (Robert Forster) as their fave, it seems there's one lesser player on the series most fans agree was a legit unsung hero.   
Fans think Walt and Jesse owed Old Joe more than a hearty thank you
The minor "Breaking Bad" character fans think played a major role in Walter White's and Jesse Pinkman's meth empire is scrapyard owner Old Joe. Played by character actor extraordinaire Larry Hankin, Joe made his first "Breaking Bad" appearance in the Season 3 episode titled "Sunset." Said episode is indeed a pivotal one in the season as it finds DEA agent Hank Schrader not only tracking Walt and Jesse's mobile RV meth lab down, and tying it directly to Jesse, but very nearly discovers Walt himself inside the vehicle when he does. 
That fateful discovery is thwarted only by the intervention of Old Joe, who keeps Hank at bay by cleverly pointing out the DEA heavy is himself breaking numerous laws by attempting to break into the RV without a warrant. And for this reason, some "Breaking Bad" fans believe him to be a bit of a hero in series lore. That includes Reddit user u/Suprunk0wn, who dedicated an entire thread to Joe titled, "This guy needs more credit for holding it down for Jesse and Walt." Fans were quick to agree in the comments section with u/zachiscool posting, "... Jesse and Walt should have gave him some extra cash," and  u/alyssadammit soon adding, "For real that guy is an og! He's basically the whole reason that Hank didn't successfully pry the door open and see Walt right then and there." 
Meanwhile, u/RuRHPdOsIrPt summed up the sentiments of many others with their comment, "He was the most gangster guy on the show that wasn't a literal gangster." And if you've seen how Joe handles himself in the moment, you know that statement is hard to argue.
The actor who played Old Joe has been a legit scene stealer over the years
Old Joe being a "hero" really depends on your definition of the word. After all, had he not interfered with Hank Schrader's investigation (illegal as it clearly was), Walter White and Jesse Pinkman would surely have been exposed then and there, likely preventing much of the carnage that ensued in ensuing seasons of "Breaking Bad." Either way, the character remains one of the show's most memorable, thanks in no small part to the work of Larry Hankin. And yes, we're betting most of you recognized Hankin's face on "Breaking Bad" as he's become one of Hollywood's great unsung supporting players over the years.
Hankin is perhaps best known for portraying Mr. Heckles, the wonderfully wacky downstairs neighbor on the classic sitcom "Friends." But that wasn't the only iconic sitcom he worked on in the 1990s. In 1993, Hankin made an unforgettable one-off appearance on "Seinfeld" as Tom Pepper, the actor hired to portray Kramer on the series' fictional TV pilot. Hankin also worked alongside Clint Eastwood in 1979's beloved prison film "Escape From Alcatraz," and delivered a scene-stealing cameo as an infuriatingly affable police officer in "Home Alone." Most recently, Hankin turned up as an elderly Chechen assassin on HBO's hit dramedy "Barry."
The actor, of course, also reprised the role of Old Joe in a Season 5 episode of "Breaking Bad," and the 2019 sequel film, "El Camino: A Breaking Bad Movie." And per a 2018 interview with The A.V. Club, Hankin has nothing but fond memories of playing Joe, and many of his other legendary roles.