The Real Reason They Replaced Brendan Fraser In George Of The Jungle 2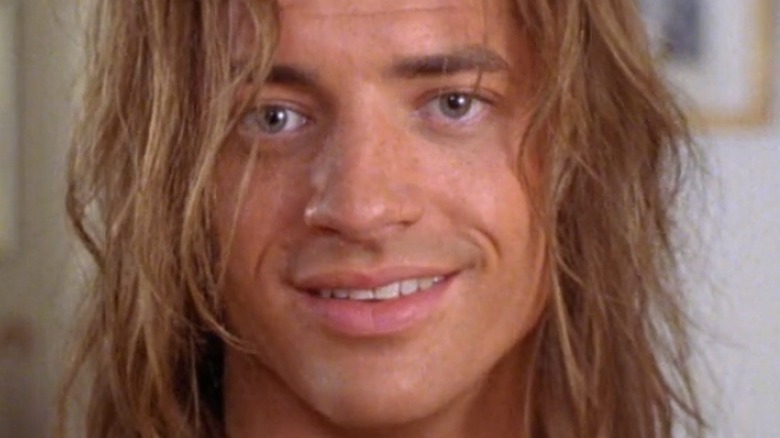 Disney
Contrary to what various Instagram trends and retail sites would have us believe, the 1990s weren't just about oversized tees, perfect-width jeans, flannels, and choker necklaces. They were also about Brendan Fraser – okay, and some seriously important social and musical movements, but also: Brendan Fraser. In three short years beginning in 1992, Fraser burst onto the scene with a stream of hits including Les Mayfield's "Encino Man," Robert Mandel's "School Ties," Alek Keshishian's "With Honors," Michael Lehmann's "Airheads," and Michael Ritchie's "The Scout." The midpoint of the decade did nothing to slow the star's ascent, and he continued to win over casting directors and audiences alike right up on through the early 2000s. The latter half of the era saw Fraser transition from Rom-Com Romeo in "Blast From the Past" and "Bedazzled" to Genuine Franchise Star with 1999 and 2001's "The Mummy" and "The Mummy Returns." Despite this, there was one franchise from which the actor disappeared after just one film: "George of the Jungle." 
The Disney adaptation (of Jay Ward's "Tarzan"-inspired cartoon of the same name) introduced Fraser to an even wider and more family-friendly audience, pulling in today's equivalent of nearly $180 million (via Box Office Mojo). Directed by Sam Weisman of "D2: The Mighty Ducks" and co-starring Leslie Mann and Thomas Haden Church ("Spider-Man 3"), the success of the film made following it up an obvious choice. But when that sequel finally came, Fraser, who'd benefitted so much from his role in the original, was conspicuously absent. 
George of the Jungle 2's explanation for Fraser's absence isn't quite accurate
When Disney's "George of the Jungle 2" debuted in 2003, putting more than a couple of years between a film and its sequel wasn't unheard of. The three films that comprise the first half of "The Terminator" franchise, for instance, were released seven and 12 years in between installments. The follow-up should — according to the contemporary laws of movie money physics — have been at least close to as successful as its predecessor. Instead, it was a near-universally panned misstep (per Rotten Tomatoes) that saw only a direct-to-video release. Brendan Fraser's presence in the film would have altered its fate dramatically, so why did lookalike Christopher Showerman end up taking the reins, or rather, the swinging jungle vine, from the star?
The studio was clearly aware that Fraser's absence would prove problematic, as evidenced by the film's first joke. When the narrator (and the viewer) gets his first face-on look at the character in the film's opening scene, he reacts with astonished confusion. "Studio too cheap to pay Brendan Fraser," Showerman's George says to the camera. It's a simultaneously cute and viable explanation, but maybe not quite the reality of the situation. As it turns out, Fraser wasn't "replaced" because he asked for too much money. The actor simply declined to return for the sequel, and Disney was then forced to find a replacement, as said replacement (Showerman) revealed in a 2003 interview.
Fraser passed on the role, so Disney was forced to replace him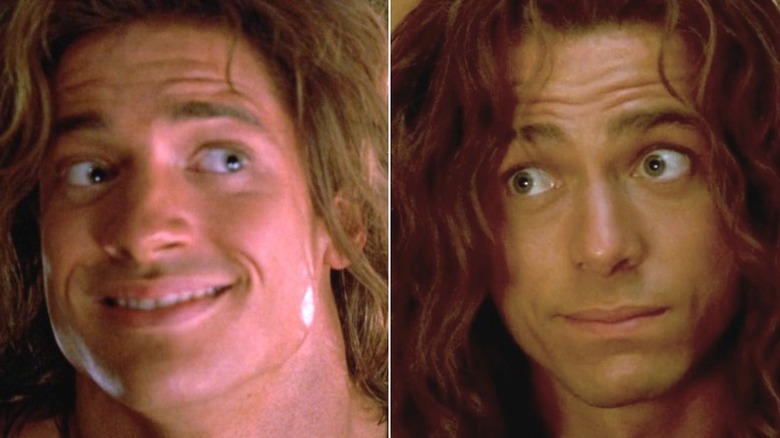 Disney
Nearly two decades ago, an up-and-coming Christopher Showerman shared his straightforward "George of the Jungle 2" Cinderella story with Moviehole. When asked how he ended up on the project, he simply said, "I auditioned," but went on to clarify his answer. "Once it was apparent that Brendan wasn't going to star in it," he explained, "George 2 was drafted up as a DVD premiere. It was almost a full year after he turned down the job that I signed up as the new George." 
In other words, Brendan Fraser was replaced because the star — who'd appeared in both the genre-altering "The Mummy" and "The Mummy Returns" in the years since "George of the Jungle" had come out — simply didn't want the role. Though the internet contains more than a few fun and amusing — yet, at present, unverifiable — explanations for Fraser's decision (including this oft-quoted anecdote from Jim Hill Media), Showerman's interview suggests there was nothing all that atypical about Fraser's decision to pass on the movie. 
What's more, it certainly appears as though Fraser, who's currently enjoying a bit of a renaissance, harbored no ill will toward his jungle stand-in. Showerman told the outlet that he once left a note for Fraser when the two were both working in Las Vegas. Unfortunately, the actor failed to leave Fraser any contact info, and when Original George finally met Sequel George at a charity event, he expressed his regret over not being able to respond to Showerman's note. "He is a really wonderful man," Showerman told Moviehole.