Here's Why Filming Thirteen Lives Gave Colin Farrell Multiple Anxiety Attacks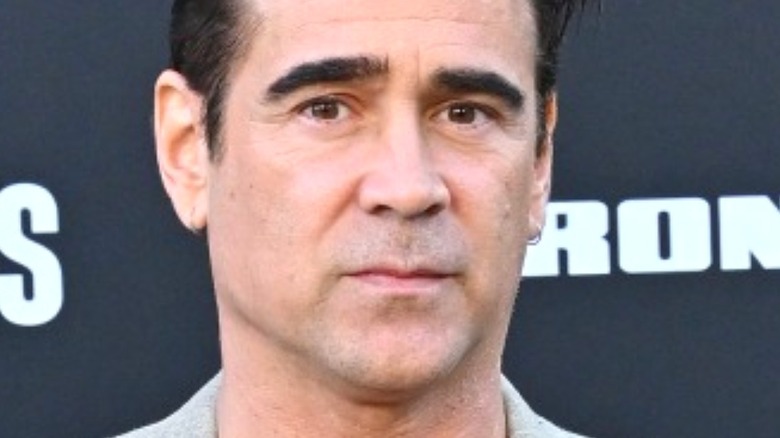 Axelle/bauer-griffin/Getty
Ron Howard's new movie "Thirteen Lives" promises to be a dramatic and captivating Hollywood telling of the 2018 Tham Luang cave rescue — which saw a junior soccer team get saved by a group of volunteer divers after they got trapped inside a heavily flooded cave in Thailand. If what actor and star Colin Farrell recently said in an interview is true, much of the tension and terror that moviegoers will see on-screen was actually felt by the cast in real life. 
According to Farrell, there were multiple instances during the filming of "Thirteen Lives" where he suffered full-blown anxiety attacks. The English acting legend plays British cave diver John Volanthen in the film, who was one of the first volunteers to find the junior football team and its coach alive inside the Tham Luang Nang Non cave in the Chiang Rai province (via CNN). Volanthen is considered one of the best divers in the world, per The Guardian, as is his diving partner Rick Stanton, who also helped find the boys and aided in their rescue. 
"Both John Volanthen and Rick Stanton are highly accomplished caver divers who have set achievements within a number of major cave systems around Europe," said British diver Neil Bennett in an interview with The Guardian. "They specialize in rebreather technology that is ideally suited for the situation faced in the Thai cave system." Unfortunately, Farrell doesn't specialize in rebreather technology — nor is he an expert in cave diving — so you can imagine just how frightening and difficult some of his scenes must have been, leading to the anxiety attacks.
Farrell had anxiety attacks while filming underwater
Speaking to Variety at the Los Angeles premiere of "Thirteen Lives," Colin Farrell described how he had suffered from a number of anxiety attacks during the filming of his underwater scenes.
 "The water stuff was horrible!" Farrell said. "They built four or five tunnels that were designed based on the drawings of the Tham Luang cave. I mean, there were twists, turns, down, up, pitch points, stuff you had to go upside down. And we had safety divers, but it's still water." While those safety divers were present during the shoot, they weren't in the water with Ferrall — instead, they watched the actors from holes built into the side of the tunnels. Farrell said, "Yeah, I definitely had a few anxiety attacks under the water."
According to director Ron Howard, the production team on "Thirteen Lives" wanted the film set and cave system that they were using to look as scary and realistic as possible, which likely wasn't music to the cast's ears. This was able to be achieved by working closely with John Volanthen, Rick Stanton, Jason Mallinson, and others who were involved in the 2018 rescue throughout the shoot. "Rick, John and Jason were incredibly valuable because there's not much video footage of [the dive sequences]," Howard told Collider in a June 2022 interview. "There were some schematics that we were able to get," he added. "Schematics made of the cave when it was dry. The trick in condensing this to get a movie, and making it something visceral, entertaining, and suspenseful."