The Boy Meets World Cast Finally Shares A Wild Rodney Dangerfield Story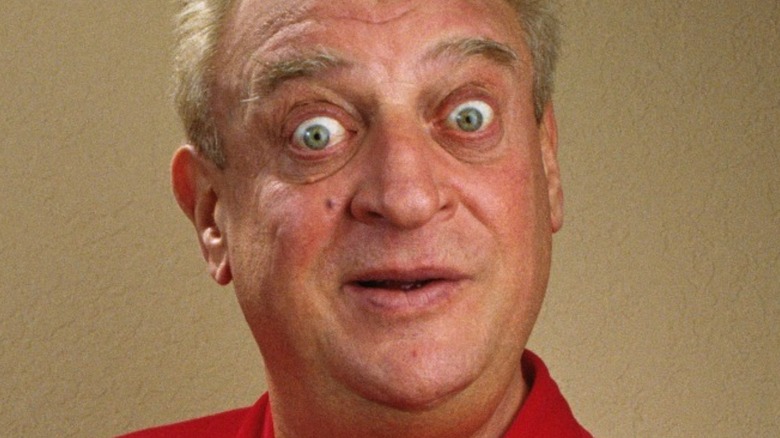 George Rose/Getty
Rodney Dangerfield made a career and livelihood out of his one-liners about being a depressed, down-on-his-luck middle-aged man who got "no respect." 
Already in his forties when he decided to relaunch his career as a comedian, he finally cracked a door open when he appeared on "The Ed Sullivan Show" in the late 1960s (via EdSullivan.com). However, as he put it in his autobiography, "It's Not Easy Bein' Me," "I had no big break. It was a combination of a lot of things: sixteen 'Ed Sullivan Shows,' seventy times on 'The Tonight Show,' forty-five 'Merv Griffin Shows,' twenty Lite Beer commercials, and owning a successful nightclub. Then twenty-five years ago, I did 'Caddyshack,' which got me into movies. Mine was not an easy road."
"Boy Meets World," the coming-of-age show about Cory Matthews (Ben Savage) making his way through the pains of childhood and adolescence, was definitely not the kind of show that fans would expect Dangerfield to appear on or know anything about. By the time it began airing in 1993, Dangerfield was in his seventies, and his own kids were grown up. But despite all odds, Savage and castmate Rider Strong ended up in a memorable encounter with the comedy legend, which they shared on their podcast, "Pod Meets World."
Dangerfield faked chest pains to get off of a parade car with the Boy Meets World cast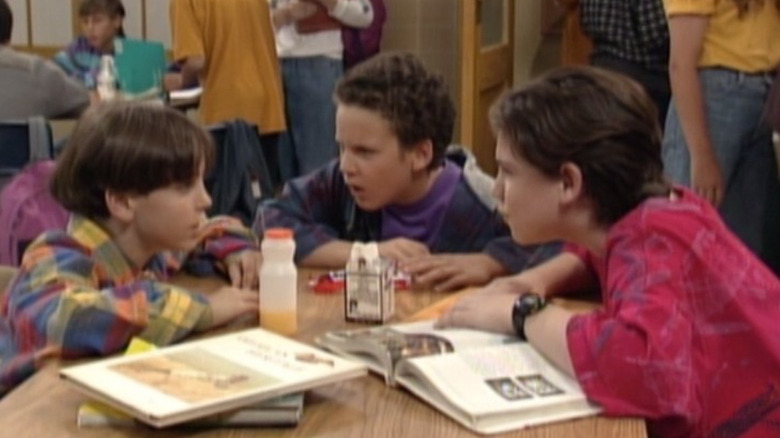 ABC
In Rider Strong, Danielle Fishel, and Will Friedle's podcast, "Pod Meets World," the trio reminisces about their time filming "Boy Meets World." In the episode "Killer Bees," they talk about the 'optical flip' gag, and Strong recounts a parade he and Ben Savage were part of in a "Boy Meets World" car where they encountered the comedy legend. 
"His [Rodney Dangerfield's] car broke down, so he had to get into our car," Strong recalled. "What ended up happening was, the fans knew us because they were all kids. Families, it's the holiday parade. So they were freaking out about us, and only every hundred people or so some dude would shout, 'Hey Rodney, no respect!' So, he kept getting more and more upset that we were getting all of this attention, and he had no clue who we were."
The parade's route meant Dangerfield was stuck with Strong and Savage for at least 90 minutes, but the more annoyed he got, the more he was determined to get out. When he was told that wasn't possible unless there was a medical emergency, Rider recalled Dangerfield said, "'You know what? It's a medical emergency. Get me an ambulance, I've got to get out of here.' Rodney Dangerfield stopped the parade to get away from us."
Rodney Dangerfield will always be remembered for his self-deprecating sense of humor and relatable comedy, and now fans have one more story to remember him by — as someone who faked chest pains to get away from the cast of "Boy Meets World."