David Harbour Epically Misjudged Stranger Things After Filming Season 1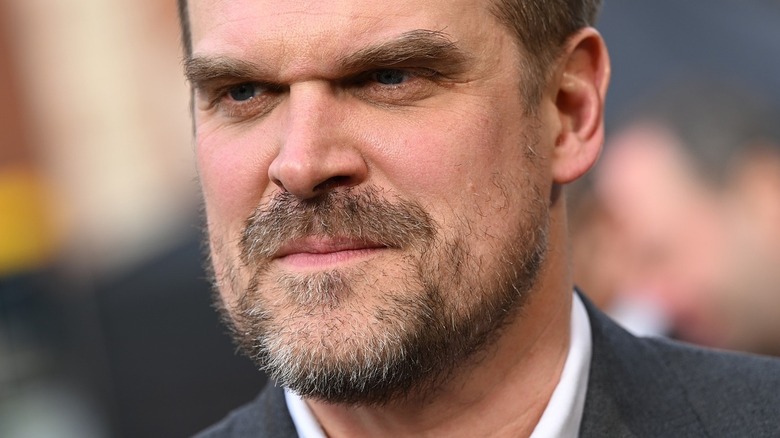 Jeff Spicer/Getty
It's hard to imagine "Stranger Things" not being the global phenomenon that it currently is. Still, in the show's early days, cast and creators alike didn't have much confidence in the show's success. In fact, they were unsure it would even get picked up, let alone make it to numerous seasons and even crash Netflix's entire streaming platform. 
When Matt and Ross Duffer first brainstormed the idea for a sci-fiction horror series set in the 1980s, it took a lot of effort to prove that their creation was worth it. "There were a lot of things going against it. We just weren't established," Matt told The New York Times. "The first week, I think, we had 15 pitches, and it was all passes. There was a moment where we're like, 'Oh, I think people aren't getting it.'" 
Thankfully, Netflix finally got it. "Stranger Things" dropped on July 15, 2016, catapulting the young cast featuring Millie Bobby Brown, Gaten Matarazzo, Finn Wolfhard, and more into instant stardom. It also introduced veteran actors like Winona Ryder and David Harbour to the next generation of viewers, and with each passing season the buzz surrounding "Stranger Things" only seems to increase. 
Despite all the success the series has seen, star David Harbour wasn't confident that the masses would fall in love with "Stranger Things" at the beginning, just like the Duffer Brothers. Thankfully, he couldn't have been more wrong.
David Harbour thought Stranger Things was going to be a disaster
David Harbour's character, Hawkins police chief Jim Hopper, has one of the most important story arcs featured in "Stranger Things." In Season 1, he's depicted as grouchy and impatient with a bit of an alcohol problem. However, it's gradually revealed that, deep down, he's a big teddy bear. This is especially true when it comes to Eleven (Millie Bobby Brown) and Joyce (Winona Ryder). Yet if Harbour's early opinions on the series proved true, this heartwarming transition would have never happened.
In an interview with the BBC's "The One Show," the actor revealed that, while filming the premiere season in Atlanta, there was much chatter that the show would fail. "Halfway through I remember my hair person coming up to me, like about episode four we were shooting, and she was like, 'I don't think it's gonna work,'" he recalled.
Harbour became convinced that "Stranger Things" would be canceled and achieve an unwanted record. "By the time we finished, we wrapped, I thought we wouldn't get a second season, we'd be the first Netflix show kind of ever to never get a second season," he reflected. "We thought no one would watch it, it was going to be a disaster."
Needless to say, people watched and are still watching. For the week of May 27, when the first episodes of Season 4 were released, through June 19, "Stranger Things" secured the top spot among TV shows in Netflix's Global Top 10 by a wide margin. In fact, the total number of hours that audiences spent watching Season 4 in its first 28 days reached 1.33 billion — double what the second place series, "Bridgeton" Season 2, managed to achieve.