The Beavis And Butt-Head Revival Rumor Fans Can't Stand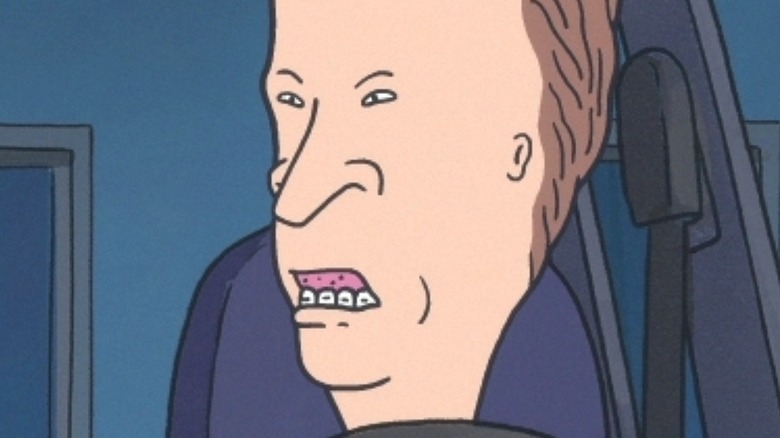 Paramount+
The dynamic duo of "Beavis and Butt-Head" has seen the teenaged pair terrorize their neighbors, absolutely ruin their place of dubious employment on several occasions, and go on extended adventures across the United States. That in itself is pretty impressive, considering that the talents of both Beavis (Mike Judge) and Butt-Head (also Judge) mostly reside in their scathing commentary of music videos and reality television. Per IMDb, the show originally premiered in 1993 and ran until 1997, spawned two feature-length films, and even earned an additional season in 2011.
As noted by The Hollywood Reporter, the revival of "Beavis and Butt-Head" starts on August 4, 2022 and will skewer not just music videos, but more recent trends like Tik-Tok as well to keep up with modern sensibilities. On January 4, 2022, series creator Judge took to Twitter to show off some sketches of both Beavis and Butt-Head for the new season, but instead of their original look, they took on a much more of a slovenly and middle-aged appearance. 
While the trailer on YouTube for the new season shows off Beavis and Butt-Head as they were originally, it seems like a bit of dissonance between designs caused a rather visceral response in fans.
Fans were worried about the show being about a middle aged Beavis and Butt-Head
After Mike Judge posted the above sketches of the adult versions of Beavis and Butt-Head, many speculated that the show would see the two grow up. Not only that, but as reported by TV Insider, ViacomCBS executive Chris McCarthy released a statement that said, "'Beavis and Butt-Head' were a defining voice of a generation, and we can't wait to watch as they navigate the treacherous waters of a world light-years from their own." Between the images and a statement about the pair exploring a new environment, some fans became worried that the new "Beavis and Butt-Head" would take an unrecognizable form.
Fans quickly took to Reddit to discuss their opinions. U/hail_taco said, "I'm so glad all the reports of them being adults with kids in the revival turned out to not be accurate. This looks like it's going to be absolutely perfect." U/AleisterCuckley replied that there will be adult versions too, although they aren't sure how they will be integrated it into the show, adding that Judge has talked about it in interviews. However, u/garfself pointed out that since the show is episodic in nature, there might be an episode that features Beavis and Butt-Head as old guys. 
Ultimately, it seems as if fan concerns about a shift in "Beavis and Butt-Head" have proved to be unfounded, and the show appears to be retaining the characters' original designs. While this doesn't necessarily mean that we won't see what Beavis and Butt-Head look like as adults in the upcoming season, at least we know that the show isn't solely about middle-aged slackers.