Here's How You Can Watch An Extended Preview Of The Beavis And Butt-Head Revival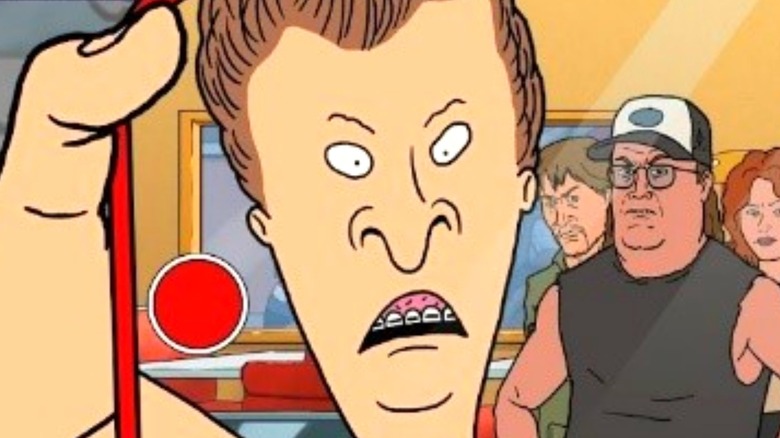 Paramount+
After over a decade of "Beavis and Butt-Head" being off the air, fans are finally getting a new season of the show. Earlier in 2022, the two loveable idiots returned to the big screen in "Beavis and Butt-Head Do the Universe," which we gave a 7/10 in our review, calling it a fun, immature return to the beloved '90s characters.
Now, we're getting a second revival of the series, after the first revival in 2011 came to MTV. This new season will stream exclusively on Paramount+ and will see Mike Judge return as producer, writer, and the voice of the titular characters. The series will take place in the present day, so the two unaged doofuses can interact with the new technology and culture of 2022.
For those who can't wait for the full season to drop on the streamer, there's a new nine-minute clip of the show that gives a taste of what fans can expect for the series revival.
The new clip shows Beavis obeying fire's unexpected commands
In the new clip of "Beavis and Butt-Head," available to watch through Paramount+'s YouTube channel, Beavis is shown talking to a talking dumpster fire, who gives him peculiar instructions. This is likely a reference to the "fire" controversy from the original series, where a parent alleged that her child died because the series had encouraged her to play with fire. MTV thereafter banned the use of the word "fire" in the series and scheduled its airing later into the night.
With the series now on Paramount+, however, that ban appears to have been lifted. Beavis repeats the word "fire" countless times, followed by his iconic "heh." But instead of directing him to cause mayhem, the faced, talking fire instructs him to exercise, pick up trash, and write an essay on "Call of the Wild." This may be a direct callback to the controversy, with the fire attempting to be a positive influence on Beavis instead of causing dangerous behavior.
In between the two scenes with fire is a clip of Beavis and Butt-Head reacting to a TikTok, similar to how they would react to music videos back on MTV.
The new season of "Beavis and Butt-Head" comes to Paramount+ on August 4.