Locke & Key Season 3 Trailer Introduces The Most Important Key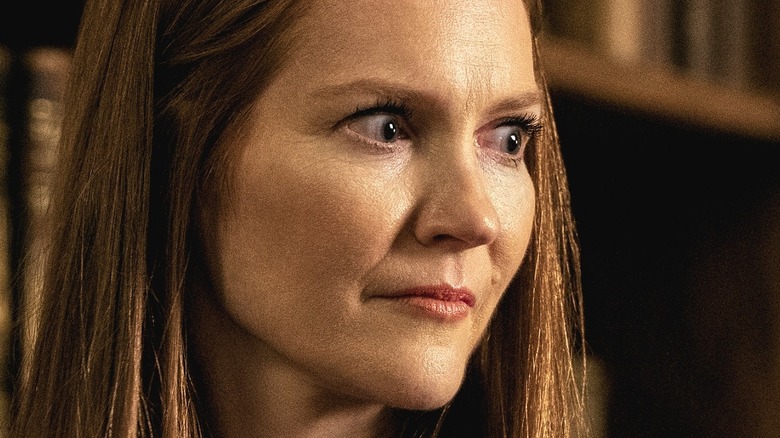 Amanda Matlovich/Netflix
Family is exceptionally important, especially if one's family home contains a series of keys that can open doorways to other places and times, or even grant fantastic abilities like flight or the power to conjure and control demons. Netflix's "Locke & Key" is all about the Locke family and their ancestral property, an estate called the Keyhouse. However, the Keyhouse itself is far from some old, dusty building and instead, is chock full of supernatural abilities granted by the aforementioned keys. There are cabinets that can mend any object placed inside, crowns of coalesced shadow that can create monsters, and even a music box that can manipulate and control others. Needless to say, one definitely should be careful when inspecting anything inside the Keyhouse.
According to Deadline, Season 3 of "Locke & Key" is set to be released on August 10, 2022, and it will be the final season, which aims to tie up and finish the story in a complete manner. Executive producers and showrunners Carlton Cuse and Meredith Averill told the publication, "As storytellers, we are grateful that we had the opportunity to tell our version of Joe Hill and Gabriel Rodriguez's incredible story exactly the way we wanted." Now that Season 3 of "Locke & Key" is soon upon us, Netflix has taken the liberty of providing one last trailer for the show, and it certainly promises some wild adventure and time manipulation.
The latest trailer for Locke & Key promises a fitting end
The above trailer starts off with a voiceover from Kinsey Locke (Emilia Jones), who talks about how things are finally starting to return to normal following the harrowing Season 2 finale of "Locke & Key." Unfortunately for the Locke family, the trailer then sees Bode Locke (Jackson Robert Scott) discover a key that works with a grandfather clock in the foyer, and it is revealed that this is actually a means of time travel. The trailer then snaps to a trio of British soldiers during the Revolutionary War, and Frederick Gideon (Kevin Durand) is one of them. He says, "I broke down the barrier between our world and a world far greater." For fans of the show, this highlights the moment in which Gideon becomes corrupted by the Black Door.
There is a flurry of bombastic scenes throughout the trailer that feature blue glowing portals, motorcycles, car crashes, an anachronistic street with movie theater billboards, and several looks of concern between the main characters. The final moments of the trailer see Bode with an absolute look of shock as he is confronted by a familiar black-clad woman named Dodge (Laysla De Oliveira), who thanks him for the ride. It definitely looks like Season 3 of "Locke & Key" will be an intense and fitting culmination of the story.